Summer foods come and go in the blink of an eye. They stir an excitement that comes when you know something is fleeting. Fall foods linger, kindling the warm comfort of reliability. Pumpkins, apples—they'll be around for a while. Making them exciting—for months on end—is up to us.
You don't need to do much to make summer foods like berries, tomatoes and corn thrilling. In fact, they're best served simply: plain, drizzled with olive oil, slathered in butter. But fall foods are well served by experimentation. They're great sweet or savory; plain or heavily spiced; sautéed, roasted or baked. And there is plenty of time to try it all. 
Pumpkin has been the subject of my latest fall food experiments. It all started with my new favorite cupcake recipe: Pumpkin Cupcakes with Maple Cream Cheese Frosting.  I started wondering how I could turn the recipe for these cupcakes into one for pumpkin muffins. A little research turned up that there's surprisingly little difference between cupcakes and muffins.
Well, that wouldn't make for much of an experiment!
Unenthused with the idea of slightly tweaking my cupcakes to make muffins, I decided to make this Pumpkin Bread instead. I knew I'd need more flour to make a denser crumb. And, though delicious bread needs to be moist and tender, I had a (correct) notion that the buttermilk—the acid in which is said to tenderize the gluten— wasn't necessary. Once acidic buttermilk was out of the picture, I could also switch to using just baking powder.
The final adjustments to my experiment: boosting the spice quotient. My cupcakes were paired with the quietly bold flavor of a maple sweetened cream cheese frosting. My bread, on the other hand, had to stand-alone. (Or so I thought. More on that in a minute.) So I amped up the spice and threw in some vanilla.
My hypothesis: this would be damn good pumpkin bread.
The results: this recipe yields pumpkin bread worth of a spot in the family archive. It can be passed down generations.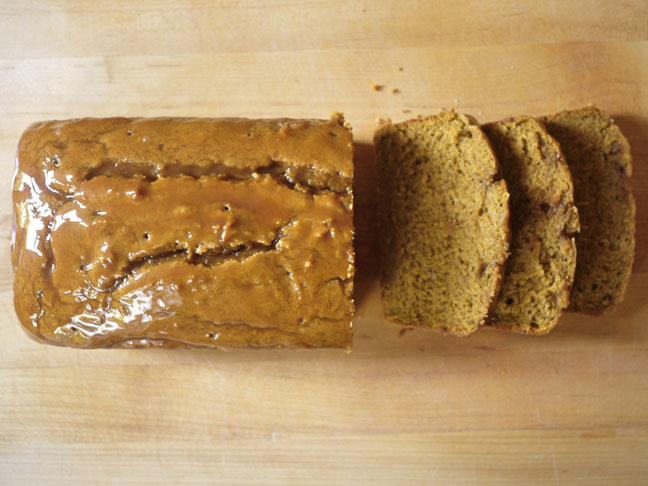 Analysis: The pumpkin bread is amazing all on its own. You don't need to add anything to it, especially if you want to share it with young eaters for whom a little bit of sweet goes a long way. But, if you are so inclined, perhaps as a special treat, you will not be disappointed to experiment, as I did, with chocolate chips or a simple glaze. One cup of mini-chocolate chips per loaf yielded great results for me, as did using this caramel sauce as a glaze. If you prefer a "proper" cake glaze—something thicker that will harden—I'd suggest this one from Food52.
Pumpkin experiments, round one, check! More fall food experiments to come. In the meantime, tell us about your fall food experiments! How are you going to keep fall and winter fruits and produce fresh in the months to come?
Fall Spice Pumpkin Bread
Ingredients
2 1/2 cups flour, plus more for dusting the pan
3 teaspoons ground cinnamon 
2 1/2 teaspoons baking powder
2 teaspoons ground ginger
1 teaspoon salt
1/2 teaspoon ground cloves
1/4 teaspoon ground nutmeg
1 cup packed light-brown sugar
1/2 cup granulated sugar
¾ cup (1 ½ sticks) butter, melted and cooled
1 ½ heaping cups pumpkin puree (fresh or one 15-ounce can)
3 eggs
1 1/2 teaspoon vanilla
Directions
1. Preheat oven to 350 degrees. Prepare a 5×10 loaf pan by greasing it with butter or natural oil spray and dusting with flour; set aside. In a medium bowl, whisk together flour, cinnamon, baking powder, ginger, salt, cloves and nutmeg; set aside.
2. Add both sugars to a large bowl. Stir in butter until well combined. Add pumpkin, eggs and vanilla; continue stirring until well combined.
3. Add dry ingredients to the wet and stir until well combined. Pour batter into the prepared loaf pan. Bake for about 55 minutes, until a toothpick inserted into the center comes out (mostly) clean. Allow to cool in pan for 10 minutes, before transferring to a wire rack. If you decide to glaze the bread, do so as soon as it's on the rack, while it's still warm.