So your kids aren't keen on a sandwich? Or they get sick of eating the same thing all the time? My son isn't much of a sandwich fan, he'll eat one, but it isn't his favourite thing. As a result, I've become very creative when packing the lunches, because I'd prefer to make sure he eats his lunch at preschool.  My daughter on the other hand loves variety, so for her, having something different each day is fun.
If you've ever wanted to skip the sandwich, these bright ideas will get you sorted. Scroll through the slideshow for 11 delicious lunch box ideas that don't involve a Vegemite sandwich!
Pin for later: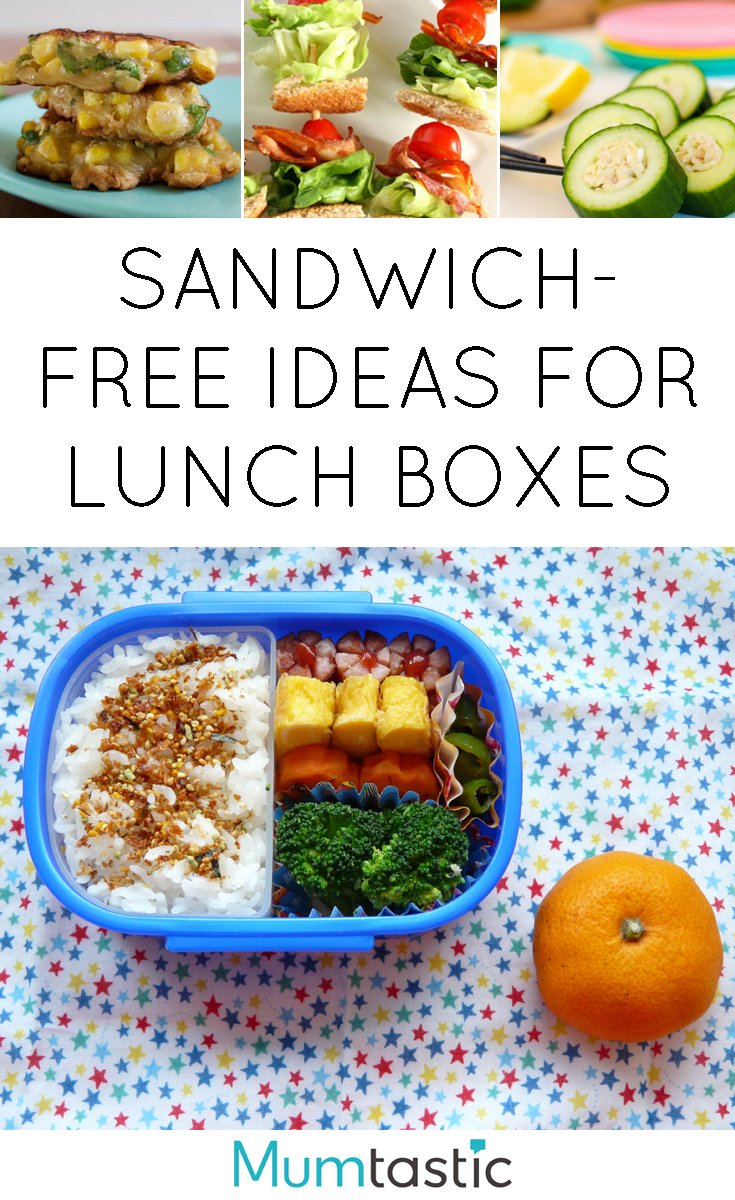 11 non sandwich lunch ideas
Cucumber sushi

If you've got sushi suspicious kids, then this is the perfect way to get them enthused, no nori and super yummy! This recipe from My kids lick the bowl is perfect for the lunchbox! Check it out here.

Avocado and brown rice sushi

Stacey Clare makes her sushi using brown rice and avocado to make it super healthy!  This is an awesome flavour combination the kids will love and is great for breaking up the sandwich monotony. Check it out here.

Mexican lentil bake

Packed with yummy lentils and full of flavour this lentil bake from Healthy Little Foodies is great for the lunchbox.  Cook, slice and freeze for easy grab and go lunchboxes. Check it out here.

Egg wraps

If the kids are sick of sandwiches, make lunches more fun again with these egg wraps from Kidgredients.  They are really easy to make and taste fantastic! You really can fill them with whatever your kids like, so they will be a winner! Check them out here.

Homemade pizza rolls

Trust picklebums to have a fun solution to sandwich free lunches!  These fantastic pizza rolls are great for convincing kids to eat their lunch.  Top with whatever appeals to your kids.  Check them out here.

Easy egg muffins

A muffin can replace a sandwich, right? Of course, especially when it's this tasty!  These egg muffins from Create Bake Make are fabulous in the lunchbox and even freeze well.  You can play with the flavours too, although they are exquisite as they are in the recipe!  Check them out here.

10 kid-friendly wrap ideas

Super healthy kids know there stuff when it comes to lunches!  These wrap ideas (can you believe there are 10 in this posts?) will help shake up the lunchbox!  My favourite? Has to be the sweet fruit wraps!  Check them out here.

BLT skewers

When a sandwich is deconstructed it's so much more fun!  These BLT skewers from Holley Grainger are so cute they deserve to go in the lunchbox.  Use cute skewers and they will please the kids every time.  My daughter loves them with a slice of avocado.  Check them out here.

Lunchbox Spanish Omelette

I positively love omelette and this spanish one from My Fussy Eater is the bomb!  An omelette might not spring to mind when it comes to lunchboxes, but it's protein packed and super yummy, so why not?  Check it out here.

Catsadillas

Oh my goodness these are simply adorable. You might have to make them smaller for the lunchbox, but they are so cute.  From Fork and Beans, these little quesadillas with a fun twist are almost too cute to eat!  Check them out here.

Sweetcorn fritters

These sweetcorn fritters from Kidgredients are delicious cold and therefore absolutely fantastic for the lunchbox.  And they are veggie packed, so it's a win-win! Check them out here.