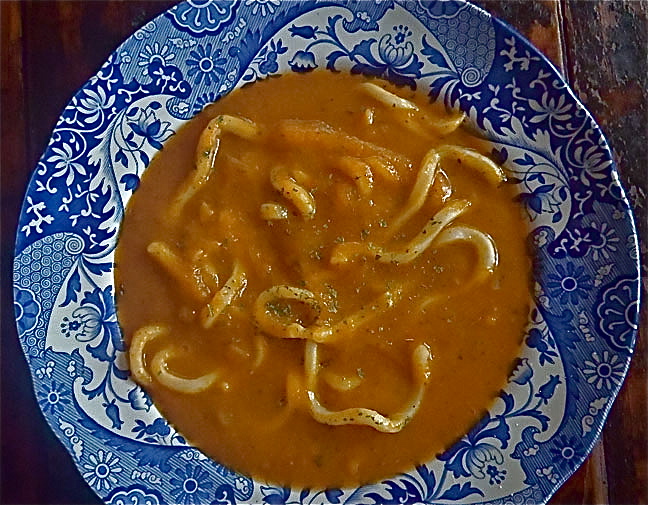 Good news!  This soup — delicious, pumpkin pie-like, nutritious, and comforting — will take less than thirty minutes to prepare!  But wait, there's more . . . kids love it!
 
I believe in using the freshest ingredients possible, but pumpkin puree in a can is fantastic!  It's made from pumpkins at the peak of their season and is often even richer in flavor than fresh pumpkin. And it's definitely less cumbersome!
Fresh udon noodles soak up the pumpkin flavor and make this a hearty soup. (Fresh udon also takes only five minutes to heat.)
Whether it's for dinner or lunch, this soup is a great meal full of spices and will warm your soul.
Ingredients:
1 cup finely chopped onion
1 1/4 teaspoons ground cinnamon
1 1/4 teaspoons ground nutmeg
1/4 teaspoon cayenne pepper
2 tablespoons finely chopped fresh sage leaves
1 (29-ounce) can pumpkin puree
6 cups vegetable stock or broth
2 teaspoons brown sugar
2 (7.5-ounce) packages fresh udon noodles
Salt and pepper to taste
Preparation:
Serves 6
Heat the oil in a large stock pot over medium heat and add the onion.  Cook until softened, about 5 minutes.  
Stir in the cinnamon, nutmeg, cayenne, and sage leaves and cook until aromatic, about 30 seconds.  
Add the pumpkin puree and vegetable stock or broth, bring to a boil, and then reduce the heat to low.  Simmer for about 10 minutes.  Add the udon noodles and simmer for another 5 minutes.  Stir in the brown sugar and season to taste with salt and pepper.
An additional note:
My son's best friend has been bringing a thermos full of soup to school.  I love this idea, and if my kids would tear themselves away from the playground long enough to realize they're hungry, I'd start doing it too!
Fresh udon noodles are available in most markets in a refrigerated section, usually near the wonton wrappers.