I'm a recent cast iron skillet recipe convert. Up until recently, I'd been a devoted non-stick pan user. And despite the rising popularity of the cast iron skillet, I put off buying one because I was afraid I wouldn't be able to treat it or cook in it properly. I was intimidated by them. But after tasting some delicious cast iron skillet recipes made by friends, I decided to put my apprehensions aside and purchase one for myself (and by the way, you can
buy one for less than $20 on Amazon
).
I can't tell you how happy I am that I did. See, no pan possesses quite as much heat or versatility as the cast iron skillet. And guess what? They are super easy to treat and to cook with and you can't beat the food made in them. However, before you start whipping up these tasty cast iron skillet recipes, there are a few things you should know about cooking with cast iron.
Why Cast Iron Skillet Recipes?
Why cook with a cast-iron skillet? They are able to withstand high temperatures so they can be used on the stove-top as well as the oven. They evenly distribute heat. You can use them to sear, bake, fry, roast and saute.
How to Season Your Cast Iron Skillet
If you purchase a brand-new pan, the chances are high that it will be seasoned already. If that is the case, you'll just need to follow the manufacturer's directions on how to use it. If you get a cast-iron skillet from a garage sale or from your grandma, you'll need to season your skillet. Don't worry, it's not difficult.
Simply heat your oven to 300°F. While your oven is heating up, wash the cast iron pan with warm, soapy water. Then dry it well. Use a pastry brush to spread a tablespoon of canola oil over the entire inside surface of the pan. There should not be pools of oil, it should be spread evenly. Bake the skillet for an hour. Then, turn off your oven, but leave the pan inside. Let the pan cool in the oven. After the pan cools, your cast-iron skillet is ready to use! A few drops of oil with each use will eventually create a smooth, non-stick surface on the pan. Proper cleaning and drying will keep the skillet rust-free.
How to Clean Your Cast Iron Skillet
Once you season your cast iron skillet, you won't need much more than warm water to keep it clean. Just use warm water and a sponge or brush (no steel wool). You can use a few drops of mild soap if food is encrusted in the pan, but most of the time you don't even need to do that. Every now and then give your skillet an oil treatment: Warm up the skillet on the stove over medium heat. Wipe it with a bit of oil and then allow it to cool down.
Now that you're feeling confident about using and treat cast iron, click through these easy cast iron skillet recipes and get cooking.
More Family-Friendly Recipes:
The Best (& Easiest) Salmon Dishes You'll Ever Make
This One Pan Chicken Alfredo Pasta is So Easy & Delish
37 of the Best Crock-Pot Chicken Recipes You'll Ever Try
Like what you see? Don't forget to Pin it!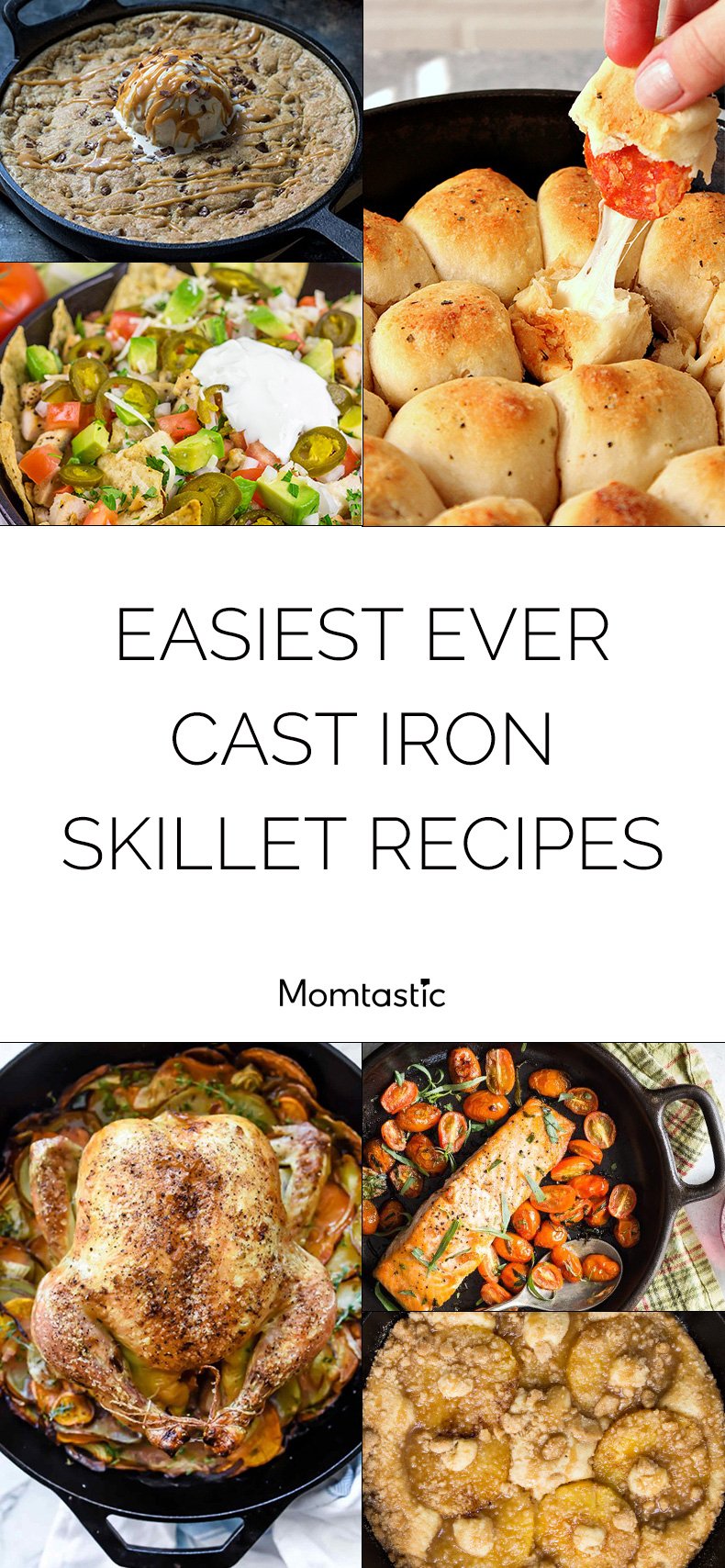 Cast Iron Skillet Recipes
Caramel Stuffed Chocolate Chip Skillet Cookie

Serve this easy-to-make caramel stuffed chocolate chip skillet cookie with a scoop of ice cream, a drizzle of caramel, and a little bit of grated chocolate. It's a tasty dessert and a great way to feed a crowd.

via Barbara Bakes

Cast Iron Skillet Buttermilk Cornbread

This lightly sweet buttermilk cornbread has a crunchy, buttery crust, which comes from baking it in a hot skillet. You won't find a dry crumb on or in it!

via This Gal Cooks

Cast Iron Skillet Seared Salmon

This is probably the best seared salmon you will ever taste, and the easiest to cook. Make it for a fast but healthy dinner, and watch everyone ask for it again and again.

Cast Iron Skillet Whole Roasted Chicken With Potatoes

There's no comfort food quite like a whole roasted chicken, and when tossed into an already-hot, cast iron skillet with sliced potatoes and onions, you have an incredibly easy one-pan meal that's ready in an hour.

via Foodie Crush

Easy Skillet Pizza Rolls

Fill your pizza rolls with pepperoni and cheese, and then dip then in a garlic, Parmesan cheese and butter sauce before baking. Serve with pizza sauce and watch them disappear.

One Skillet Chicken Enchilada Casserole

Nothing tastes better than a skillet piled high with saucy meat, flour tortillas, and gooey cheese. Top your one skillet enchilada casserole with sour cream, Greek yogurt, crema, cilantro, or even avocados—your choice!

via Oh Sweet Basil

Cast Iron Skillet Nachos

These cast iron skillet nachos are loaded with chicken, two kids of cheese, jalapenos and tomatoes. Perfect for game day!

via Spiced

Easy Skillet Pork Chops

These easy skillet pork chops start on the stovetop to get a good sear and then finish in the oven where they stay juicy and tender.

via Add A Pinch

Cast Iron Pineapple Cake

This skillet pineapple right-side-up cake is dotted with freshly caramelized pineapple slices and topped with a crunchy and buttery crumble. Heaven.

via Country Cleaver

One Skillet Sloppy Joe Tater Tot Casserole

Create a delicious sloppy Joe base. Then top it with some frozen tater tots and pop it in the oven. Finish it off with cheese, and get ready to watch your family fight over who gets seconds of this crowd pleasing casserole.

via I Wash You Dry