The crisp New England air and the abundance of pumpkins, apples, squash and even New England peaches make this season a wonderful one for making baby food and family food too! Fall always brings back warm memories of Grandma's kitchen, Mom's cinnamon apple crisp and the joy of creating divine combinations with fruits and veggies of the season.
This recipe originally comes from my book The Wholesome Baby Food Guide and is called Peachy Keen Sweet Potatoes; here I added the apples as per the variation notes in the book. I hope that this recipe will become a new Fall favorite for the whole family, baby included!
Ingredients:
3 medium sized sweet potatoes (about 1-2 pounds total)
2 Macintosh apples
3 medium sized ripe peaches
2 tablespoons olive oil
1 teaspoon cinnamon
1 teaspoon nutmeg
1 teaspoon ginger
pinch of cumin
Instructions:
Step 1: Preheat oven to 400 degrees F.
Step 2: Wash and peel the sweet potatoes then peel and cut into chunks.
Step 3: Wash, core and peel the apples and cut into chunks.
Step 4: Wash the peaches then cut peaches into small chunks – leave skin on.
Step 5: Place sweet potatoes, apples and peaches into a large bowl and sprinkle on the spices.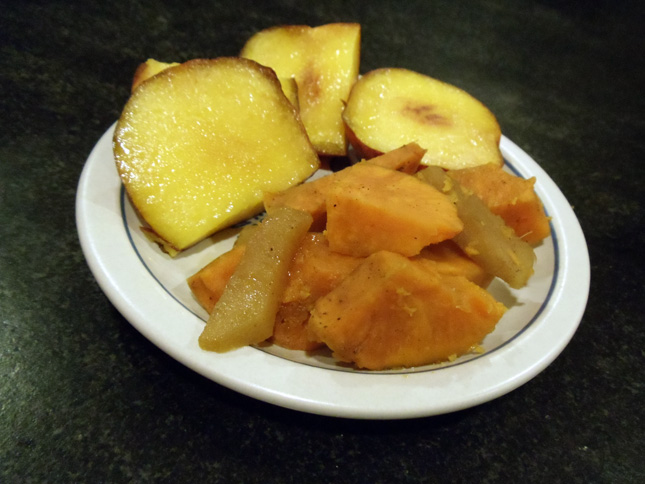 Step 6: Drizzle with oil and stir to combine.
Step 7: Dump the mixture into a baking dish (9×13 should suffice), and transfer to preheated oven.
Step 8: Bake for 30-45 minutes until fork tender.
When done baking, allow to cook and then serve.
For Babies:
Puree to desired consistency, adding water, formula or breast milk as needed; Mash with a potato masher for little self-feeders; Mix with cereals, meats, other fruits or vegetables and even yogurt to create a "meal".