servings: ¾ cup pesto
prep time: 10 minutes
total time: 10 minutes
Ingredients:

oil spray
1/3 cup pine nuts
1½ cups swiss chard leaves, chopped (packed)
1/3 cup extra virgin olive oil
¾ cup basil leaves (packed)
4 garlic cloves
½ cup grated parmesan cheese
1 teaspoon thyme
¼ teaspoon dried oregano
¼ teaspoon chilli flakes (optional)
salt (to taste)
freshly ground black pepper (to taste)
Preparation:

Step 1: Spray a light and even coat of oil spray onto a small pan. Toast pine nuts, over a small flame, for about 5 minutes or until lightly golden and fragrant. Remove from heat and let them cool until they reach room temperature.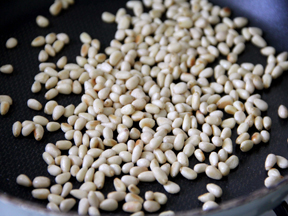 Step 2: Rinse and cut swiss chard leaves into pieces (to fit into food processor).
Note: Swiss chard must be washed thoroughly to ensure all the dirt and grit is washed away. (Soaking multiple times and rinsing should work.)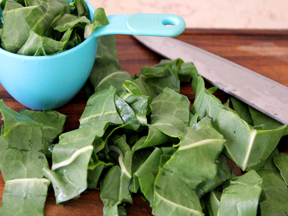 Step 3: Place toasted pine nuts, swiss chard leaves, olive oil, basil leaves, garlic cloves, parmesan cheese, thyme, dried oregano, and chili flakes in food processor. Process until all of the ingredients come together, and a smooth pesto forms. Season to taste with salt and freshly ground black pepper.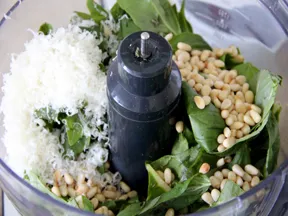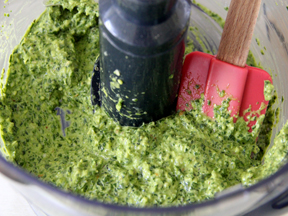 Want more pesto recipes?