I know dessert. That's not bragging, that's just factual information that I'm imparting here. Dessert is my thing. So imagine my surprise when I realized there's an entire category of desserts that I've never even considered. Grilled desserts. Seriously, desserts made on a grill. Am I the only one who didn't know about this possibility? Why didn't I get the memo about outdoor, casual, minimally messy, easy-to-make grilled sweets? So from now on, when I say, "dessert," you say, "grill 'em!" Yeah, that's right.
Want to make your own delicious grilled desserts this summer? Choose from these amazing recipes.
Like what you see? Don't forget to Pin it!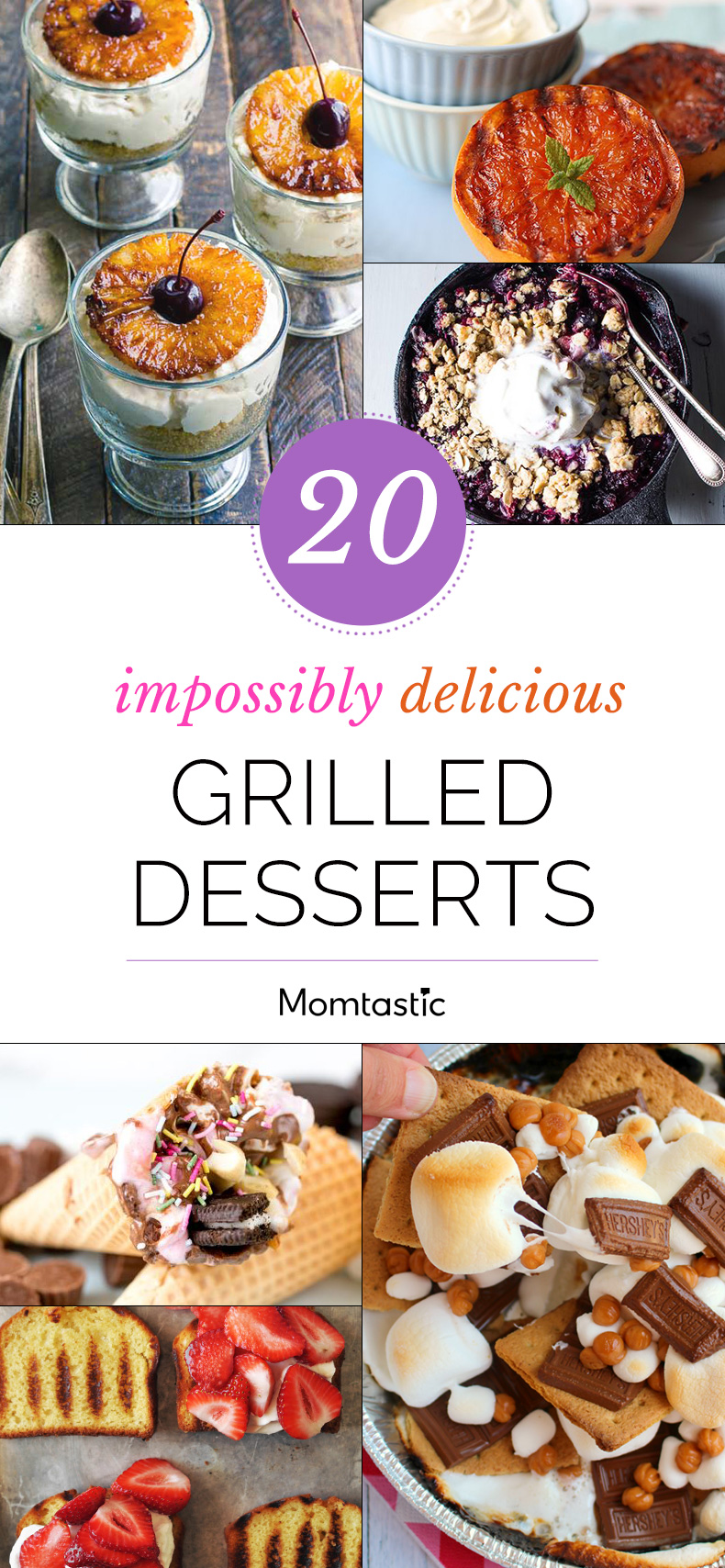 20 Grilled Desserts for Summer Entertaining
Campfire Cones

This grilled dessert has all of the chocolatey, marshmallowy goodness of a s'more -- plus bits of cookie and nuts. Bonus: No sticky, messy hands after indulging. It's a win-win.

Image & Recipe: Brit & Co.

Grilled Orange Cupcakes

Skip the paper cups. You can bake, er grill, these orange frosting-topped orange cupcakes right in the peel.

Image: Cupcake Project

Grilled Honey-Glazed Watermelon

A sweet honey glaze coats these watermelon wedges, while a sprinkle of salt enhances all of that sugary goodness. 

Image: Grill Lovers

Grilled Pound Cake Strawberry Shortcake

Take a classic dessert like strawberry shortcake to the grill this summer. And don't worry: the poundcake in this recipe is store bought, not made from scratch!  

Image: The Chic Site

Grilled S'mores Nachos

These dessert nachos are made with a mouthwatering combination of graham crackers, chocolate bars, caramel bits, and marshmallows.

Image: Delightful E Made

Grilled No-Bake Pineapple Cheesecake

Graham cracker crumbs, cheesecake filling, and grilled pineapple topped with a sweet maraschino cherry makes a delicious end to a night of grilling.

Image: The Wicked Noodle

Triple Berry Crumble

If your kitchen is a bake-free zone this summer, turn to your grill for mixed berry deliciousness in this fruity crumble.

Image & Recipe: Flourishing Foodie

Grilled Strawberry Pies

Summer and strawberries go hand-in-hand, so this strawberry pie with a pre-made crust is bound to be a sweet addition to your backyard festivities. 

Image & Recipe: Pillsbury

Chocolate Cherry Grilled Ricotta Pizzas

I've grilled pizzas, but never one with such decadent toppings. Chocolate, cheese, and cherries? Yes, please!

Image & Recipe: Marla Meridith

Grilled Chocolate Banana Melt

A banana version of s'mores with chocolate, marshmallows, and cinnamon toast cereal? Oh, yeah, that's a dessert worth stoking the flames for.

Image & Recipe: Tablespoon

Grilled Blueberry Lemon Pie

Put those fresh blueberries from your harvest or farmer's market haul to good use in this tart, citrusy pie.

Image & Recipe: Eclectic Recipes

Grilled Rum-Soaked Pineapples Foster

This boozy grilled dessert is ideal for sweetening up a laid-back, grown-up garden party. Cheers!

Image & Recipe: Gimme Some Oven

Grilled Strawberry Tart

This delicious grilled strawberry tart brings back faint memories of Pop Tarts from your childhood!

Image & Recipe: Boulder Locavore

Grilled Apricots with Almond Whipped Cream 

No grill? No problem! A grill pan does just the trick for creating marks on the apricots and caramelizing the honey butter in this recipe.

 Image & Recipe: Recipe Runner

Grilled Cherry Pound Cake

Add a toasty, grilled exterior to simple pound cake, and transform this perennial favorite into an absolute must-have.

Image & Recipe: Savory Sweet Life

Grilled Blueberry Cobbler

If blueberry cobbler isn't already its own food group, this grilled version is bound to win it that distinction. 

Image & Recipe: Tablespoon

Grilled Peaches with Cinnamon Honey Ricotta

Creamy ricotta and sweet honey on top of warm, ripe peaches is basically heaven on a picnic plate.

Image & Recipe: Recipe Runner

Grilled Grapefruit with Mascarpone

When tart grapefruit caramelizes, it makes a happy home for a dollop of mascarpone.

Image & Recipe: La Receta de la Felicidad

Grilled Strawberry Shortcake Skewers

Bite-sized morsels of shortcake and strawberries get the kebab treatment with the help of some light grilling and skewers.

Image & Recipe: Betsy Life

Grilled Bloomin' Apples

Warm, maple pecan almond sauce makes an unforgettable topping for grilled apple a la mode.

Image & Recipe: The Gunny Sack