Party time, excellent! Momtastic is hosting our first-ever Twitter party, and we're inviting you to join in on the fun, share and give some awesome advice, and win fun prizes along the way! RSVP below.
Here are the details: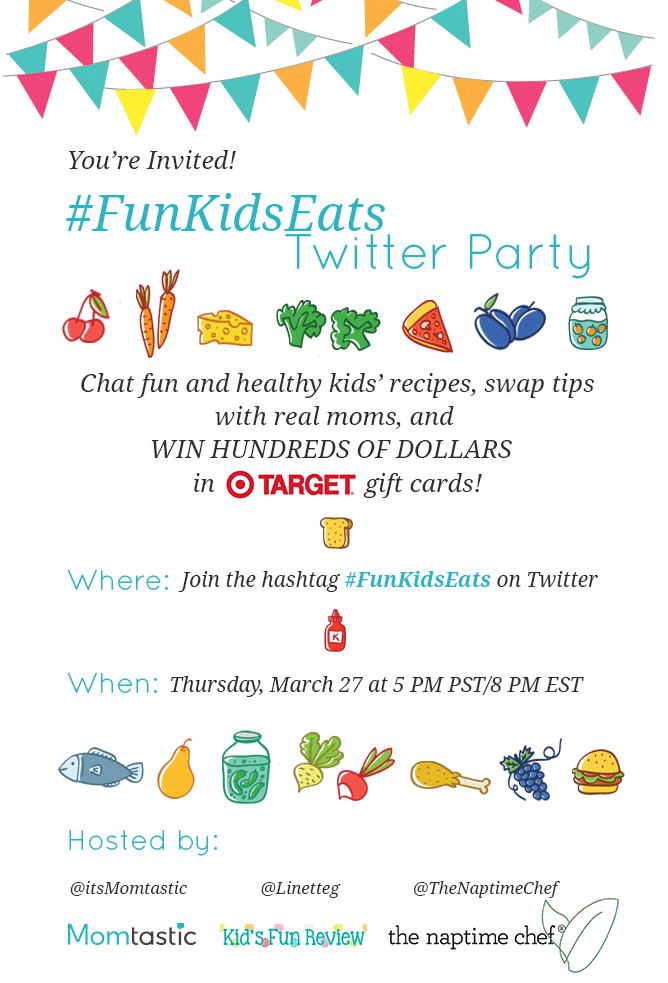 What: The #FunKidsEats Twitter Party
Why: March is EatRight.org's National Nutrition Month! We're hosting a fast paced and fun discussion for moms only, sharing ideas, recipes, tips, and tricks for making eating fun and healthy for kids.
When: Thursday, March 27 2014 at 5PM PST/8PM EST (the party will be 1 hour long)
Who: Hosted by Momtastic: @itsmomtastic, Kids Fun Review: @linetteg, and The Naptime Chef @thenaptimechef
WIN: Between 5-6PM PST, we'll be giving away (4) $50 Target gift cards and (1) $200 Target gift card to random participants in the #FunKidsEats twitter party! To be eligible, you must follow the hostesses on Twitter: @itsmomtastic @linetteg and @thenaptimechef (follow us now!) and engage on the hashtag #FunKidsEats during the party.
We'll be asking for your genius ideas on topics like:
What are the fail proof, HEALTHY snacks you put in your kids' lunch boxes that they always eat?
What's your favorite kid-friendly cookbook or web resources for healthy, yummy recipes that kids love?
Do you cook with your kids? What are some fun ways to get your kids involved in cooking?
What do you do when your kiddo refuses to eat all the veggies on their dinner plate?
And of course, we'll be sharing our own ideas and tips, too!
RSVP ON THE WIDGET HERE to ensure that you're on our list to be eligible for prizes (and we'll remind you as the event draws close, too!).
List your "name" as your twitter handle (e.g. @itsMomtastic)
List your url as your Twitter web address (e.g. http://twitter.com/itsmomtastic)
Your name will be publicly added to the list of attendees right here for you to mix and mingle beforehand!
#FunKidsEats TWITTER PARTY LIVE FEED:
Prizes will be awarded to residents of US and Canada (excluding Quebec) 18 years and over. Full terms and conditions for the Twitter Sweepstakes can be found here.