If there's one thing all kids love, it's snacks. We love having friends and neighbors over to play, swim, and create art and memories together. And as a mom, I want to keep my own children and whomever is hanging out with us on a given day, entertained and satisfied.
Enter the playdate charcuterie board.  Unwrapping, rewrapping, fetching, cleaning up, and otherwise consumed by the snacks when you have guests over is exhausting and stressful, and to be honest, all those individually wrapped eats bother me in terms of our carbon footprint.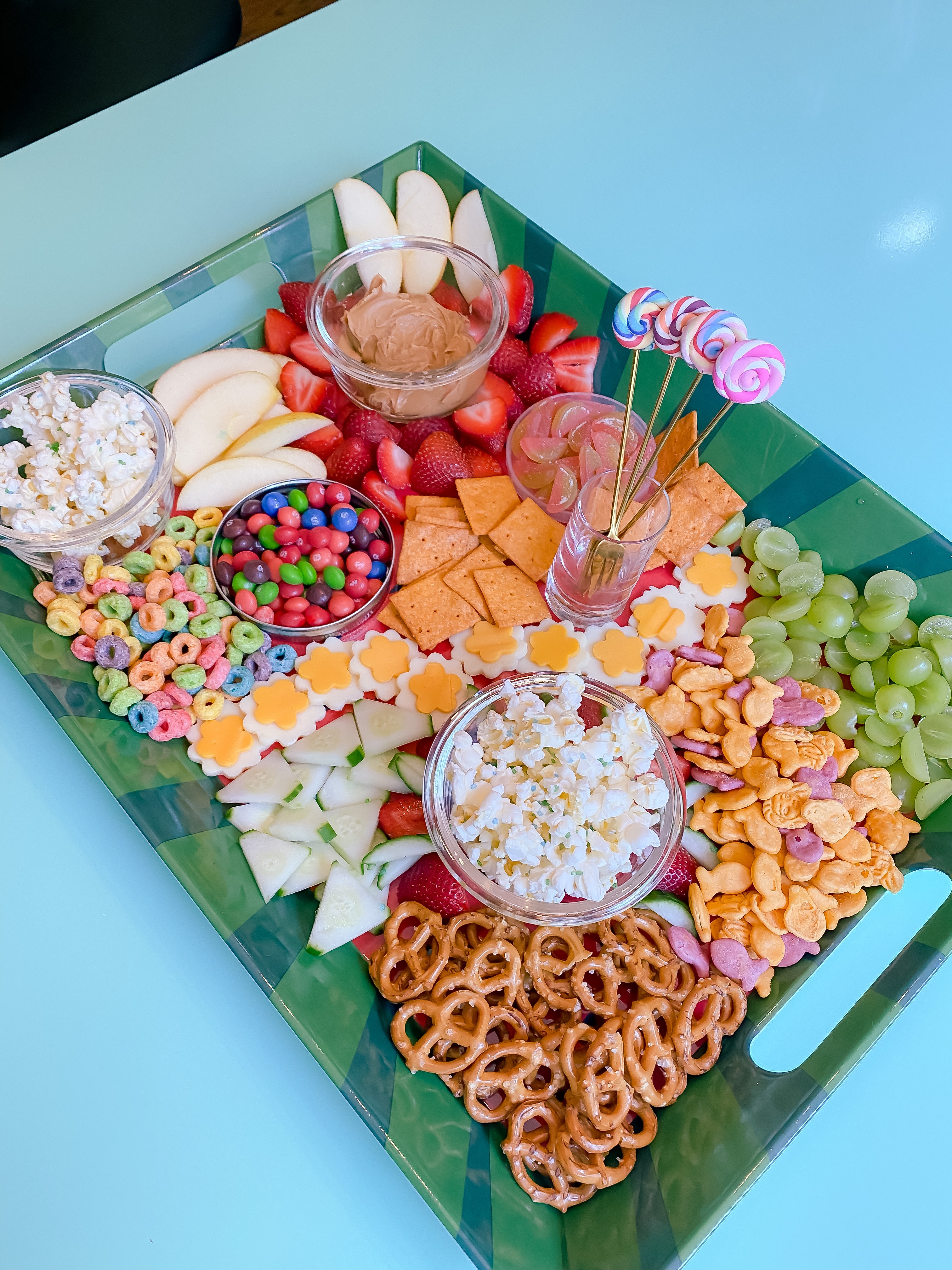 With the creative charcuterie board trend on the rise and a friend heading over with three kids, it dawned on me one day to lay out a gorgeous munching station that everyone could enjoy. From there it just kind of took off and became my thing. I change it up to keep things interesting and cater to various food preferences and sensitivities depending on the guests, but in general there's a bit of a formula I've worked out that seems to make a kid-friendly charcuterie board easy, balanced, and beautiful.
Here's how I pull it off:
Have the right supplies. I like to serve on a bright, colorful, plastic tray. The color of the tray helps conceal if you have any gaps in your preparation (especially because a lot of kids don't like things to touch, I use a lot less layering technique than you would in a traditional meat & cheese board for adults). Plastic or shatterproof glass are important.
I also use little cookie cutters and pretty pickers from this set purchased on Amazon, dainty and bright mini forks, and cheerful paper plates and napkins. Most of the time, we don't use paper at home for environmental reasons but when there's a pack of kids over and I'll have a playroom plus other areas to tackle later, the less mess and cleanup the better. Forgive me.
Think healthy first, fun second.  At least half of my play date charcuterie is always plant-based whole foods. This includes nuts, fruit, vegetables, olives, unbuttered popcorn, natural peanut butter, etc. Ten times out of ten, all the fruit and most of the veggies disappear! It's mind blowing to see how a bit of choice and variety reminds kids that their fruit and vegetables are a yummy part of a balanced diet, especially when they're cut in fun shapes. I did the cucumbers as little triangles here, and they were among the first items off the platter to completely disappear. If serving grapes, always halve or quarter them for choking safety and keep an eye on the kiddos while they eat. I also like to add a variety of cheeses, because moms and picky kids almost always like it!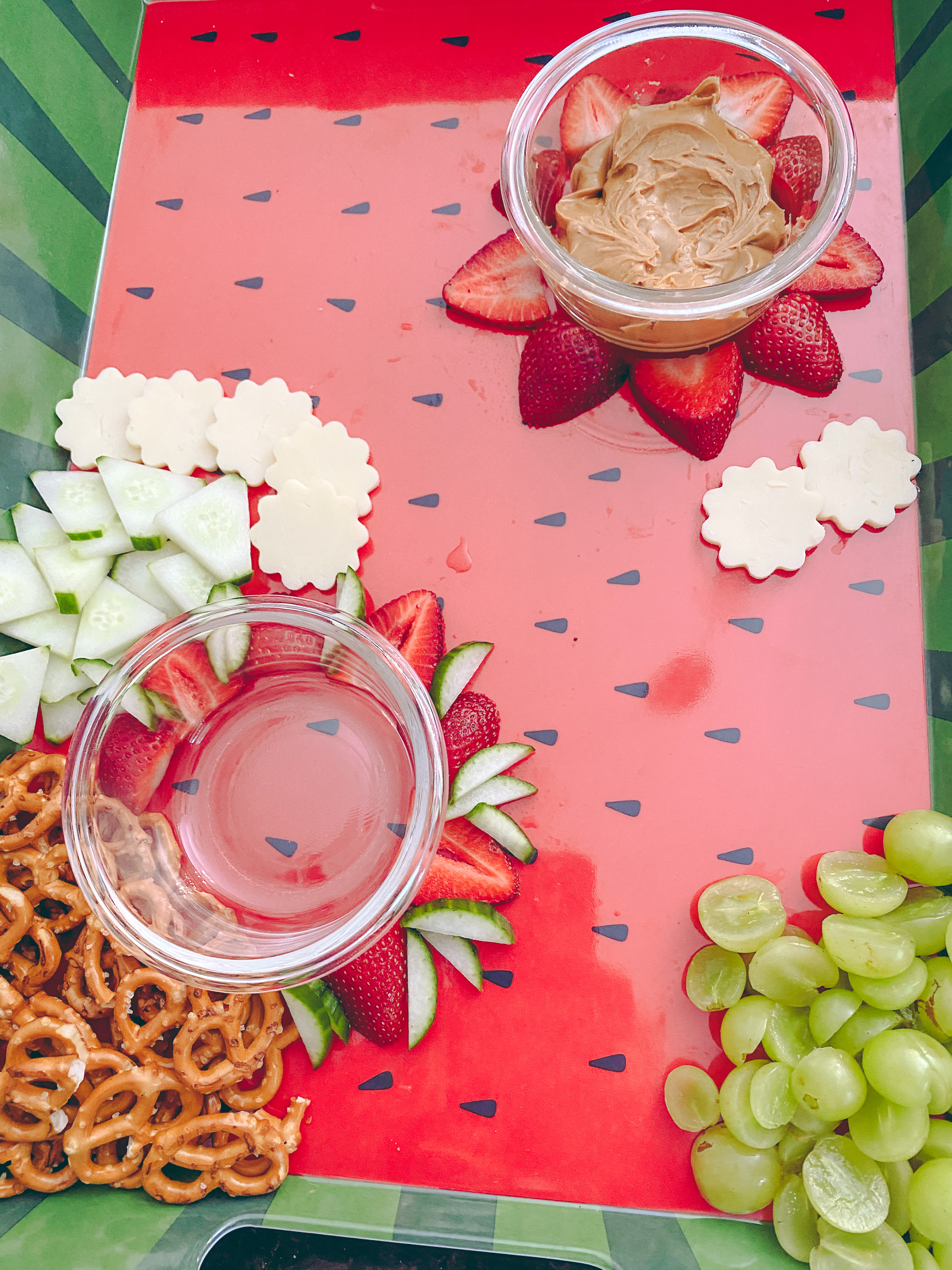 Dips are important. Peanut butter and hummus are typically featured, but Nutella, yogurt, and sun butter are other ideas. These can be housed in small bowls or shatter-proof glass containers as shown here. Kids love to dip, and a variety of textures keeps the eyes and tastebuds happy.
Something salty! Come on, it isn't snack time unless you've got a savory crunch on the plate. Pretzels are ideal for dipping and always a hit. Small chips, regular or cheese crackers, and popcorn are also good.
Make it cute. My little Amazon cookie cutters can be used to make cute shapes out of fruits, vegetables, and more. I especially like to use them with cheese. We're vegetarian, but you can also use these on cold cuts if incorporating them in your platter! Eager, hungry children hanging out in the kitchen while you prep will be MORE than happy to make quick work of the edges left over when you cut out your cheese shapes. Or, eat them yourself, because you know Mama won't get much off this board once the little ones swoop in.
…And a little sweet. I like to include candy and/or cookies for a bright pop of color and special treat. On the board shown, I dumped Froot Loops in a little corner for some rainbow sugar. It looks lovely and all told, is a tiny serving. When you set out a platter like this for 4-8 hungry little ones, each of them is only getting a small amount of refined sugar.
Create pathways & contain. Keep wet away from porous (and pat-dry your washed fruit so it doesn't "sweat" onto pretzels and crackers). Use items that can touch anything to create a little path. My row of cheese "flowers" are doing that here, but you can also use Twizzlers, beef jerky, and other long and thin food items.
Dips and sauces should be in their own containers, as should items that don't stay put, like the Skittles shown here. I simply used the lid of a Mason jar to contain them. You might have noticed my little picker forks are housed in a shot gloss! Hey, whatever works. I usually start with a corner of fruit, a corner of salty, and then "anchor" the rest of the tray by deciding where my "containers" will go.
At the end of the day (or the start of the playdate) what really matters is that you had fun and created something tasty and pretty for your friends. The first time I created a playdate charcuterie board I was holding a cranky infant in one arm while I did it, so the look was far from perfect but the presentation was still met with ooh's and aah's. It's amazing to me how well picky eaters are able to adjust and willing to try new things when they see them displayed beautifully. And, you'll enjoy the playdate much more if you're not running to the kitchen every 20 minutes to reload snack bowls.
So, load up and get creative! Anything goes when you're preparing a bounty of tasty treats for your favorite little people and their buddies.
More Easy Snack Ideas: