Cookies are always made with butter, right? Think again! These easy gluten-free, dairy-free 5-ingredient cookies are made without butter or flour, making them the easiest cookie recipe you'll ever try. After lockdown began last year, everyone started baking up a storm, preparing easy recipes with less ingredients. Look at us being resourceful! Plus, recipes like these sure came in handy when you couldn't buy flour anywhere. When this 5-ingredient peanut butter cookie recipe started going viral on TikTok, it was immediately praised. After making a batch, I'd say the hype is real! They're easy, they're fast and they taste great!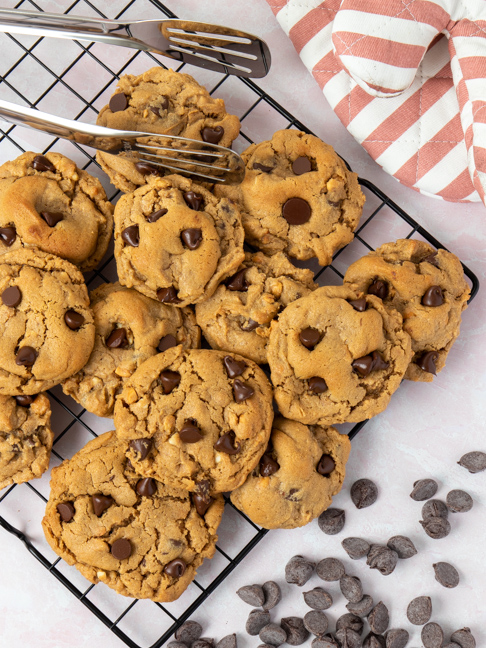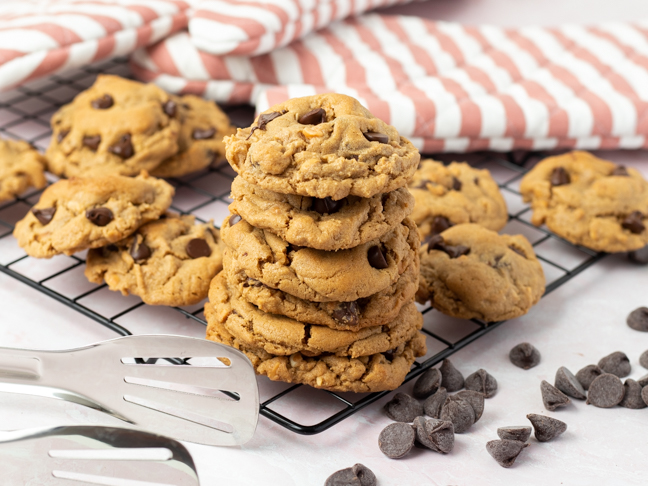 I'm an avid baker, and most of my favorite cookie recipes require lots of chilling to make perfectly thick, soft cookies. These, on the other hand, DO NOT. When you're in the mood for peanut butter, these 5-ingredient cookies are the perfect fix. Mix them in a regular bowl with a spoon or spatula and immediately pop them in the oven for soft, chewy cookies.
What's in these 5-ingredient cookies? The peanut butter is what makes these cookies possible. It replaces the butter and adds plenty of salt and flavor. Personally, I like to use crunchy peanut butter. It adds a little extra pizzazz! Typically, users make the cookies with chocolate chips, but you could replace them with any add-in, like nuts or dried fruit. Made with nothing but peanut butter, brown sugar, baking soda, an egg and chocolate chips, these 5-ingredient cookies take less than 15 minutes from start to finish.
Note, the cookie dough may be a little sticky. A quick remedy for this is to use non-stick spray on a cookie scoop for easy removal! I swear by this trick with sticky doughs.
Does the type of peanut butter matter? From what I have tried, you can use ANY peanut butter you want. I used a "natural" style of crunchy peanut butter and it worked great, as will a traditional peanut butter. However, I would recommend something with a bit of salt because otherwise your cookies will be missing that much-needed ingredient.
Here's how to make your own 5-ingredient cookies in minutes!