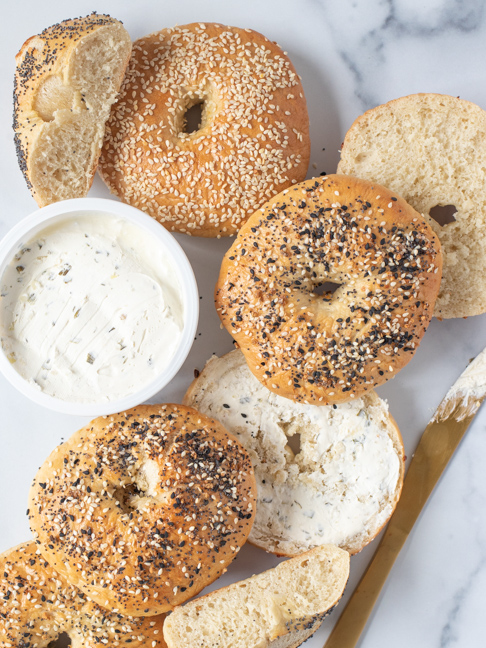 With so many ingredients still out of stock at stores across the country, I've been unable to join the growing bread-making trend. Unfortunately, most bread recipes call for bread flour or self-rising flour, and I'm lucky to even have all-purpose flour in my house right now. I've been learning recipes that only use all-purpose flour and have come to love these homemade bagels that you can make with all-purpose flour! Most bagel recipes call for self-rising flour, so this easy bagel recipe was perfect for me. It's classic and simple, and you can customize each bagel with your favorite toppings. You will need some active dry yeast, but not much. Check with a neighbor if you can't find any in-stores – I'm sure they can spare a tablespoon!
PS, if you are looking for a recipe with NO yeast, check out my no-yeast cinnamon rolls for the Instant Pot!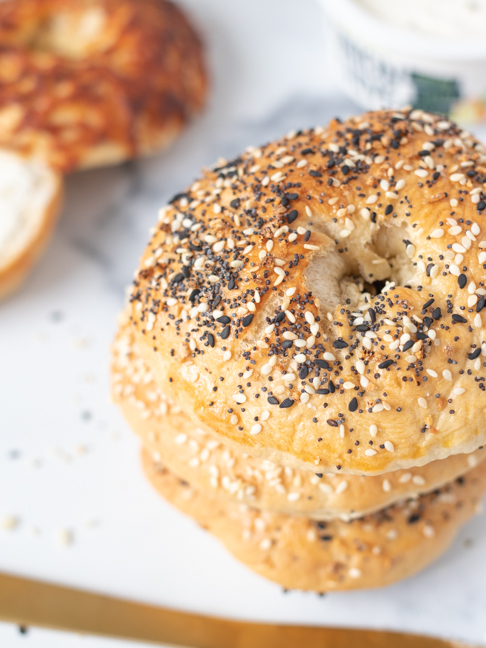 So what makes bagels different than other bread? It's all about the water bath. Once the bagel dough has risen, each one is boiled in a water bath with baking soda or (in this case) brown sugar. This is the signature that makes your bagels truly taste like bagels! Then you top them with a light egg wash to help them achieve the golden look while baking. Add your favorite toppings and bake them altogether. For me, the appeal of these easy homemade bagels is that each one can have a different topping. If you buy a pack at the store, you're forced to choose one flavor. With this recipe, I made a variety of everything bagels, sesame bagels, poppy seed bagels and a cheese bagel.
I paired down the recipe to make only 6 bagels because most people are interested in small batch recipes right now. Of course, you can absolutely double or triple the recipe to make more of these easy homemade bagels. With minimal flour available, small batch recipes are a great way to enjoy yourself while conserving your ingredients.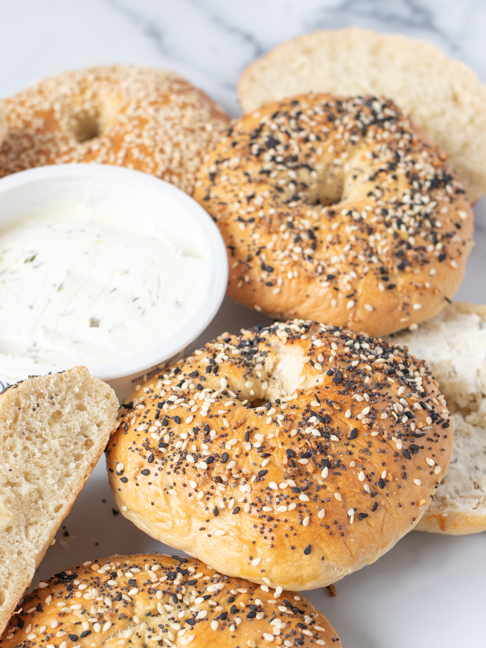 Here's how to make easy bagels at home with pantry staples!