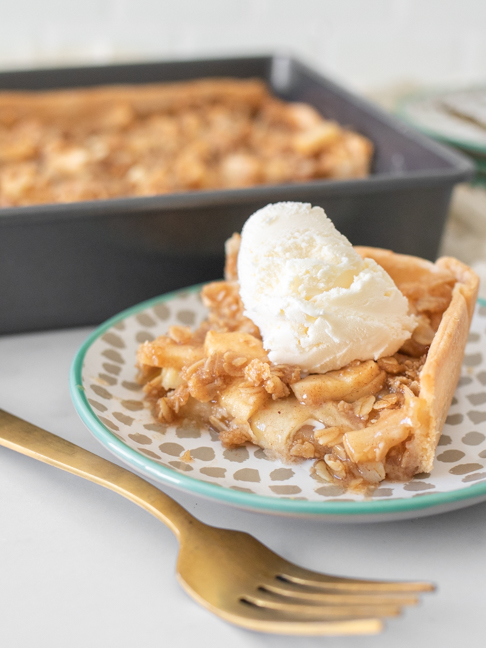 With its flaky, buttery crust and satisfying fillings, nothing beats a pie for dessert. And while you can use any fruit in season, my personal favorite (no matter what time of year it is) happens to be apple pie. Unfortunately, I've never been great at making a pretty pie, BUT that's where a slab pie comes in. Like the name suggests, a slab pie has all of the ingredients of a traditional pie recipe assembled on a rectangular pan. If you've ever had an interest in trying a slab pie recipe, let it be this apple crumb slab pie! Filled with a combination of apples, sugar, cinnamon and a crumbly oat topping, it's best served with a scoop of vanilla ice cream.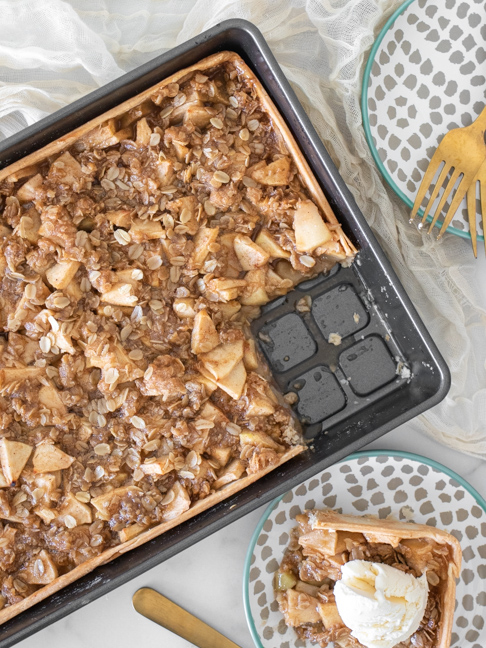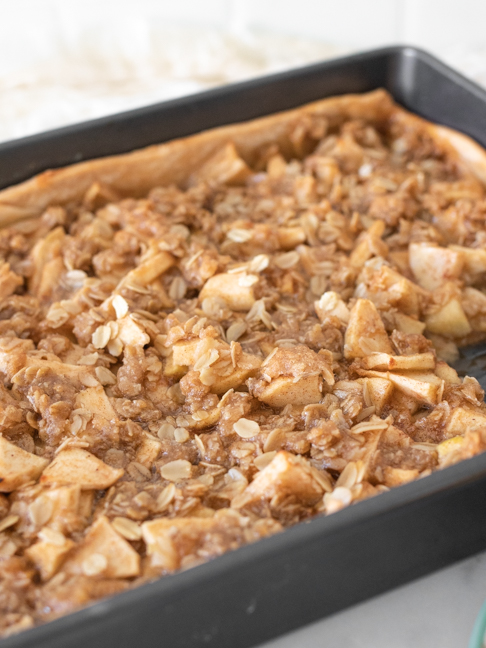 One change can make your apple pie recipe extraordinary: the apples. In this example, I used four Granny Smith apples and two Gala apples. Mixing various types of apples in your recipe can add a lot of flavor in the finished apple crumble slab pie! However, you can never go wrong with classic green Granny Smith apples for an apple pie. Just be sure to slice them equally thin so that the apples bake evenly. Otherwise, you may end up with some still crisp while others become soggy.
I'm a BIG fan of premade pie crusts. While homemade pie crust is delicious, mine never quite has the right look to it when compared to premade crusts. Plus, homemade crust adds a whole other level of stress! With so many other elements to this slab pie recipe, I guarantee no one will judge you for using premade pie crusts. Save yourself the extra dishes!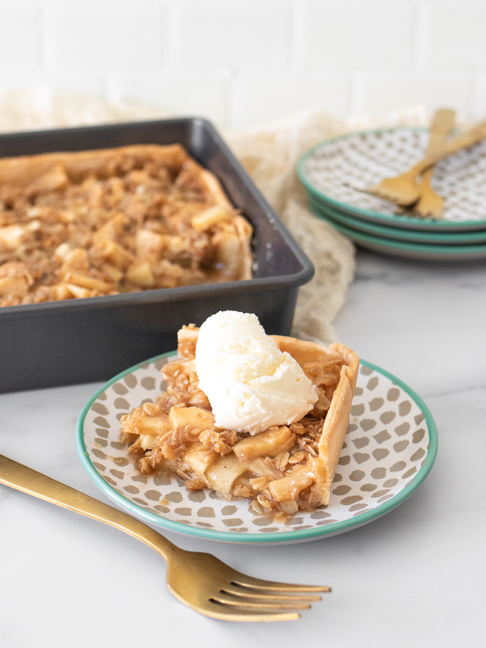 Last but not least, don't skip the crumbly topping! After all, it wouldn't be an apple crumble slab pie without it! The addition of old fashion oats add just a bit of crunch to the baked pie. Plus, the topping is packed with sweetness that helps cut through the tartness of Granny Smith apples. You'll definitely want to try this slab pie recipe when we're able to have parties again this summer!
Here's how to make an apple crumble slab pie that's perfect for feeding a family!