Maternity Halloween costumes are the best, because they give mamas-to-be a chance to have so much fun with their bumps. Most of the time, during pregnancy, we're so focused on stretchy-waist jeans and ruched tops that don't make us look too big in the third trimester, but what about fun? What about humor? When I was 9-months-pregnant one Halloween, I took the easy route and wore a sequined top with a kitty cat on it and whiskers drawn on my cheeks with eyeliner, but there are some seriously cool pregnancy Halloween costumes out there, and I'm wishing I could turn back time.
There's seriously something for everyone, whether you're into sports and want to paint a basketball on your tummy, or maybe you've got a spooky sense of humor and feel like dressing up as a mummy (get it?!). Halloween is the time to be bold, creative, and different, and we've got all the inspiration right here. Here are some genius (and not difficult) maternity Halloween costumes to try this year.
Like what you see? Don't forget to Pin it!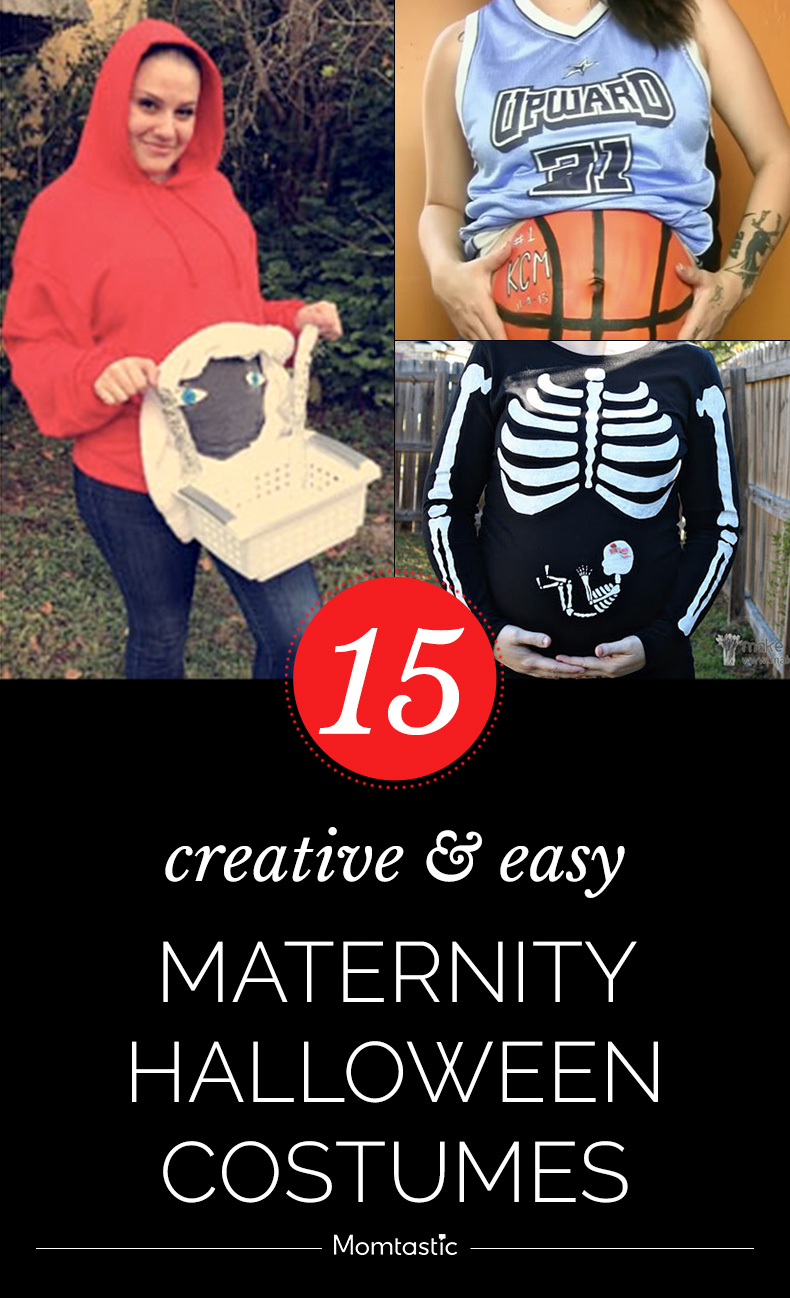 Maternity Halloween Costumes
Basketball Player

Sports fans, this one's for you. With a little face/body paint and your favorite jersey, you can transform your prego belly into an adorable basketball for Halloween! Get the tutorial from Becca Beach.

Photo credit: Becca Beach/YouTube

Minion

If you've got Despicable Me and Minions fans in the house, this one-eyed yellow monster belly paint is sure to be a hit. 

Photo credit: Rooblidoo

Gumball Machine

Draw some extra attention to your bump with this super fun DIY maternity gum ball machine costume, packed with lots of soft and colorful pom poms. 

Photo credit: Amber Elizabeth/Instagram

Mummy

Mummy, get it? This is one clever (and creepy!) Halloween costume idea for any mama-to-be with a wicked sense of humor.

Photo credit: Lindsay Boreing/Instagram

Carmen Sandiego

Where in the world is Carmen Sandiego? Find out when you make this incredibly creative, DIY maternity Halloween costume!

Photo credit: Charmsie/Instagram

Disco Ball

Looking for a way to jazz up your prego belly this halloween? This mirrored disco ball is glitz and glam and totally DIY. Get the tutorial from AtoZFriendly.

Photo credit: Instructables.

Money Bag & Bank Robber

How cute is this couples costume? It's pretty easy to pull off, and will make your pregnant belly look like a million bucks! Get the tutorial from Joyful Family Life.

Photo credit: Joyful Family Life 

Pregnant Skeleton

The skeleton costume is a Halloween classic, and everyone will love the addition of this adorable little skeleton-bump. With a few stencils it's easy to make, and can be a great couples costume too (the hubs can have a burger and fries in his belly). Get the tutorial from Make It & Love It. 

Photo credit: Make It & Love It

Bun In The Oven

Bun in the oven is a maternity costume classic. Lots of fun for couples, and lots of ways to get creative. 

Photo credit: SC Life As A Wife

Troll Doll

Even celebrities like Candace King have chosen to rock the Troll Doll maternity look. This easy DIY costume just needs a skin-colored dress or top, a gem for the belly, and a cool pointy-haired wig. 

Photo credit: Craccola/Instagram

Mommy To Be Maternity Fairy

A pregnant fairy is a great costume for mamas-to-be. It's elegant and fun, and if you don't feel like going the DIY route, it's an easy one to order online. Buy it on Amazon.

Photo credit: Amazon

Scarecrow

If you've got a flannel shirt and a floppy hat, you can pull off this adorable scarecrow costume by stenciling a pumpkin onto a simple white shirt. Easy and fun.

Photo credit: Terrific Preschool Years

Deviled Egg

This Halloween, try turning your growing bump into a sunny side up egg? Throw on a pair of devil horns and you've got the cutest deviled egg costume out there. Get the tutorial from C.R.A.F.T.

Photo credit: C.R.A.F.T.

E.T.

Any child of the 80s is sure to love this E.T. and Elliott costume. A super fun and creative idea for a party, especially if you'll be around any film buffs. 

Photo credit: Kimberlyo728/Instagram

Beyonce

Why not dress as one of your favorite celebrity icons? This pic of Beyonce, announcing her pregnancy in Feb 2017 could be the perfect showstopper at this year's halloween party.

Photo credit: Beyonce/Instagram