I'm 99 percent sure that my pregnancy days are all behind me, but I'm still surrounded by ladies having babies. In the past two years, I've had one friend who wasn't trying, two who were trying, and one who was sort of "Whatever happens happens" all get pregnant.  And guess what? They're all considering having one more baby.
My best friend is definitely planning to have a fourth baby, and we've been thinking of fun ways for her to announce the pregnancy to her husband. As an experienced father and an ER doctor, he's seen just about all there is to see when it comes to pregnancy and babies. With three kiddos already in the family, my friend is going to have to get pretty crafty to surprise him.
You can imagine how giddy she was when I mentioned I was researching creative ways to tell your husband you're pregnant. As I gathered more and more ideas, I read down the growing list and we discussed the logistics of pulling off each one. Let's just say, that husband of hers is in for a surprise the next go round. If you, or a baby-loving friend, are dreaming of the pitter patter of little feet, then check out these creative ways to tell your husband you're pregnant.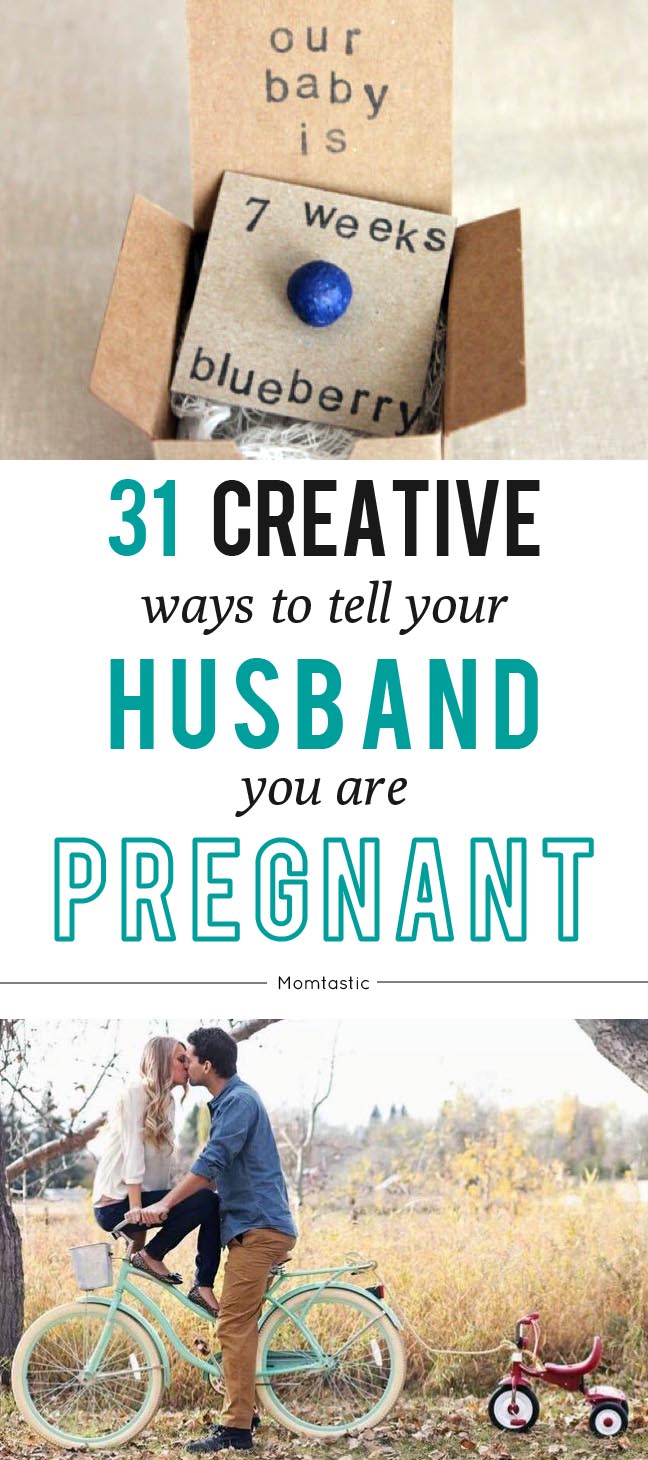 More Fun Pregnancy Ideas:
41 Creative Ways to Tell Your Husband You're Pregnant
Preggers T-Shirt

Put on a sassy, sexy "preggers" t-shirt and see how long it takes your man to notice what it says -- and what it means! 

Photo: Etsy/Strong Confident YOU

Cupcake Surprise

I'm a sucker for sweet ideas, and came across a great one on For The Love of Food's blog. Treat your sweetie to a romantic dinner and then surprise him with a cupcake and this adorable topper when it comes time for dessert -- he won't know what hit him! 

Photo: Etsy/Cuts of Confetti 

Chocolates

What could be sweeter than a box of chocolates? Well, how about a box of handcrafted letter-chocolates that spell out your big news!

Photo and idea: Etsy/What Candy Says

Hello Dad Bodysuit

How precious is this onesie with the message Hello Dad written across it? Your baby's first bodysuit could be the absolute cutest way to surprise your lucky guy with news that he's about to become a father. And in 9 months, your little nugget can wear it!

Photo: Etsy/All That Glitters Baby

Personalized Fortune Cookie

Thanks to morning sickness, a lot of pregnant women aren't really in the mood to cook during the first trimester. Why not order take out from your favorite Chinese restaurant and slip in your own, personalized fortune cookie!

Photo: Fortune Cookie Planet

Starbucks Surprise

Looking for a fun, caffeinated way of spreading the news? Instead of handing your guy his usual morning java, get him something decadent and write Daddy instead of his name -- he'll freak out!

Photo and idea: Events by Elisa

Guitar Pick

Rocker dads will flip over this "Soon to be Dad" personalized guitar pick made of stainless steel. He'll keep it forever and never forget the moment you told him (maybe he'll even write a ballad for mama-to-be!).

Photo and idea: Etsy/Sierra Metal Design

Funny Card

His eyes will pop out of their sockets when you hand him one of these Sh*t just got real cards with a cute drawing of a pregnancy test. Another fun one for the scrapbook! 

Photo and idea: Etsy/Julie Ann Art

Customized Beer

Most guys like beer, and these personalized bottle labels are an adorable way to surprise your spouse with the exciting news. Not to mention, he'll be able to make a toast to the mama-to-be! 

Photo and idea: Etsy/Big Dot of Happiness

Keepsake Jigsaw

Puzzled over how to surprise your spouse with the news? (Sorry, couldn't resist!). Make him work for it by having him assemble a cute little jigsaw puzzle with the news. 

Photo and idea: Etsy/Zelsk

Easy DIY Sign

Point your spouse in the right direction with a simple chalkboard sign. This is perfect if you can't keep the secret in long enough to plan an elaborate surprise.

Photo and idea: Scottsdale Mom Blog

Coffee Mug Hidden Message

The best part of waking up is finding out you're having a baby! Ok, so it doesn't quite work, like at all, with the famous coffee jingle, but these surprise pregnancy announcement mugs make up for it.

Photo: Glia Design

Photo Shoot Surprise

Arrange a photo session, and ask your guy to write something he loves about you on an oversized card. Tell him you'll do the same, except that you'll really write down the pregnancy announcement. When you reveal the surprise, the photographer will be right there to capture his reaction. (like Nicole Davidge once posted on her blog!).

Photo and idea: Nicole Davidge

Puppy's New Toy

Let your pooch get it on the big reveal with a subtle new toy. Give your dog a cute pair of babies shoes right before your husband comes home, so the dog doesn't have enough time to use them as a new chew toy.

Scratch Off Surprise

Everyone loves a scratch off, right? Instead of winning a few hundred bucks, let your hubby known you've won the baby lottery. This DIY reveal by Modern Moments Design is awesome. 

Photo and idea: Modern Moments Design 

Superhero Sibling Surprise

Reveal your super surprise in a super way. Every kid loves the chance to save the day. Let your older one be an integral part of announcing your new one with this fun idea from Mama Bee.  

Photo and idea: Mama Bee

Sidewalk Art

Get artistic on the sidewalk, and write a message for all (and your partner) to see. Convince the older sib to lay alongside the note, and surprise Dad.

Photo and idea: Solis Plus One

We're Expecting Spoons

Talk about a fun surprise with dessert! See how many bites it takes before he notices the message on these cute spoons. 

Photo: For Such a Time Designs

Baby Eviction Notice

Tape this eviction notice on kid #1's crib for your partner to find when he tucks her in for the night. Laughter will ensue. Trust us.

Photo and idea: Mommy Shorts 

Guard Dog on Duty

Really get the message across by having the dog hold a sign announcing his new position as the baby's guardian.

Photo and idea: Keep Calm and Carry On

Family Game Night Announcement

Start the family game night tradition ASAP with this cute Life idea. Even if you don't know the baby's gender, you can still add a little one to your game piece and leave the little car of him to find.

Photo and idea: Mental Floss

Berry Baby

If your spouse is very visual, fill a little box with a seed, fruit, or memento to represent the size of the little one depending on how far along you are. Petite25 has a similiar option to this adorable idea for the seven-week mark.

Photo and idea: The Party Posse

Equation Pregnancy Announcement

If your partner is a math teacher (or just loves numbers), try this idea. It proves that sometimes, 1 + 1 doesn't equal 2.

Photo and cards: ErinMurphyDesign

Pregnancy Test Note

Check out this happy surprise. If you have a little niece or nephew (or some baby-related clip art), you can whip up a pink and blue hued message.

Photo and idea: Little Baby Edmonds

One on Deck

Let him know there's a new batter up. Scribble a note on a baseball to announce that a little one is on the way.

Photo and idea: BuzzNick

Parking Spot Surprise

Swing by the mall or IKEA during non-peak hours, and text him a picture of you standing in the coveted spot. 

Photo and idea: Little Hiccups

Tiny Tees

Expecting baby #2? Get big sister (or brother) involved. Let a t-shirt tell Dad their new status in the family. Buy pre-made shirts, or use a word processing app and printable iron-on transfers to create custom designs.

Photo and idea: Georgia Grace

Egg-cellent Announcement

Turn a plain old egg into a pretty pregnancy announcement package. Some paint, a few polka dots, and a little note tucked inside are a fun way to deliver the news. Swing by Poppytalk to check out the tutorial.

Photo and idea: Poppytalk 

Peanut in a Box

A little box of peanuts is a cleverly-worded way to announce your soon-to-arrive peanut.

Photo and idea: Friday's Child

Pregnant Pumpkin

If fall is right around the corner, use pumpkins to make a subtle message. 

Photo and idea: Fizara

Stork Delivery Co.

A little DIY stork bundle is another option to deliver your good news. Stuff the bag full of little baby goodies.

Photo and idea: KimberlyMichelle.com

Stork Feather Note

The stork can help announce your good news. Leave a little feather on your partner's pillow with this darling surprise. 

Photo and idea:  Little Elephant Crafts

Tricycle Time

Before your next bike ride, buy a little tricycle and have it waiting next to your two bikes for a fun pregnancy announcement. Later, have a photo shoot like this one from Double the Batch. 

Photo and idea: Double the Batch

Custom Wine Labels

Cheers! Announce your exciting news in this cute way -- and get ready to celebrate right along with your hubs. He can enjoy the wine, and you can sip a delicious (and pregnancy-friendly) mocktail. 

Photo and idea: Ten Twelve Designs

Put Up Your Dukes

Search online for a teeny little boxing glove if the sport, or Notre Dame, or any other boxing icon or symbolism is close to your heart. Surprise him, and then use the same idea to surprise others. "Joy Ever After" added an cute calligraphy note to her announcement. 

Photo and idea: Joy Ever After

Book It

Let Amazon and various authors break the good news (and help your guy deal with the impending changes coming your way). Plop a copy of Dude, You're Gonna Be a Dad!, The Expectant Father, and The Baby Owner's Manual on his nightstand.

Photos of book covers: Amazon.com

Bun in the Oven

Send this little handcrafted mini bun to your husband at work. Each little clay bun includes a ribbon of paper with the baby's due date included. 

Photo and idea: Little Elephant Crafts

DIY Baby Cake Pops

You don't have to wait until Mardi Gras to whip up my Easy-to-Make King Cake Pops. These little sweeties are a sneaky way to reveal that you're eating for two. Here's how to pull this idea off.

Photo: Momtastic.com

DILF Embossed Cards

These announcement cards basically say it all. Whether you're still in a full state of OMG or if you're ready to officially declare your guy a DILF, card designer Julia DeLuce has an embossed card to fit the occasion.

Photo and cards: JDeLuce

Due Date Cookies

Bake up batch of your husband's favorite cookies featuring your sweet announcement!

Photo and idea: Crave. Indulge. Satisfy. 

Pregnancy T-shirt

Husband a tee-shirt and jeans kind of message? Send him (and everyone else) the message with this cool shirt. Put it on his pillow right before bedtime for a fun surprise.

Photo: Etsy/The Print Project Store