National Football League (NFL) star Travis Kelce is all set to play against his brother Jason Kelce in a Super Bowl rematch on November 20, 2023. They made history earlier this year on February 12, as they became the first brothers to face off against each other in the Super Bowl (via People). The game between the Kansas City Chiefs tight end and Philadelphia Eagles center will be witnessed by millions of fans, including their biggest supporter and cheerleader, Donna Kelce. During the Kansas City Chiefs games, she made headlines for her closeness with Travis' girlfriend, Taylor Swift. However, she's been an NFL regular for quite some time and has seen all of the matches of her sons. If you have been curious about Travis Kelce's mom, here's everything we know about her.
Who Is Travis Kelce's Mom, Donna Kelce?
After the death of her mother, 12-year-old Donna, along with her father and 10-year-old brother Don, moved out of Cleveland to the suburbs. A few years later, Donna's father married her stepmother, Mary (via People).
Donna's love for sports doesn't stem from her sons; she has been a sports lover since childhood. Although her father was not in favor of women playing sports, it was her stepmother, Mary, who supported her and guided her along the way. During her high school years, Donna competed at the Junior Olympics in track and field and won. Due to Mary's constant support, Donna became the first in her family to graduate college.
After earning her degree from Ohio University, Travis Kelce's mom pursued a whopping 30-year career in banking. She worked for Mastercard before joining a local bank in Cleveland, where she specialized in commercial real estate finances.
How Did Donna Kelce Meet Her Ex-Husband, Ed Kelce?
Travis Kelce's mom appeared on Travis and Jason's New Heights podcast and opened up about how she met their father, Ed. According to her, the duo met at a bar called Fagan's in Cleveland, Ohio; it was love at first sight for the couple.
Donna was supposed to be on a date with someone else, but the two couldn't stop chatting after Ed walked into the bar for an after-work drink. On the podcast episode, she recollected, "I was supposed to go out with a guy that night. We were supposed to go to a play and I never made it. Your dad and I talked forever…It was a good play, too! I wanted to see it."
Even Ed recalled the same story in the podcast episode, exclaiming that he was shocked that Donna was impressed with him despite him being covered in dirt after working at the steel lab. However, since he didn't want the night to end, he went home, showered, and took her to another bar; there was no looking back after that, as "it was meant to be."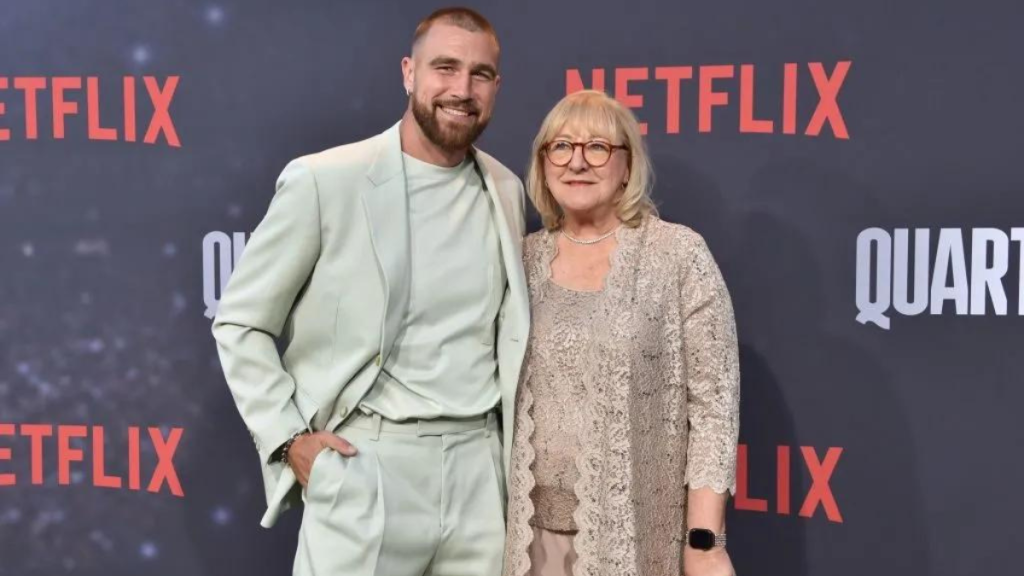 Are Donna and Ed Still Married?
Travis Kelce's parents tied the knot in the late 1970s. Donna gave birth to Jason after being married to Ed for five years, and about two years later, Travis joined the family. The couple raised their kids together in Cleveland Heights, Ohio.
However, shortly after their kids' graduation, Ed and Donna divorced after being married for 25 years. Despite this, there is no ill will between the couple, as Donna noted that they are "friends to this day" and "get along great."
Donna Is a Taylor Swift Fan
Travis Kelce's mom is a fan of his girlfriend, Taylor Swift, and her talent. She was spotted hugging the singer in September 2023 at the Kansas City Chiefs vs. New York Jets game. Donna recently saw the Swift's Eras Tour concert film screening and thought the film "was awesome" and was "totally enthralled" by it (via People).