We always have a helping hand in our house thanks to our preschooler. She's ready to be a helper whether it's in the kitchen getting dinner ready or watering the plants in the garden. But the first chore she ever helped with was feeding our dogs at 17 months. On her own, she would crawl over to the cabinet, open up the door, and scoop out the food into the dish below. We thought it was amazing until our Boston terrier started to waddle herself from getting extra servings of breakfast and dinner. But since that day, our daughter has always wanted to help out with dog chores, and as a preschooler, she's more than capable of helping in many ways!
Meal Time

Feeding the dog dry food is a chore that any small child can master quite early, as long as you have the food set up in a way that's child friendly. We keep our dog food in a flip-top container and in a low cabinet. We make the serving size easy to master by using a small plastic cup as a scoop.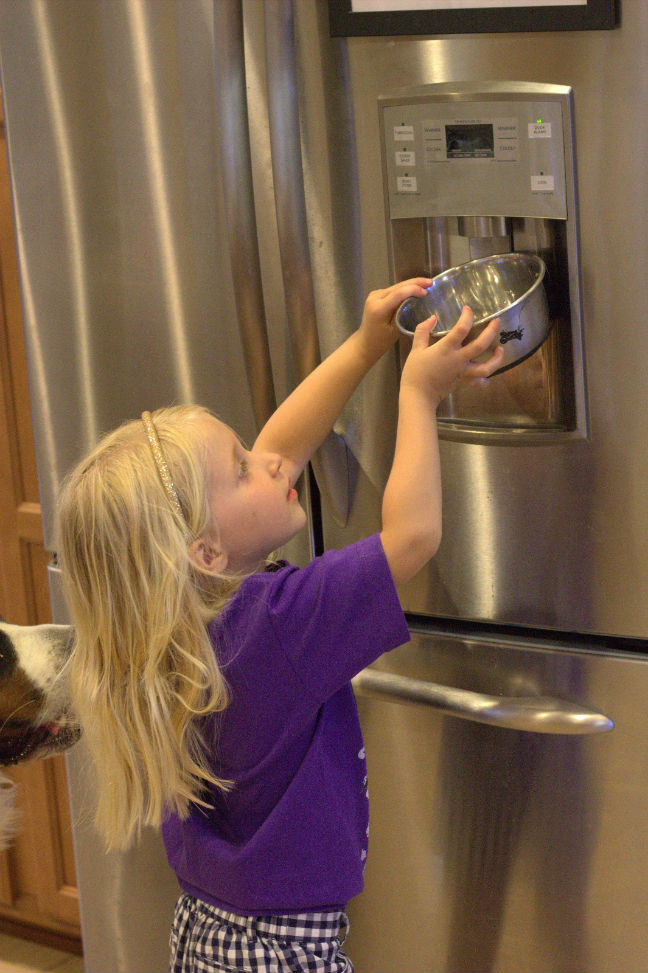 When your preschooler has mastered the art of balance, and perhaps has reached the appropriate height in our case with the refrigerator, then they can start dishing out the water as well! There's bound to be some spills, so make sure you keep a towel around and have them mop up any puddles of water as well. 
Taking a Walk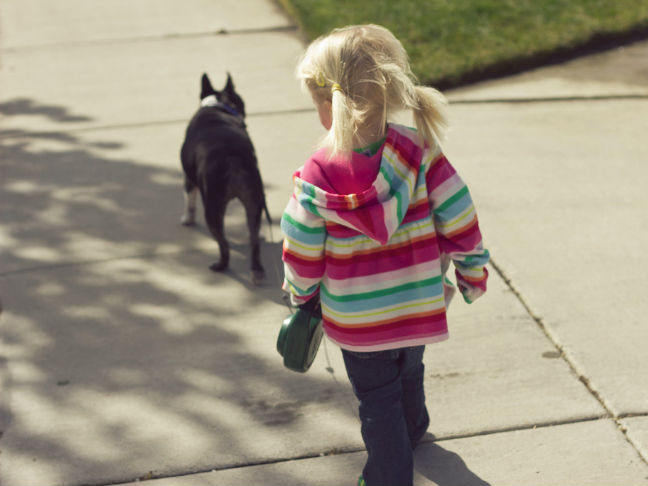 There are a lot of issues when it comes to deciding whether your child is ready to take your dog on a walk, but they mainly come down to size and temperament. If you have a dog that will leap away and that dog weighs more than your child, it's safe to say that walk isn't going to work out so well. So while our daughter could walk our 15 pound Boston terrier at age two, she's still quite a few years away from walking our 110 pound Bernese mountain dog. It's a great habit to get into and helps a child gain respect with the family dog as well! 
Grooming

In the hot summer months, there's no better way to combine a preschooler's love of splashing in the water with a good outside doggy bath! Let them help with the sudsing and rinsing and drying, and I can guarantee you a million giggles will ensue! You can also ask them to help with brushing out a dog's fur, taking caution that you've shown them how to do it properly. Keep them away from grooming the face and ears, but good tummy rubs and brushing will help cross a small task off your list and help your pet and child bond even more. 
Treats

Any occassion that you have to give a dog a treat, let your child take over and reward them instead! In our house, our daughter gives the dogs treats every day before we leave the house when the dogs successfully go to their crates. She's excited to do it, and they are happy to see another treat-giver in the household. Make sure you establish boundaries about when to give treats and how many to give, and you'll have a great training assistant at your side! 
It's so great to have another pet helper in the house, and I can't wait to see what my Kindergarten helper will look like!
More Pets Articles: