Guys, I have recently become obsessed with apothecary jars. They are the new mason jar of home decorating. Seriously. What I love most about apothecary jars is that you can fill and refill them based on your mood and the season. By switching the contents of the apothecary jars, you can completely change the vibe of a room and enhance the space. And they don't just look pretty, they are ideal for storing and organizing things like cotton balls, shells, and soaps…but in a way that looks cool.
You can purchase apothecary jars at home goods stores, but you can also find them at thrift shops and garage sales for practically nothing. Most apothecary jars you find will be clear; however, you can sometimes score amber, brown, or blue jars. They come in numerous shapes and sizes with different types of lids as well.
Inspired to decorate and organize your home with apothecary jars? Check out some of my favorite ways to put them to work.
Like what you see? Don't forget to Pin it!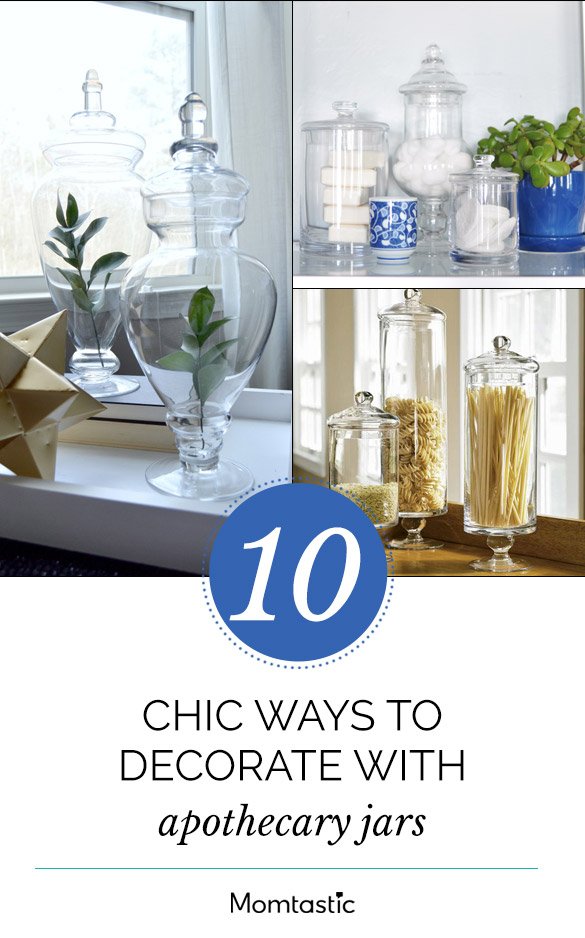 Apothecary Jars
Match Filled Apothecary Jars

Whether you make this at home or buy it on Etsy, a match-filled apothecary jar makes for a very cool hostess gift or coffee table decoration.

Source: Frankie and Claude via Etsy

Bathroom Storage Apothecary Jars

Organize your bathroom in an elegant way by adding cotton balls, ear swabs, and soaps to apothecary jars. Notice how each of these items are white to give the bathroom a fresh and clean vibe.

Source: My Colortopia

Fruit Filled Apothecary Jars

Add a pop of color to your kitchen or living room by placing fresh limes or lemons in your glass apothecary jars. You can't beat the simplicity of it.

Source: Splendor in the South via Tumblr

Spring Floral Apothecary Jars

Apothecary jars come in all shapes and sizes. Grouping them together on a mantel or a table with a few flowers creates a simple, yet chic, look for spring. So much better than one jar jammed with tons of stems.

Source: Bless'er House

Apothecary Jar Natural Centerpiece

The display in your apothecary jar doesn't need to be complex. Just cut off a branch with green leaves on it from your backyard and place it in a jar that has a bit of water on the bottom. It's elegant and simple.  

Source: Kelley Nan

Pasta Storage Apothecary Jars

There isn't a more efficient or stylish way to store pasta than to place it in apothecary jars! So much better than keeping it in open boxes in your cabinets.

Source: Craftionary

Cork and Pine Apothecary Jars

Add natural elements to your apothecary jars by filling them with wine corks (perfect excuse for a girls' night) and pine cones (from that family nature walk). This is an inexpensive addition to your home décor.

Source: Song Bird Blog

Coastal Succulent Apothecary Jars

Create a mini, no maintenance, indoor garden in your apothecary jar. Fill the bottom of your jar with sand and then add your succulents. Don't forget your embellishments like moss, seashells, and starfish. 

Source: Sand and Sisal

Apothecary Jar Terrarium

Decorate a table with gorgeous glass apothecary jars filled with natural objects and even succulents planted in a wooden bird nest (available at craft stores).

Source: Bless'er House

Winter Wonderland Apothecary Jars

Decorate for the holiday season with some jars filled with glittery pinecones, snowflakes, and sparkly ornaments. Use what you already have, no need to purchase anything new!

Dry Good Apothecary Jars

Fill your jars with lentils, popcorn kernels, and dry kidney beans for a pretty, layered look.  

Source: Faeries & Fauna