The kids will be back in school and studying hard in no time at all, and you know what that means: homework, so they're going to need a cool homework area. Whether you have little kiddos who are just learning to write or big kids who are tackling term papers, it's important to give them a place to sit down, focus, and get to work. When it comes to creating a homework space for your children, there can be all kinds of factors to consider. The ages of your children, their organizational needs, and your own aesthetics all play a part!
Want to put together an inspiring homework area for your kids? Check out some of my favorite ideas.
Like what you see? Don't forget to Pin it!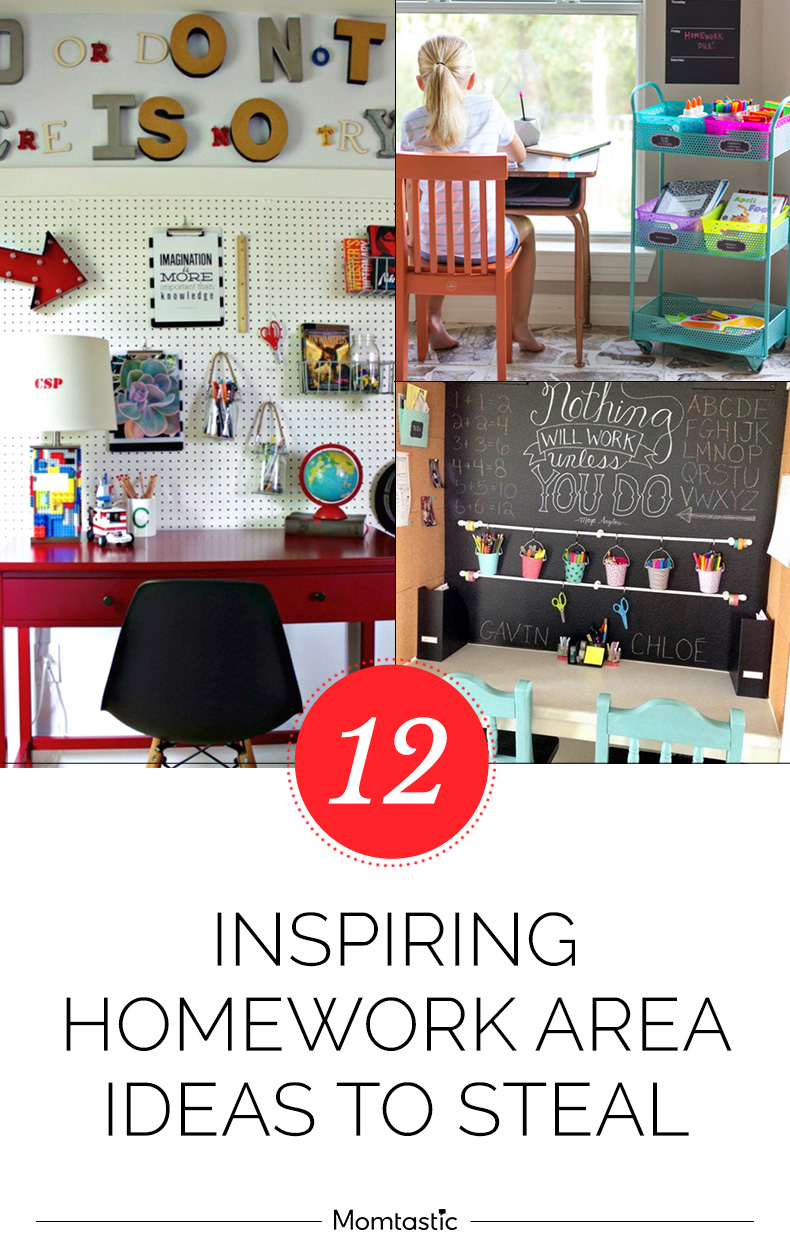 Inspiring 12 Homework Areas
Make the space fun.

Homework doesn't have to be a chore! Add a little color and whimsy into your kids' workspace and they'll be happy to sit down for a little reading and writing session. We particularly love these shelves, which can hold everything from art supplies and games to books and folders.

Photo: Lay Baby Lay

Have a place for everything.

Organization is key when it comes to kids and school. Outfit their work station with plenty of containers for pencils, pens, and other supplies. This row of hanging buckets definitely does the trick.

Photo: Apartment Therapy

Add some personality.

Give a nod to your child's favorite things as you fill their space! This kiddo is clearly into Legos and Star Wars, as evidenced by the fun touches in and around his work area. Let the decor be inspired by the things that inspire them. 

Photo: Our Fifth House

Hang things up.

Avoid having piles and piles of artwork or old tests laying around your house by incorporating a bulletin board into the homework area. This way, kids can hang what they like (or what they may need again) and display it for a while, or pull it down when they want to put up something new.

Photo: Young House Love

Make space for tech.

If you've got older kids, chances are they'll need computer access in the homework nook. Set up your tech so that they've still got desk space to write and work; adding a riser underneath a desktop computer can be a major space saver.

Photo: Apartment Therapy

Make it interactive.

We love these clever, interactive charts for a kids' homework area! Add a few touches on the wall like a clock that they can manipulate, a calendar so that they can change the day, and even a weather watch chart. They'll love to sit down and figure it all out -- and it's a great way to get focused before tackling homework.

Photo: Live Craft Eat

Keep it tidy.

Give them space to think, learn, and create in a tidy space. This homework nook has a series of wall clips to hang art, labeled bins for supplies, and plenty of drawers for storing odds and ends. A clean space is a happy space!

Photo: Craving Some Creativity

Incorporate a chalk wall.

If you have more than one child sharing the space, give them each their own area to take over. Even a small space can be shared by providing two chairs, and matching supplies. A chalk wall at the head of this work nook gives each child the chance to scrawl out their own notes.

Photo: By Dawn Nicole

Consider fold-away furniture.

This wall-mounted desk is a perfect option for a small space, or even a college student looking for a homework area! You can fold it away when you're done studying and still keep all of your supplies organized inside.

Photo: Scrapbook Update

Get on a roll.

Don't have an area of your house where you want to set up a permanent homework nook? A rolling cart is a great solution. Load it with pens, pencils, and school supplies, and roll it wherever your kiddo wants to plop down to tackle his homework.

Photo: Design Improvised

Build it in.

If you have the chance, creating a built-in homework area can't be beat. Let young kids use it as an art center, and as they grow with it you can turn it into a more sophisticated study space. Be sure to plan ahead and include some shelving and some drawers or cabinets, so kids can keep all of their materials close at hand.

Photo: Sita Montgomery Interiors

Create a command center.

These days, no busy home is complete without a homework command center. This series of clipboards attached to the wall of a homework nook can include school documents, family calendars, artwork, homework lists, and more. Organize it so that kids can access it too, and you'll all stay organized together.

Photo: Home is What You Make It