Need some BTS lunch inspiration? Try these bento box ideas. Bento boxes are reusable portioned containers that keep your food separated. The word "bento" comes from Japan and it simply means lunch box. Typical bento box recipes include a variety of food groups, in different flavors and colors — think a few blueberries, some chocolate chips, a handful of whole grain crackers, cottage cheese, and some cherry tomatoes. And since you are putting a little bit of everything in there, it's fun to eat and it usually ends up being a well-balanced meal. And in my book (or..box), that's a big win for a kid's lunch.
I like the idea of giving my kids a variety of foods in small amounts rather than just a large sandwich and an apple every day. But what should I pack? There are a million bento ideas out there — so I've picked out the very best.
Like what you see? Don't forget to Pin it!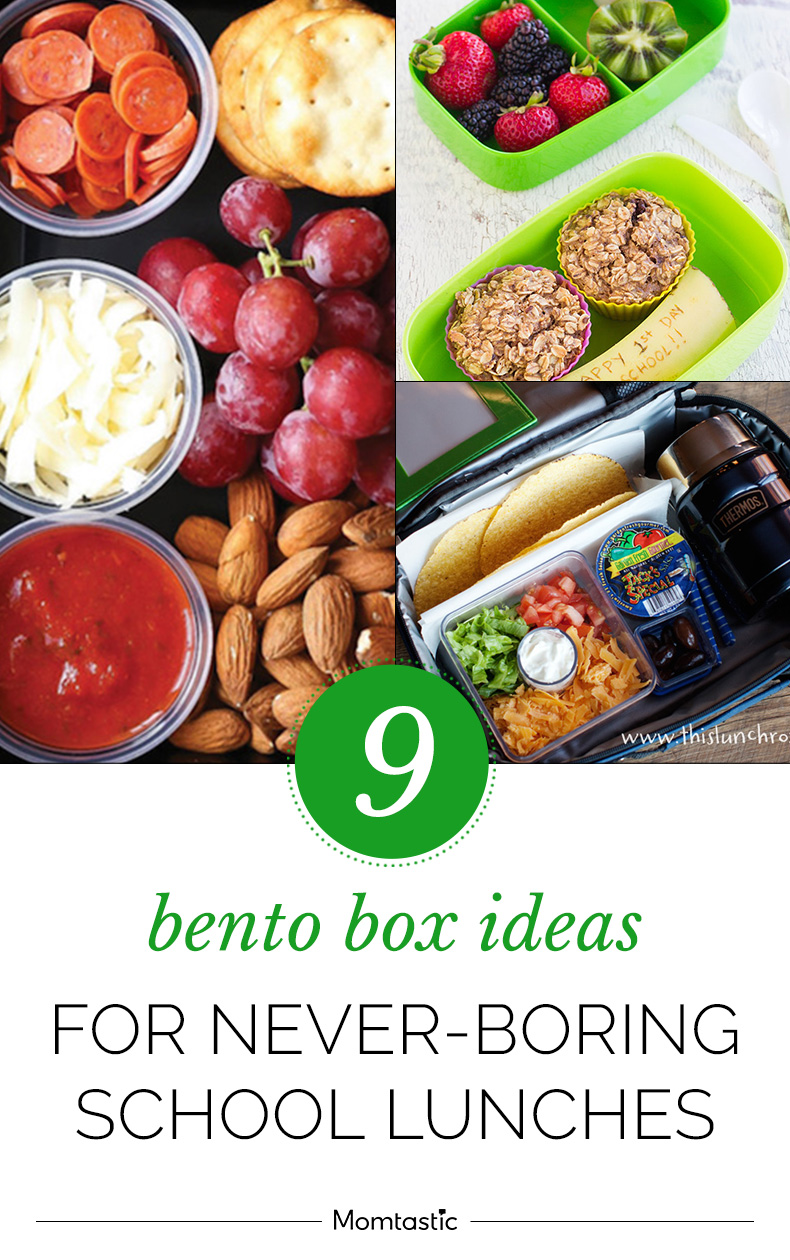 Bento Box Ideas For School Lunches
DIY Pizza Lunchables

DIY Pizza Lunchables! These are so much better, tastier, and healthier than the store-bought kind! Make ahead of time for the week (or that morning) in just 10-15 min.

Via Damn Delicious

Baked Granola Oatmeal Cups Bento Lunch

Pack one or two of these Baked Granola Oatmeal Cups into a bento box with some yogurt (or no-sugar added jam!) and some fresh fruit for the perfect breakfast-for-lunch bento.

Via La Fuji Mama

Heart-Shaped Eggs Bento Lunch Box

Kids loves foods that are cut into shapes. Try these heart shaped eggs with sweet potato fries, pizza cups, macaroni and cheese, a little bit of popcorn, and a fruit. Now THAT'S a well balanced meal!

Caprese Salad with Grilled Chicken

This Caprese salad with grilled chicken demonstrates the benefit of cooking a giant batch of a pasta and repurposing it for lunches and dinners throughout the week.

Via The Roxx Box

Sandwich Rolls Bento Lunch

Sometimes it is okay to just pack a sandwich. Let's face it, this is a tried and true simple lunch solution, right? It doesn't take much thought and it contains things most of us have in the kitchen. Include organic baby carrots, blackberries and strawberries, a mandarin orange (aka a "halo"), and some crunchy pretzels.

Via iPack Lunch

Taco Bento Lunch Box

What kid doesn't love tacos? Mine would eat them for breakfast, lunch and dinner if I let them. I love the look of this bento lunch. Taco shells, meat (in a Thermos to keep it warm), salsa, cheese, and tomatoes.

Via This Lunch Rox

Zombie Halloween Bento Box Idea

This Zombie Bento Box for kids is perfect for a Halloween lunch because kids can't survive entirely on candy for the day. Its easy to put together and will put a smile on their faces when they open it up.

Valentine's Day Bento Box

One of my favorite holidays for kids is Valentine's Day. Make it even more fun (and healthier) by making a heart themed bento box for your child.

Peanut Butter & Banana Roll-Ups Bento Box

These quick wraps are so much fun and easy, packed with strawberries, pretzels, tangerines and celery sticks! The peanut butter will provide some energy during your kid's midday slump.

Via Damn Delicious