When it comes to fall, there is no better sign of the season than pumpkins! It's all about kids cutting jack-o'-lanterns and collecting random gourds for your Thanksgiving cornucopia! Now it may seem a little too early to be thinking about fall quite yet, but if you'd like to prepare your garden to produce some great home decor for October and November, then you'll want to get out into your garden in the middle of summer to prepare! Keep reading for my tips on how to grow a pumpkin patch.
Pumpkin Seed Varieties
Pumpkin seeds are actually incredibly easy to grow and maintain and perfect for your child-friendly garden. They're nice and big, which makes them easy for little hands to sort and plant!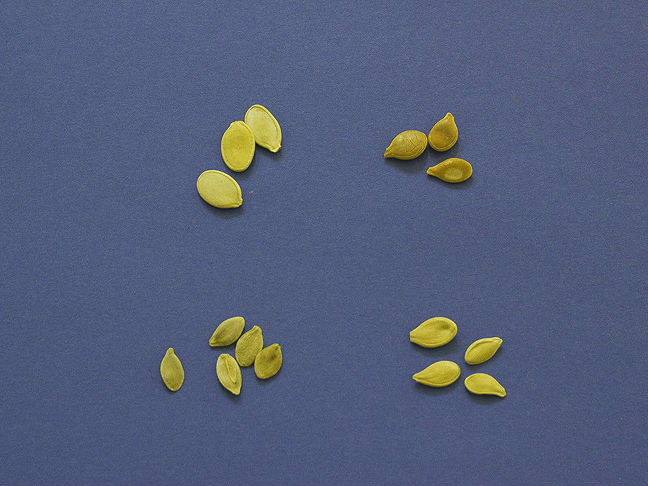 They also come in all sorts of crazy varieties, from your standard orange pumpkin to white and bumpy pumpkins to smooshed green Cinderella-style pumpkins. Have fun picking out various varieties with your kids and see what will grow best in your yard! This year, we opted for some small kid-sized "Baby Bear" pumpkins, along with crazy colored "Speckled Hound" pumpkins, white "Moonshine" pumpkins, and carvable "Charisma" orange pumpkins. 
Locating Your Pumpkin Patch
First, you want to pick an area to plant your pumpkin seeds where they'll be exposed to a lot of direct sun. Pumpkins thrive in the summer heat, so you'll likely have a patch in your yard that's perfectly exposed all day long. You'll also want to make sure you have room for long vines to grow. A long planting bed in your backyard is ideal, as a vine could stretch quite far up and down the bed! 
Planting the Seeds
Before you decide to put any seeds in the ground you'll want to prepare your planting area by soaking it well a day before planting.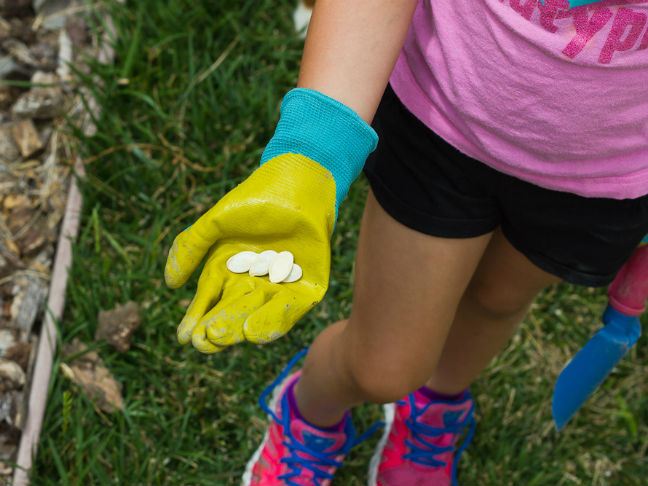 When you're planting your pumpkin seeds, you'll want to dig into the dirt until you find the moisture and wet soil. That's usually only about one to two inches down if you've watered it the day before, which is the perfect depth for a small trowel and kid-sized hands!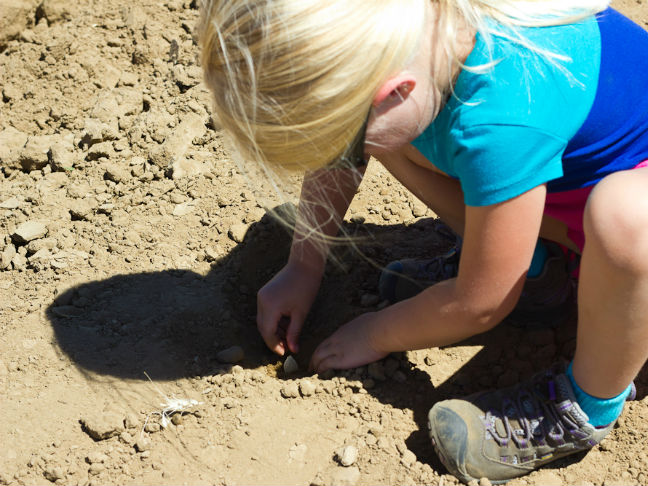 Plant the seed vertically in the soil, then lightly cover it back up. 
Watering Your Pumpkins
Unlike most other plants in your vegetable garden, you'll want to keep watering at a minimum for your pumpkin plants. Essentially you'll just water them when you need it! In order to know when that is, keep a small little "soil testing" area for your kids to check the soil moisture every few days. It will give them a great excuse to dig in the dirt, and you'll know when your pumpkin seeds need a little more of a drink! They'll probably only need two to three good soaks over the 90 days to maturity, and make sure your soil has decent runoff! Always water early in the day.
Harvesting Your Pumpkins
Come October, you should have some pretty decent pumpkins popping up along your vines! About ten days before you'd like to pick them, cut off your watering to help elongate their post-vine life indoors. Enjoy the extra touches of fall in your house and save lots of money by staying away from the pumpkin patch this year! How amazing would it be to have your child not only carve their own pumpkin, but carve one that they grew themselves?
More Gardening Tips: