Do you ever see your kids writhing around on the floor pretending to be a slug and joke with them that you're going to use them to mop the floor? My mom sure did. Well, now you can do just that…kind of. Try this quick way to sew a set of microfiber cleaning cloths into mopping shoe covers! They might seem a little silly, but you'll be really happy to have them on days you just don't want to deal with dragging out the mop. These little microfiber booties slip right over your shoes (just like surgical ones) so you can shuffle along to clean your floor. Plus, they're easy to sew in less than 10 minutes! You can also adapt the tutorial to use fabric glue if you don't have access to a sewing machine.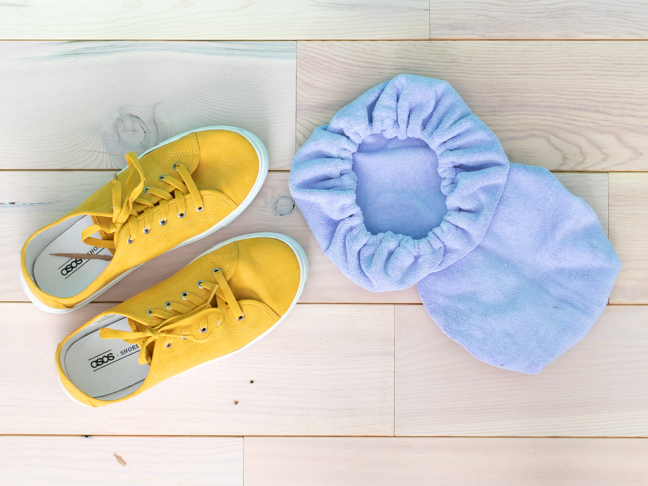 You can see that they end up looking kind of like shower caps. Simply pull them over the bottoms of your shoes – I don't recommend wearing them barefoot – and shuffle along your floors as a dry mop or wet mop. Spray your desired cleaning solution across your mopping area and just shuffle! It really is that easy. Maybe you'll have the whole family helping when it looks like fun! Then simply throw them in the wash when you're done.
In this example, I used microfiber cloths that are about 12 x 14 inches each. When finished, the booties fit my women's size 8 shoes with room for more. They will still fit well over smaller shoes, but I would the cloths down more for children's sizing.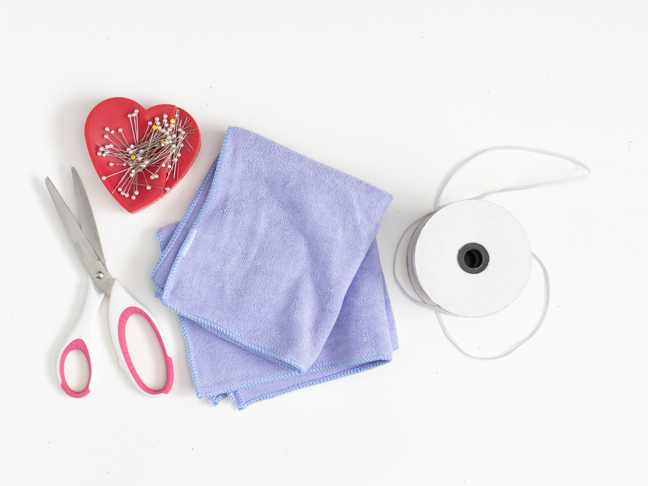 Supplies:
Microfiber cleaning cloths (approx 12 x 14 inches)
Fabric scissors
Pins
Sewing machine
Thin elastic
Paper clip or safety pin
If you prefer, you can purchase microfiber fabric by the yard instead. It comes in a variety of pile sizes, so some fabrics are thicker. However, you'll want to finish the edges before beginning this tutorial so that the fibers don't fray. That may also be helpful if you need larger booties.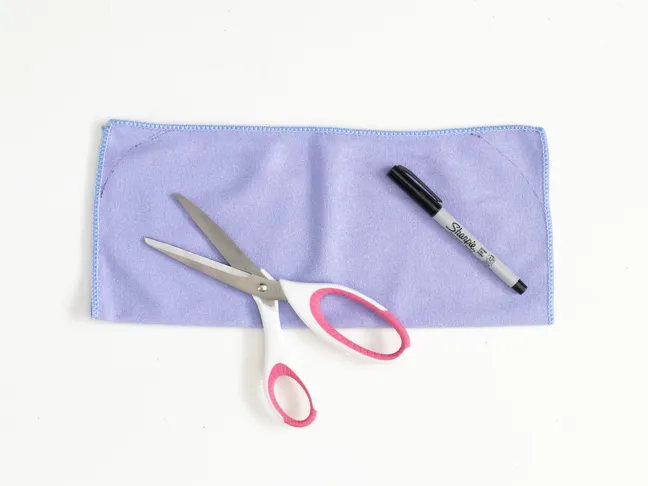 Step 1: Fold the cloth in half along the longer side, with right sides together. At the open corners, draw a curved edge. Then cut. Repeat with both cloths.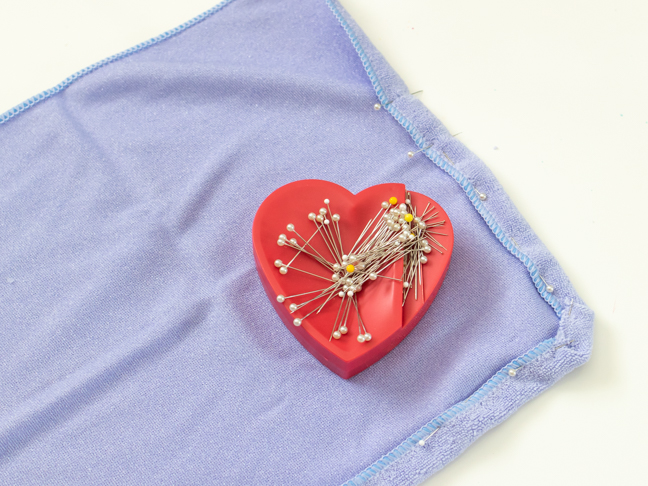 Step 2: Pin a 1/2-inch seam all the way around the cloth, leaving a small section open to insert the elastic. Make sure there will be enough space in the seam to insert the elastic. If using a thicker elastic, make sure to increase the width of the seam. Then sew along the edge, back stitching at each end.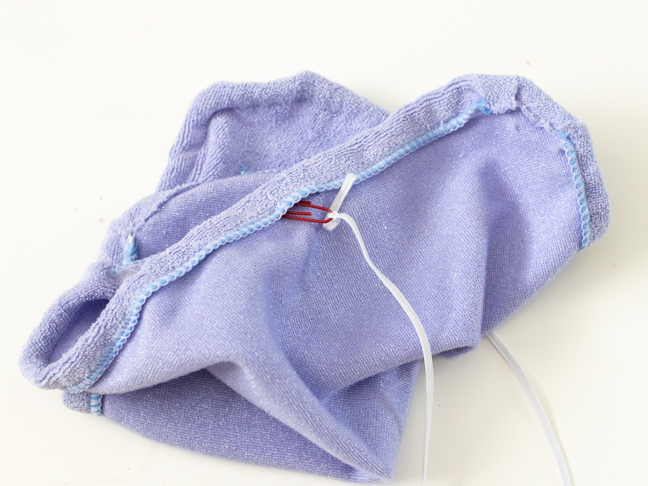 Step 3: Cut a long piece of elastic (20 inches or so). Secure it to the end of a safety pin or tie it around a paper clip. Push the clipped end into the seam's opening and carefully thread it all the way around to the other side. Pull taught so that the fabric scrunches.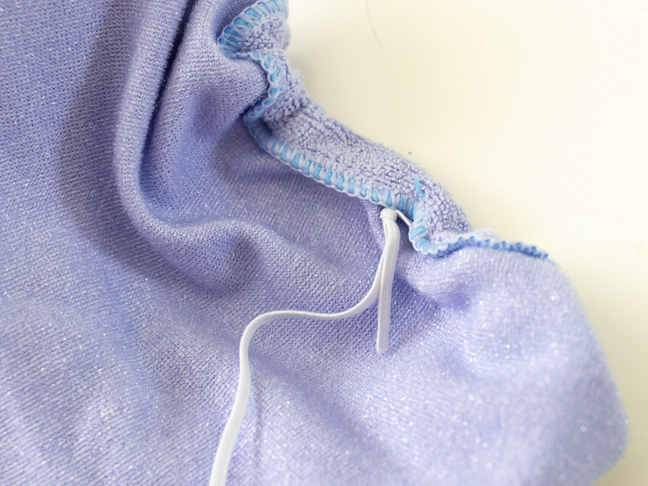 Step 4: Make sure the mopping booties have a lot of room to stretch around a foot. When you're satisfied, tie off the elastic and cut any excess.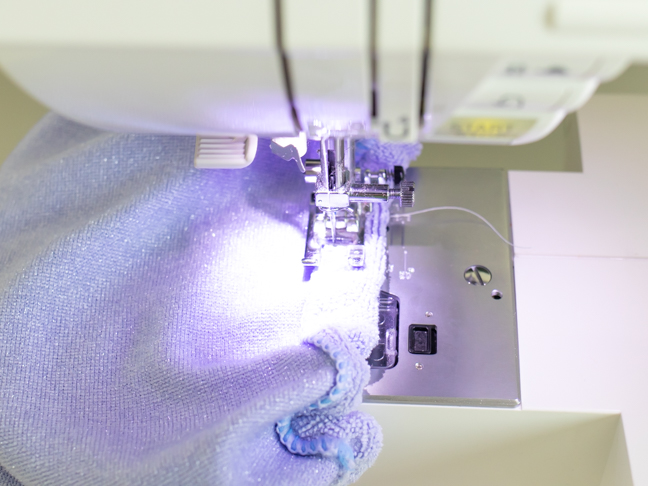 Step 5: Sew across the opening, hiding the knotted elastic inside. When finished, turn them right side out.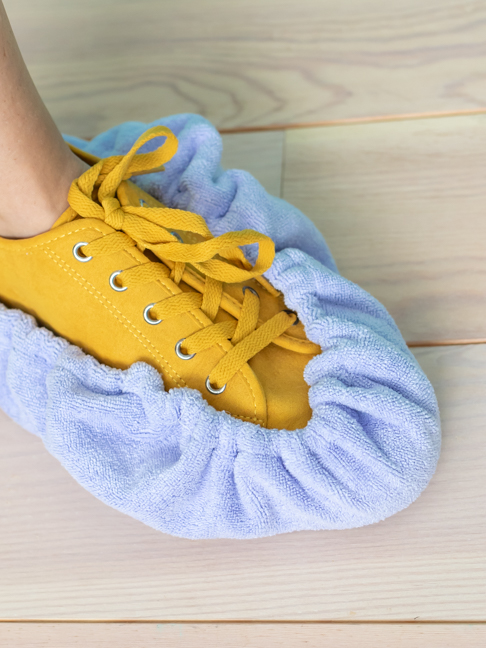 Now they're ready for mopping! Whether you take a no-sew route or sew the mopping shoe covers, it'll make mopping your floors seem like WAY more fun next time!
More Cleaning Tips: