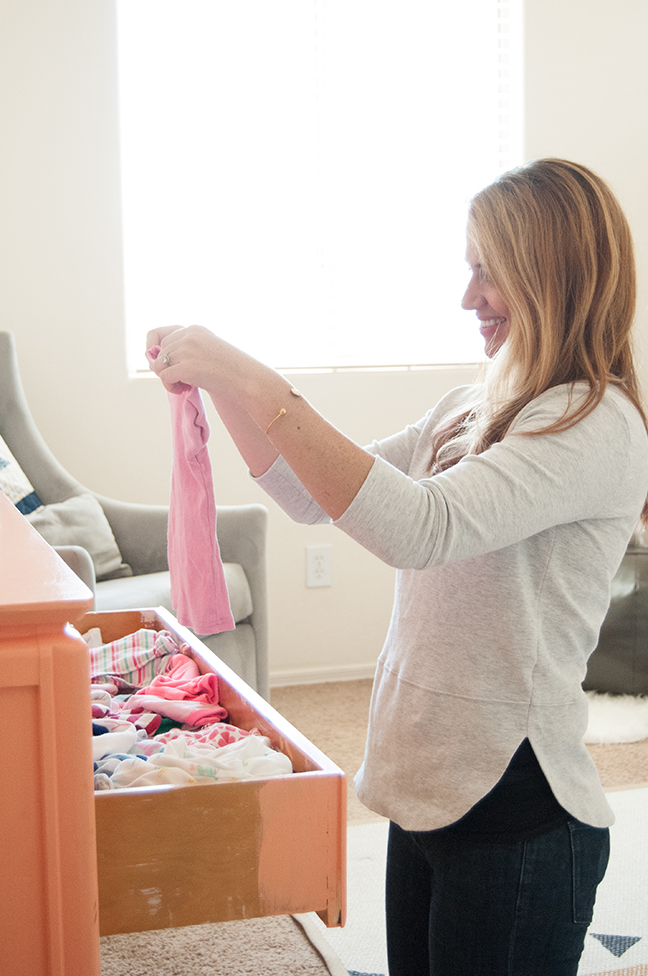 My daughter turns two in October, and she is growing like a weed. She barely has a chance to get a few wears out of clothes we buy for her before they're too small for her to fit into. I know I'm not alone in this! Kids grow. Fast. And it's shocking to realize the amounts of clothing they collect as they do. We recently sorted through every article of clothing, shoe, and accessory in my daughter's room, and I thought I'd share my best tips for organizing baby clothes.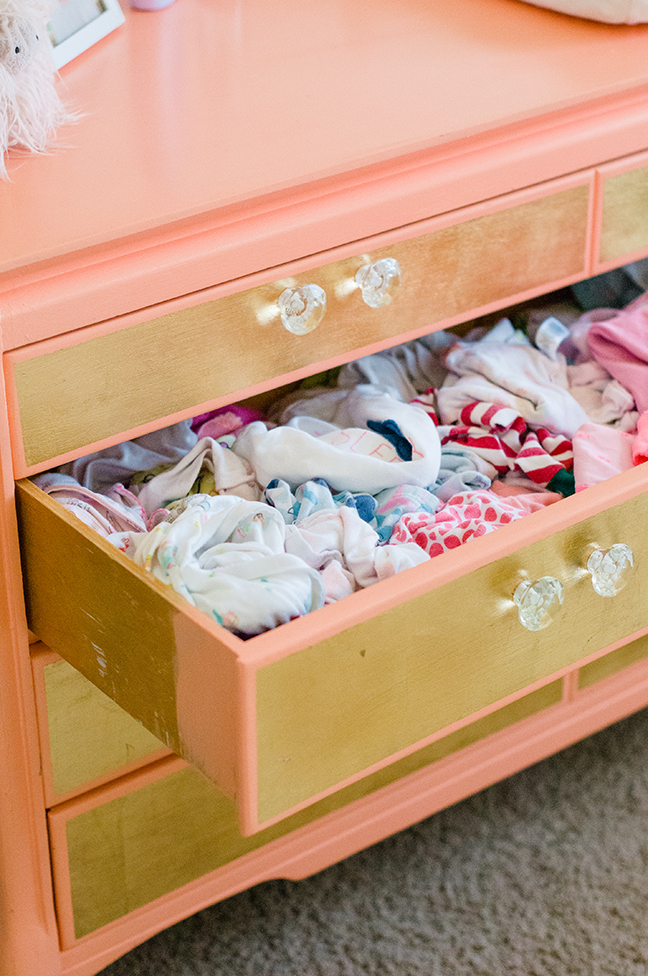 Tip #1: Take stock of everything
Pull everything out. It's going to get really messy, but it's the only way for you to choose where to start. We started with the dresser. After removing everything, we found clothes that were jammed (yes, it was always hard to pull open the drawers, and that's why!) between the layers of drawers. After clearing out the dresser, I even found a few shirts that our girl could still fit into for a little longer!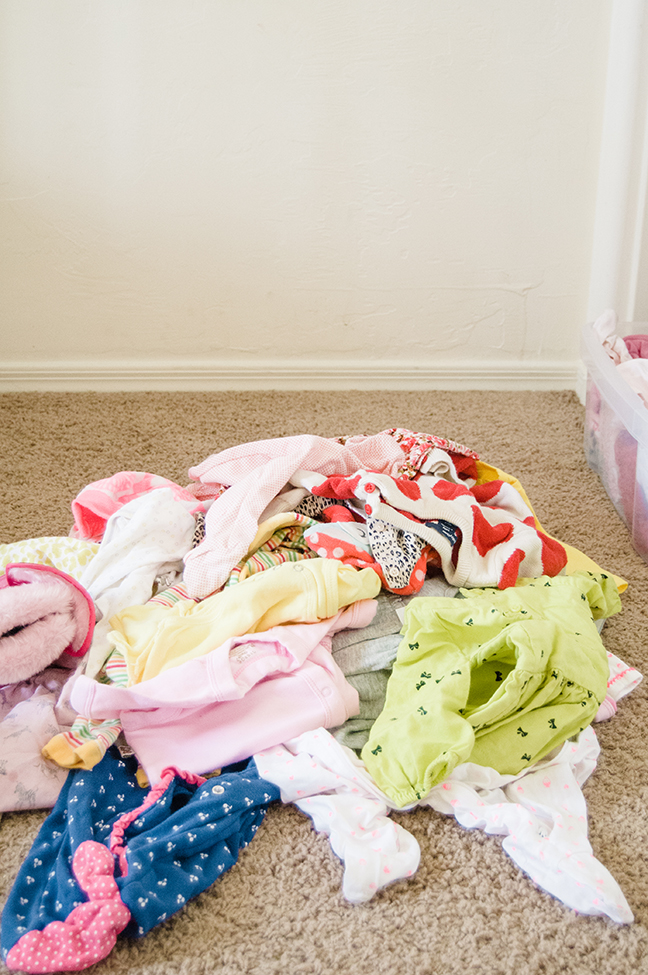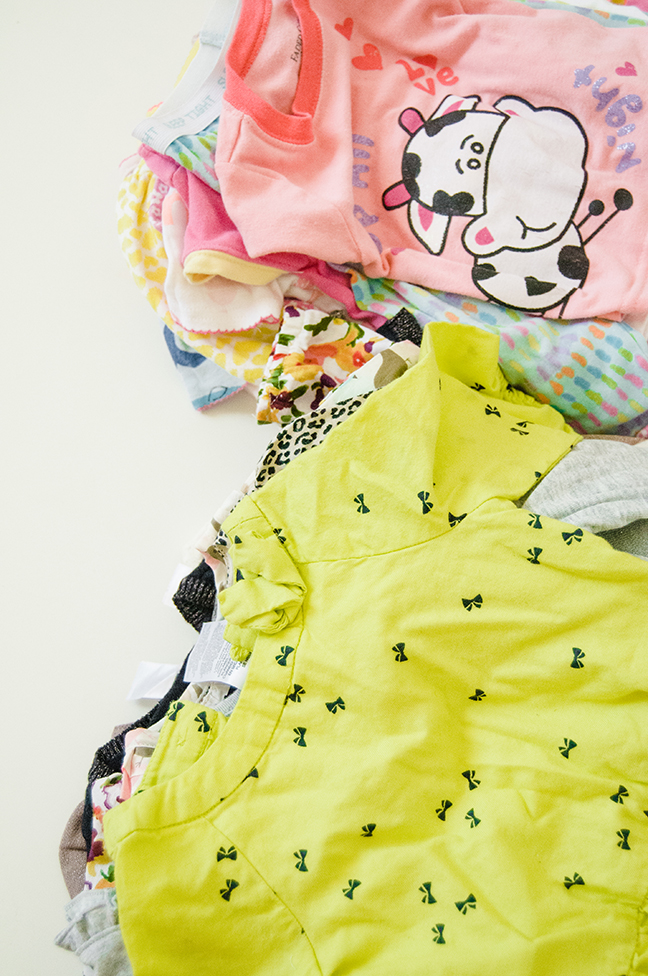 Tip #2: Sort into sizes by month
Make a pile for every size (newborn, 0-3 months, 3-6 months, 6-12 months, etc.) and neatly fold. You can sort into more detail and separate dresses, pants, shirts, etc., but I just like having everything as one size so that I can pack it up individually and sort according to the size. Should I need to pull items out for future children, or to give to a friend, I'll have everything I need for that specific age/size. Having the folding already completed allows for you to pull what you don't want as you fold and sort. Then, when it's time for you to pack up, you don't have to waste extra time folding because it's already done.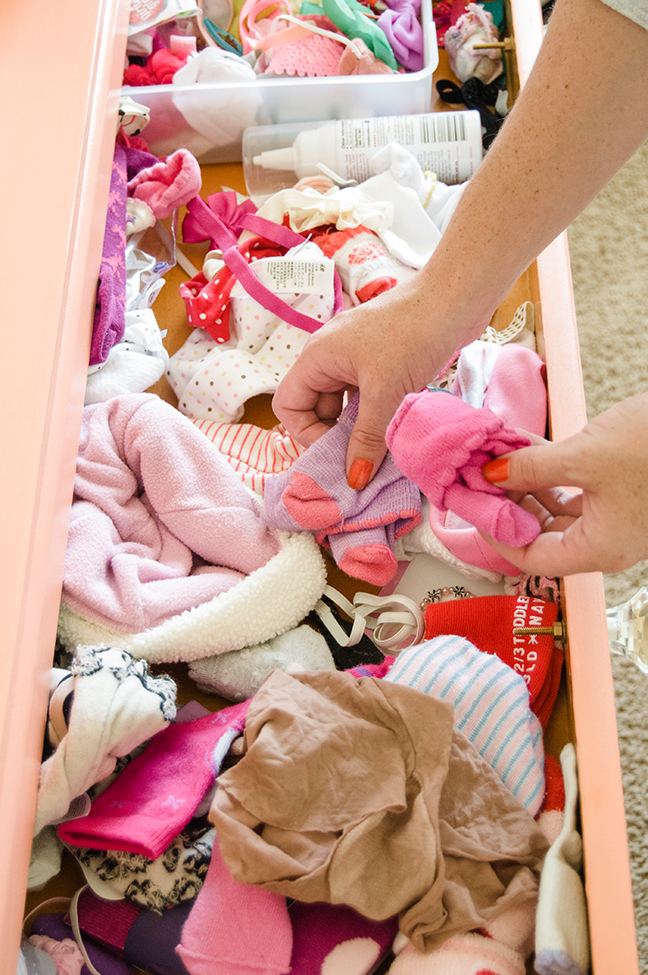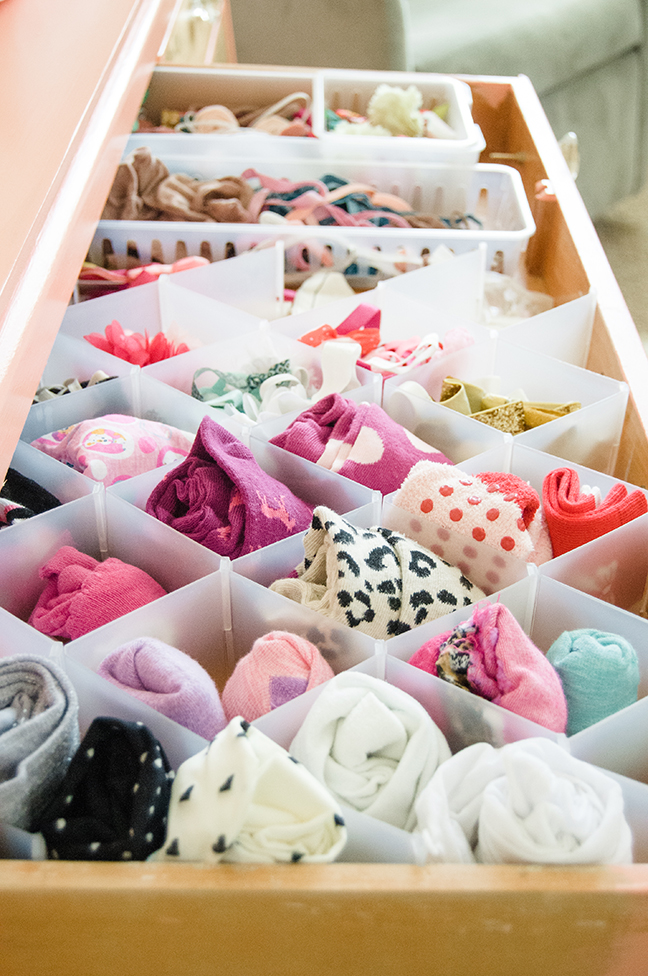 Tip #3: Drawer organizers are your best friend
Chaos inevitably ensues when it comes to dresser drawers. Pick up a few drawer organizers and use them to store socks, underwear, tights, headbands, and all the other little knick-knacks we use for our kids.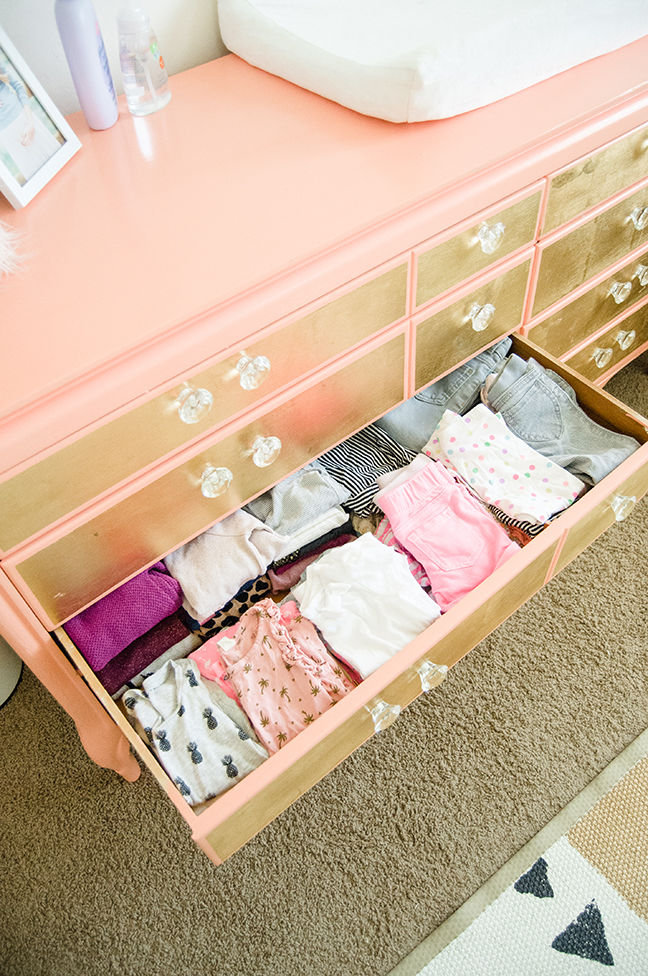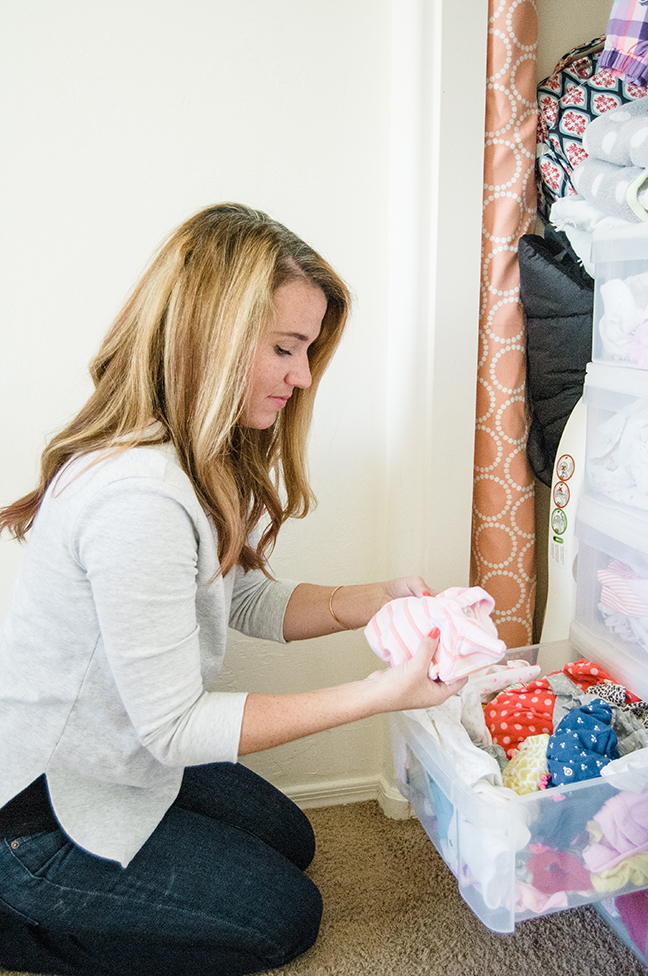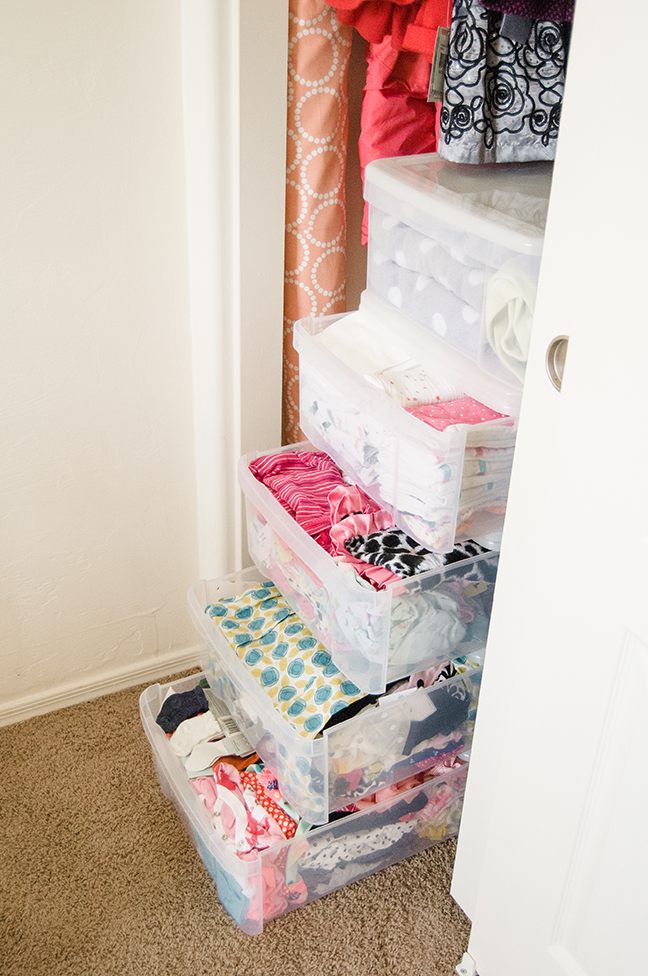 Tip #4: Maximize your vertical storage space
If you're one of the unlucky ones whose closet didn't come with all sorts of storage options, than stacking bins are the answer! I use clear stackable storage bins to store items that I need every now and then. They're readily available if I need them, but not taking up precious (and limited) dresser space. These stacking drawers from The Container Store are large, sturdy, and still lightweight. Using clear bins allows you to quickly search for what you need when you need it.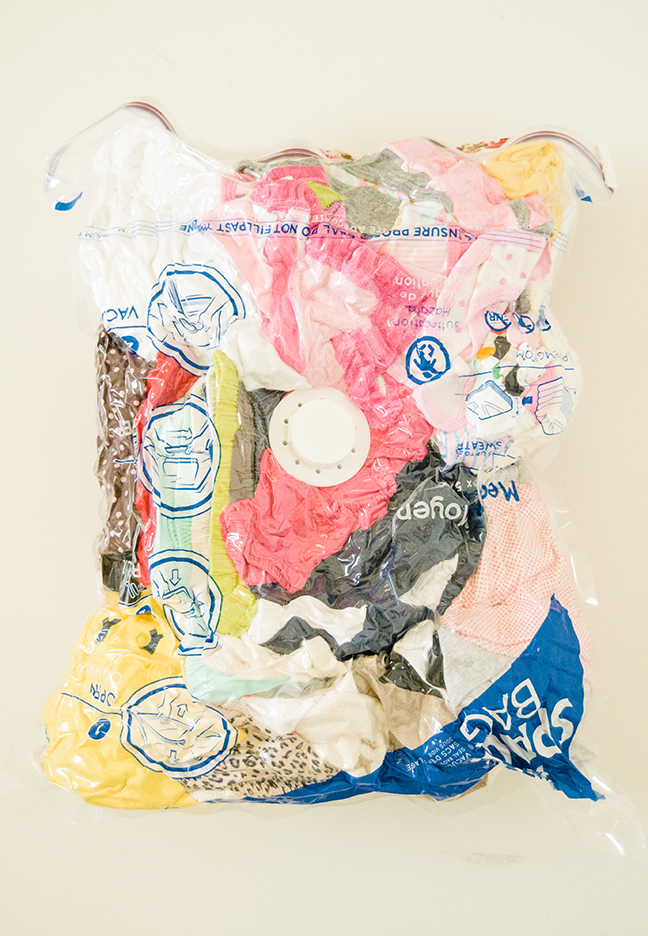 Tip # 5: Triple your storage space with space bags
I am now currently addicted to these wonderful storage solutions. After sorting into piles that we were planning to keep, we simply placed each pile into a bag and then used a vacuum to suck out the air and seal the bags extra tight. There were also a few items we chose to keep, but that would take up a ridiculous amount of space if folded. Space bags were the answer.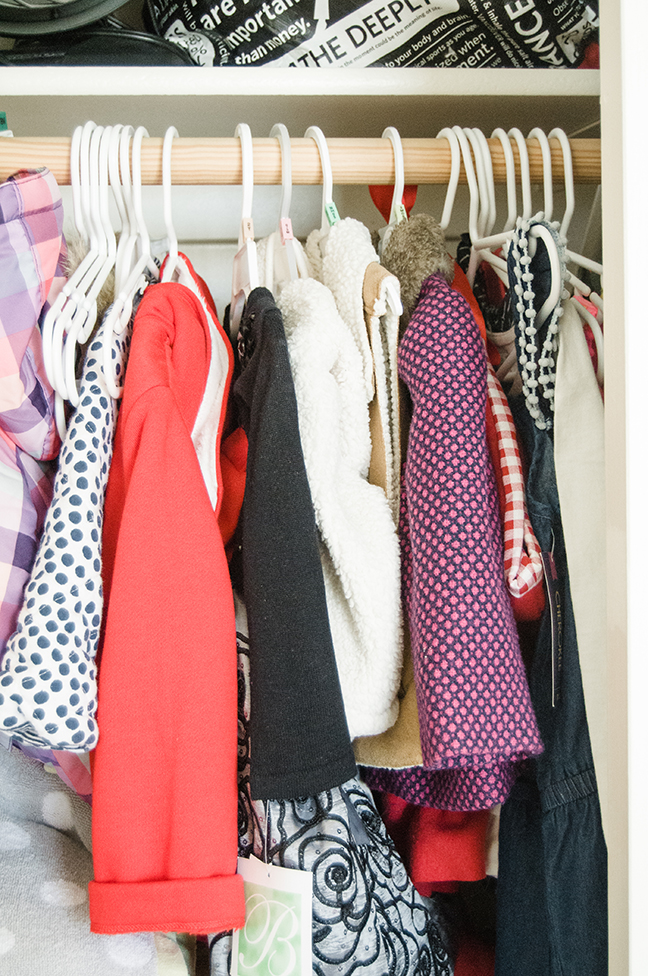 I placed dresses, puffy snow clothes, and coats and jackets in the hanger bags, and the vacuum made them so thin, they barely take up room in the closet!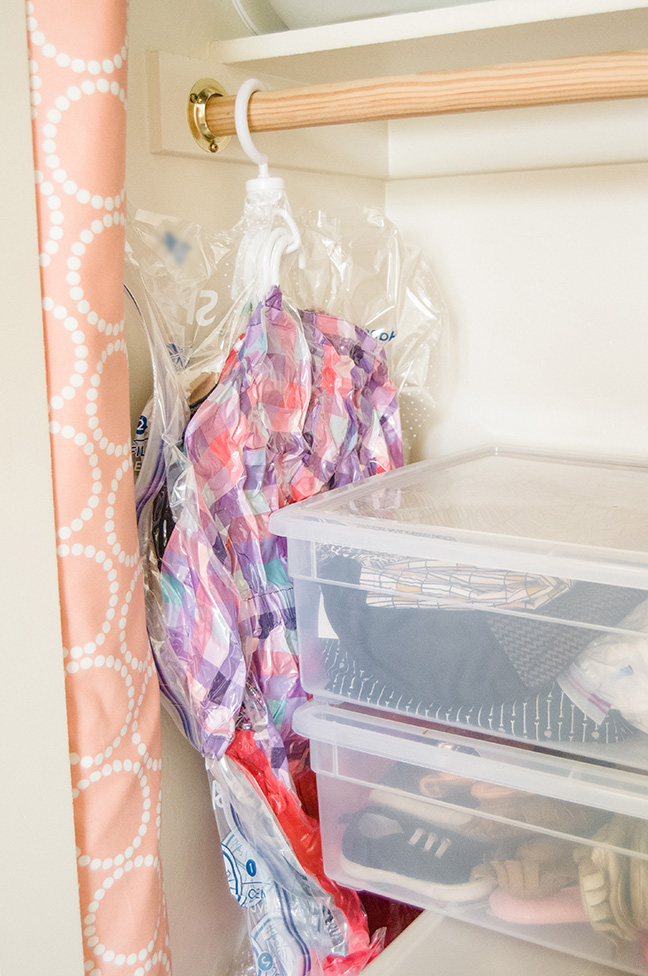 All of the coats in the photo before this one are now sitting snug in that space bag!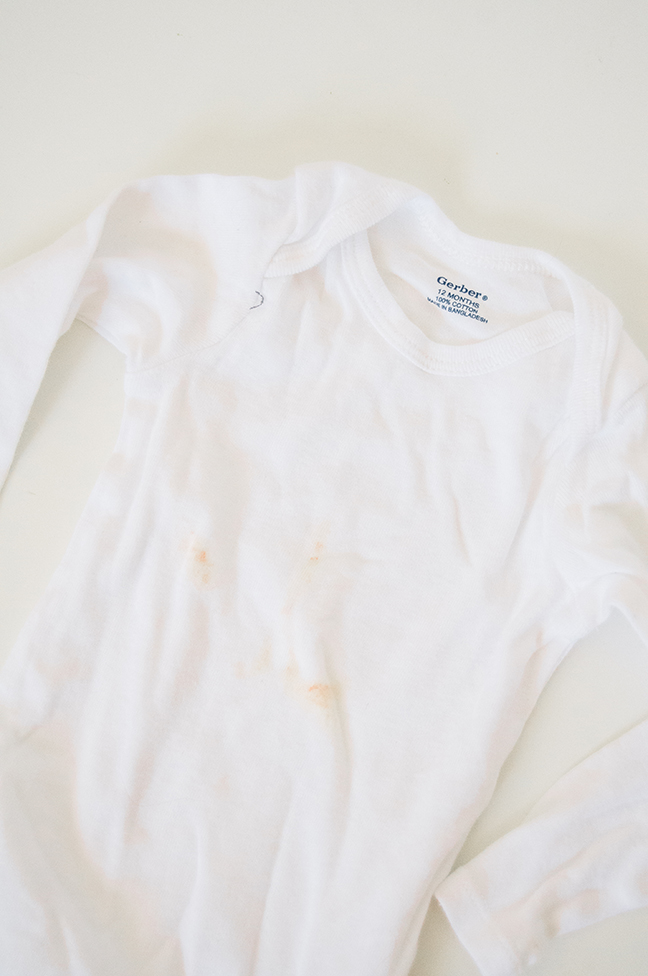 Tip #6: Throw out clothes that are stained, ripped, or beyond repair
If you're planning to have more children, it couldn't hurt to hang on to a handful of lightly stained onesies. We all know that babies go through, like, seven to ten a day! If something is stained and you're not able to get it out with a good wash, consider donating those items to your local Goodwill or other discount clothing store. If the stains are really bad or the article of clothing smells (like baby spit-up) and is beyond help, just toss it.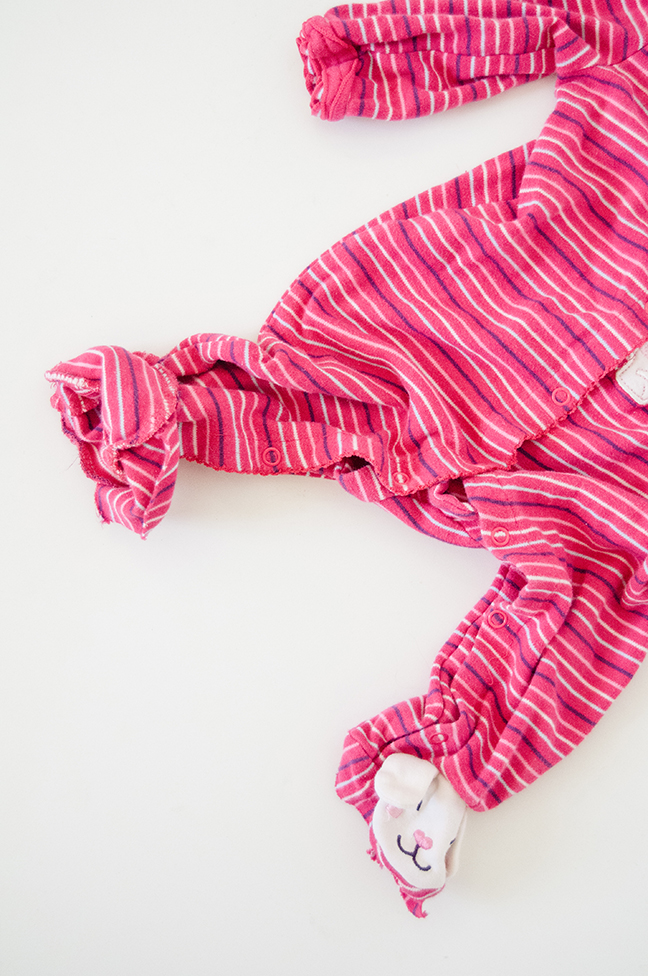 The same rule applies to clothes that are ripped or torn. A small hole here and there isn't usually a problem when donating, but take a look at the pajamas above. The feet are completely cut off. (We did this when we realized our daughter couldn't fit into these pajamas comfortably. We were too poor/cheap/stubborn to run out and buy a new pair!)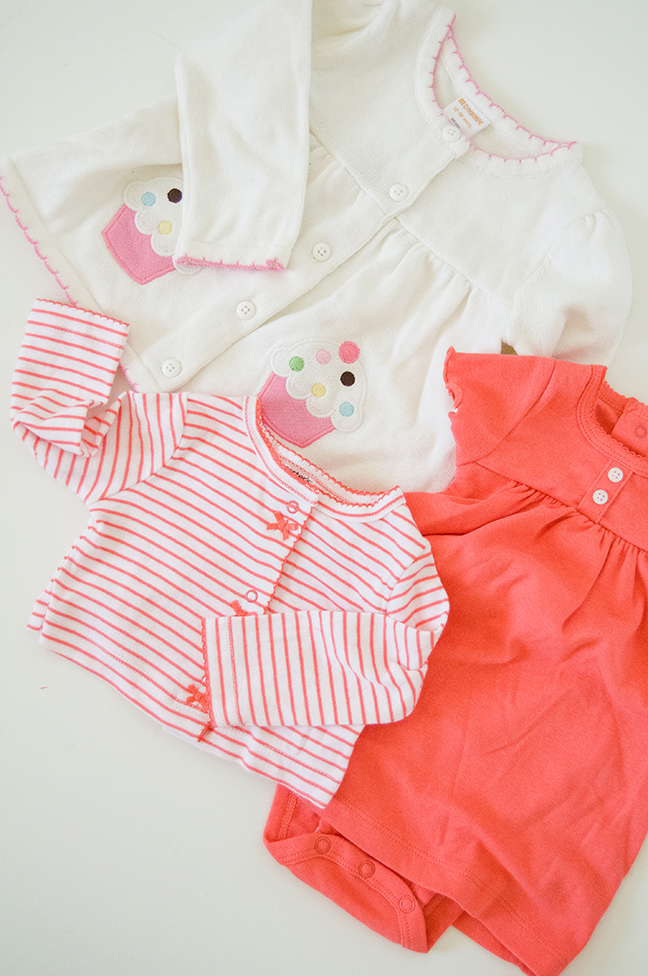 Tip #7: Make a consignment pile
Who says you can't turn a profit, even if it's a minimal one?! If there are clothing items that are in new or like-new condition, and you know that you won't be using them, consider signing them over to a baby boutique or consignment store. These stores will keep a small percentage of anything you sell, but it's a good option to try before donating anything that is still in great condition. Everything above still has tags on it! The style just wasn't a good fit, so I didn't ever think to put them on my daughter!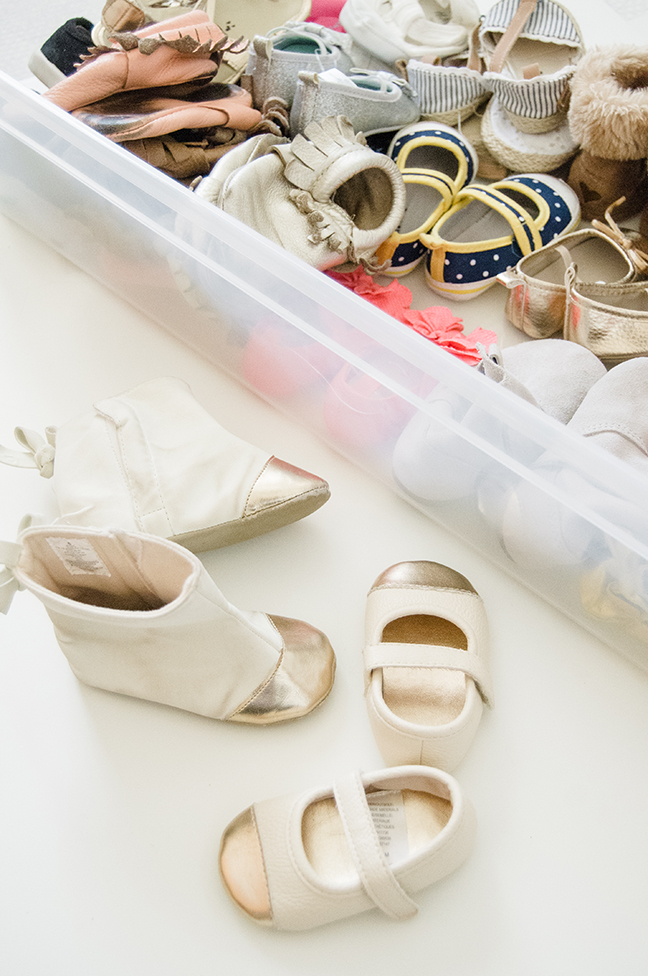 Tip #8: Hang on to the shoes!
Well, most of the shoes. Before your child can walk, the shoes he or she is sporting are getting minimal wear and tear. Most shoes/booties/slippers are in excellent condition up until the age of six months when babies become more mobile and begin to crawl and stand.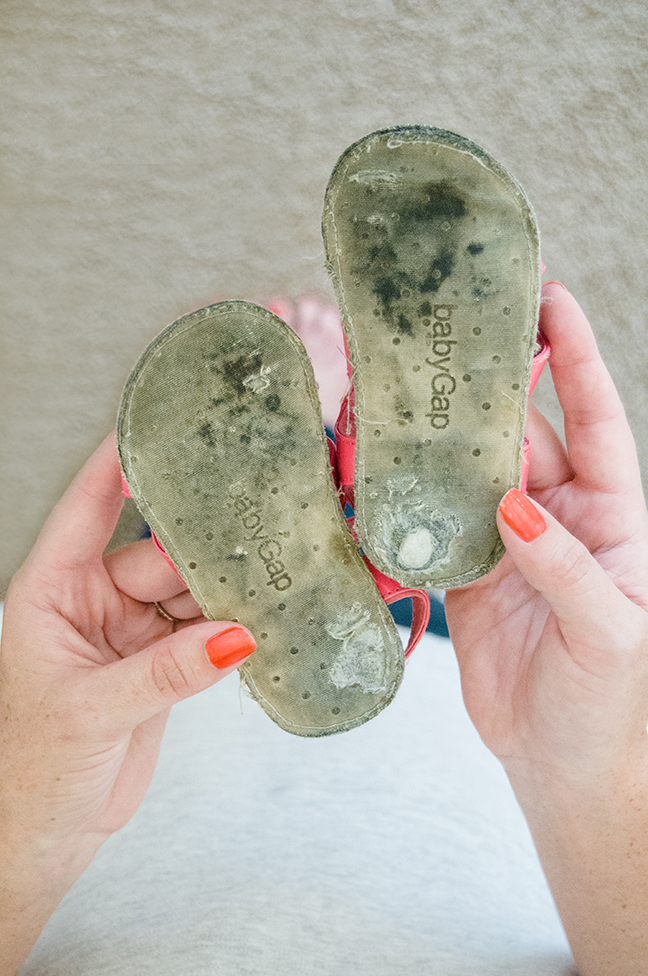 These lovelies are beyond saving, so into the garbage they go! Designate a skinny storage bin to hold all of the shoes you plan to keep. Try to limit yourself to just one storage bin so as to not take up too much room. Shoes made of leather, rubber, or plastic can usually hold up to being passed down to the next child. So hang on to any pairs that you love!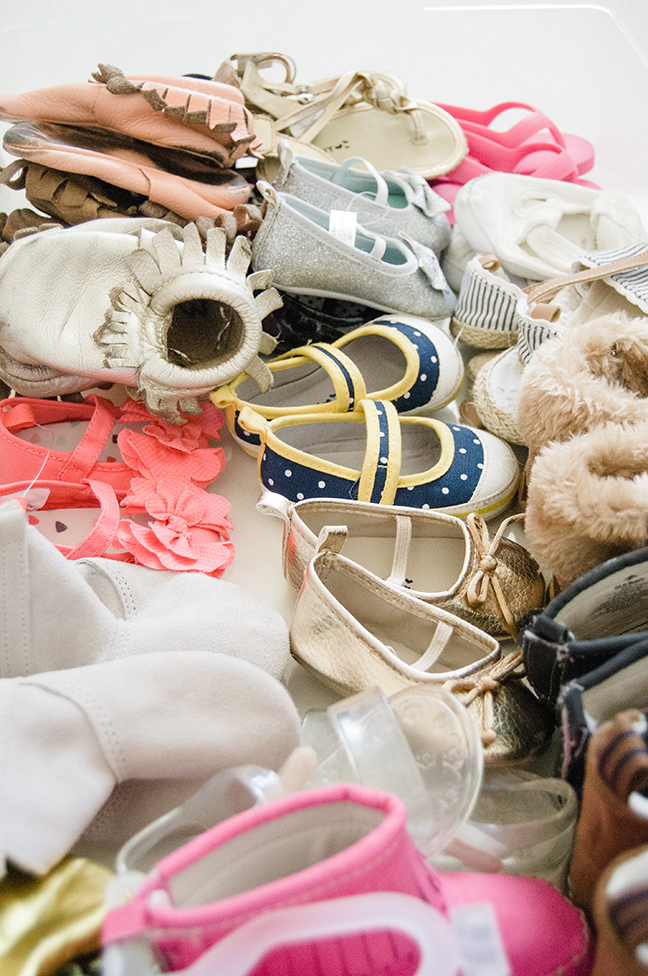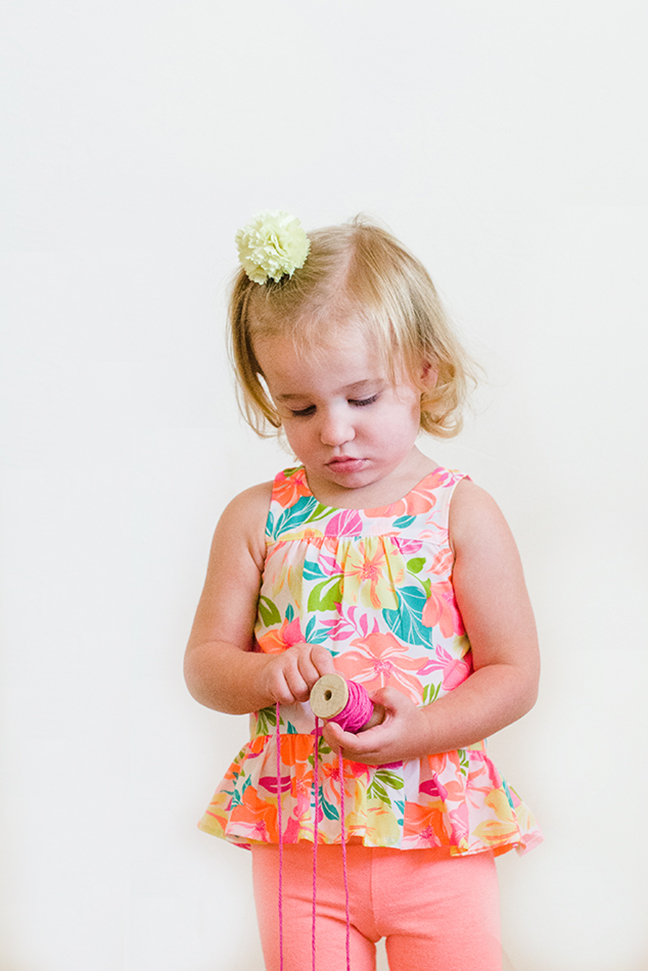 Tip #9: Repurpose what you can!
Turn old dresses into shirts. This tip mostly applies to girls. The shirt above was actually a dress for a twelve month old, but we are currently rocking it as a shirt! Take a look at what you're considering getting rid of. Can anything be worn a little longer?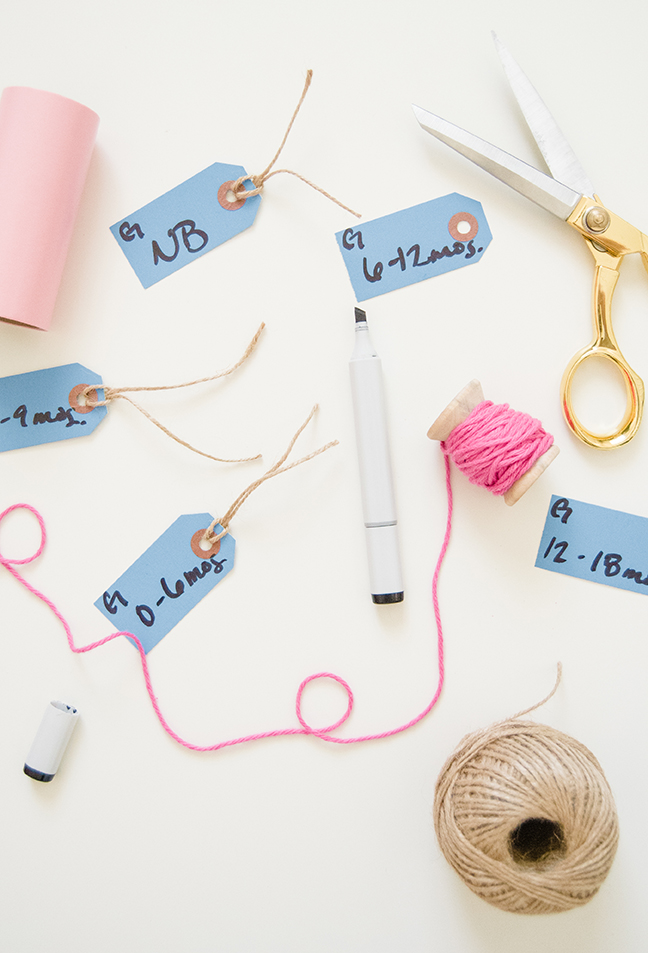 Tip #10: Label, label, label
You can definitely use a nice label maker, but if you don't have one on hand, some tags and packaging tape will do just fine! Label each tag with the gender, size, and type of clothing. Use some twine to attach each tag to your storage bags. I punched a hole in the bottom of each space bag and tied a tag to it. This way, I know exactly what is in each tightly packed space bag.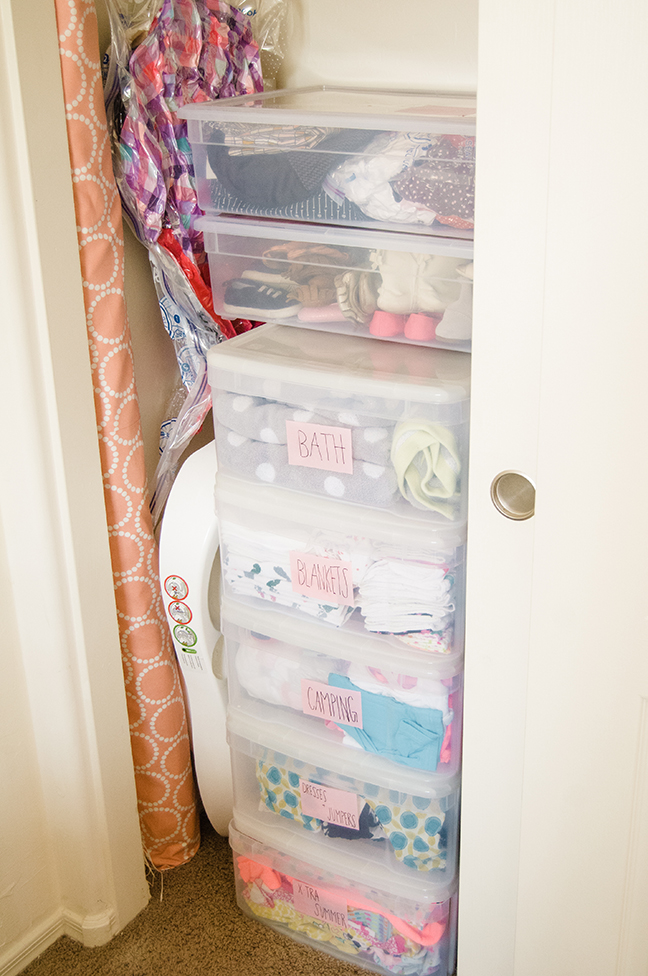 Take a piece of packaging tape and stick it on each storage bin. Write a few words to describe what's in the drawer, the size, or what the items are used for.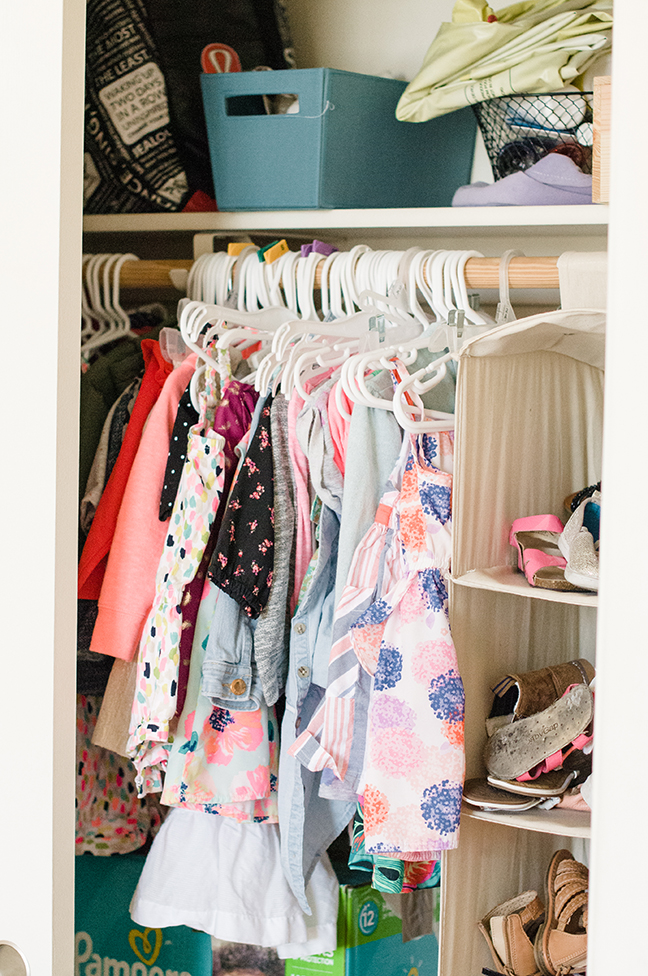 Take a look at that messy closet! Before this sorting project, clothes and shoes were just thrown wherever. And we were using diaper boxes to store all of our daughter's old clothing!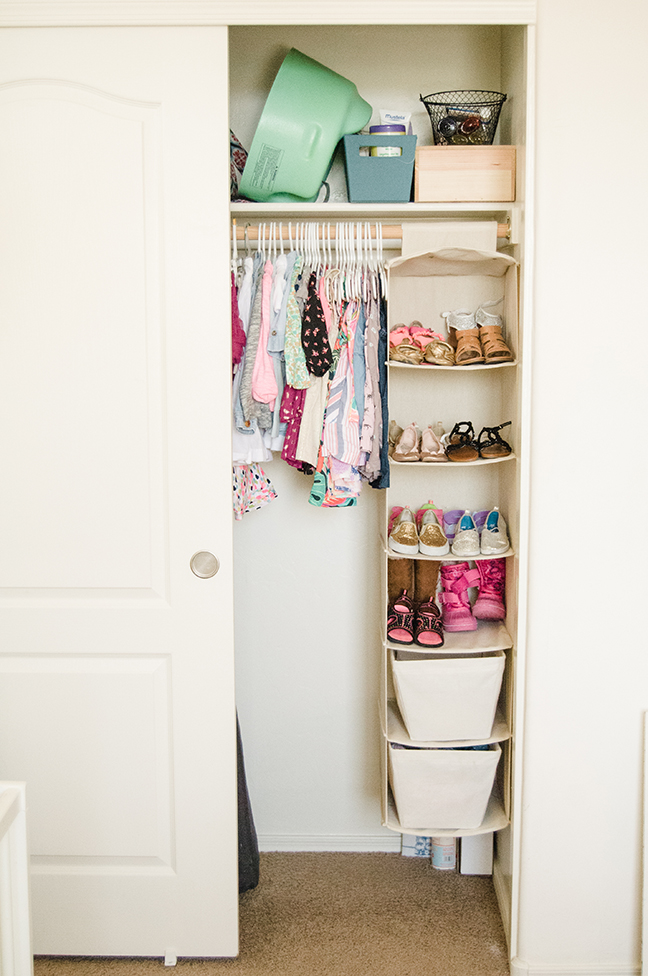 And now I can breathe again. Only items she wears on a regular basis are on display, including shoes.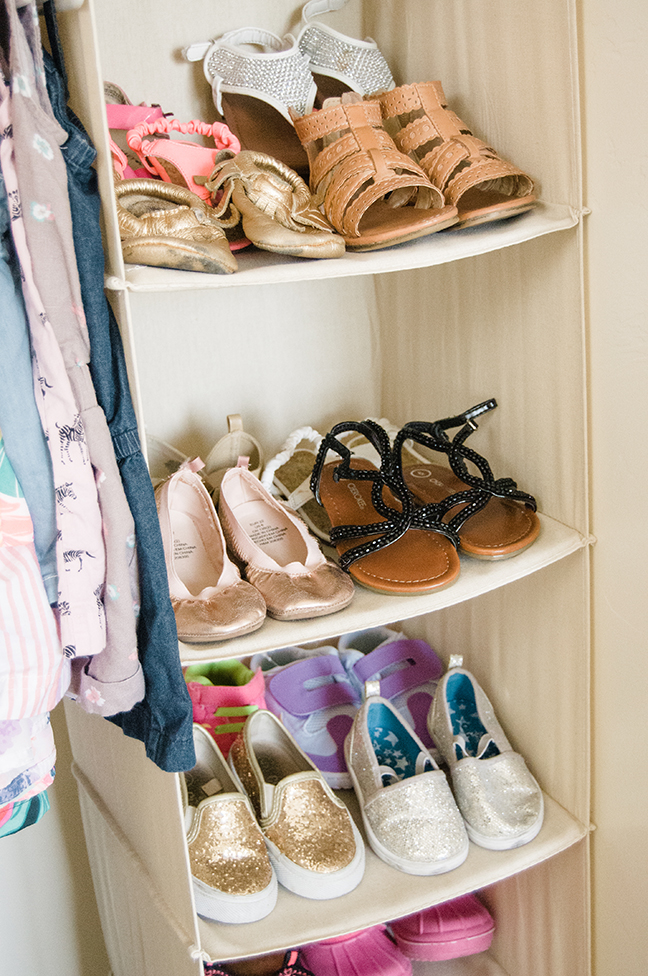 Going through your child's wardrobe is definitely not a quick task, but you'd be surprised at the amount of space and freedom available to you when you do it!
After you've finished, take a look at what you plan to get rid of. If anything is like-new, send it to a consignment store. And before you send those bags off to Goodwill, take a look and see if there are any items that your friends or family might get a little more use out of!
More Tips for Organizing Kids' Clothes: