I love swapping meal recipes with mis amigas. Since becoming a parent, I am always on the look out for how to cook up a meal for the familia that is easy yet still tasty. My gringo husband ate Mexican food growing up, but he didn't eat it like my family. It was on the dinner table every day in mi casa. And like most Latinos, I still love eating the food of my culture at least four to five times a week, and it helps that the main takeaway I have acquired from other mamas is to prep, prep, prep ahead. Sunday is my ideal prep day: laundry is done, house is clean (as much as it is going to be), and most importantly, groceries are in the kitchen from Saturday shopping.
I prep all vegetables and fruit that call for being diced or chopped. I label zipper bags with the day and name of the meal. I like to have at least two to three full meals that include a side, along with a few meals that I call one-shot dinners. If my family's lucky, there's a dessert planned for a couple meals.
The great thing about Mexican food is that so many of the same ingredients can be used in different recipes. And as we all know, Mexican food is never boring and (with my family, at least) always eaten. Here are five easy Mexican dinners you can prep on Sunday night.
---
Monday: Easy Chicken Enchiladas with Mexican Street Corn Salad and Mexican Cornbread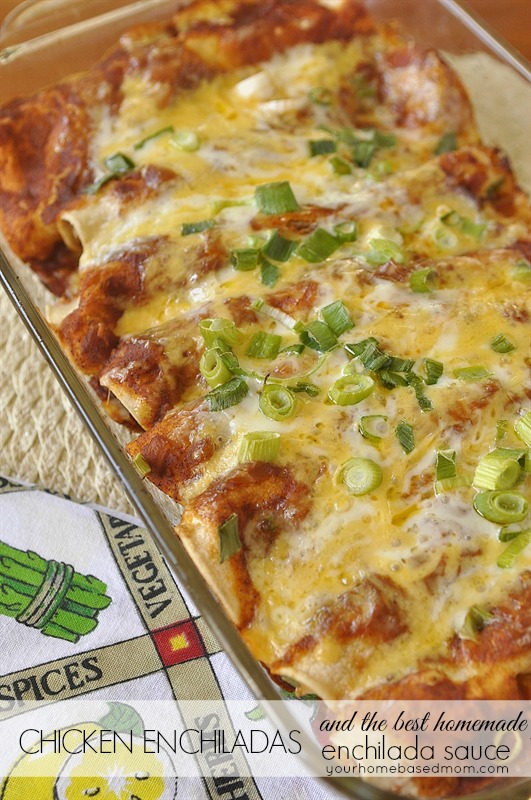 image: Your Home Based Mom
I cook enchiladas at least once a week. I buy a cooked rotisserie chicken at the deli of my grocery store, and mamas, this is a major time saver. I also tend to boil a few ears of corn on Sunday, which I save for this recipe and the remainder of the week. And if I am really pressed for time (as we all know, Sundays can be busy family days), I will use store bought enchilada sauce. Gasp. Si, there are many yummy options out there, and I love chopping more time off prep. I tend to fully cook this meal and freeze both the enchiladas and cornbread for a Friday night meal. This is usually the day I refuse to cook yet want a family-style feast we can all enjoy.
---
Tuesday: Taco Lettuce Wrap with Crock-Pot Spanish Rice and Desert Empanadas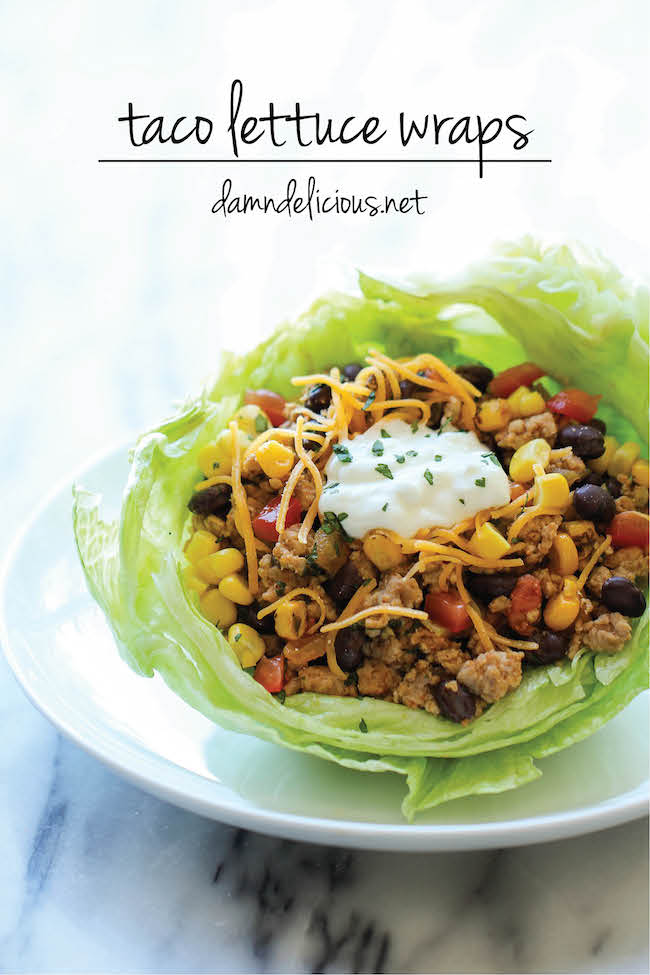 image: Damned Delicious

This is so darn easy and delicious. Cook up the taco filling while the rice is cooking in the slow cooker, and pack the leftovers for later in the week. The empanadas are a crowd favorite, but I cheat and buy ready-made dough discs that usually come frozen…in they go to the frier for a slow defrost.
---
Wednesday: Mexican Stuffed Shells with Watermelon Salsa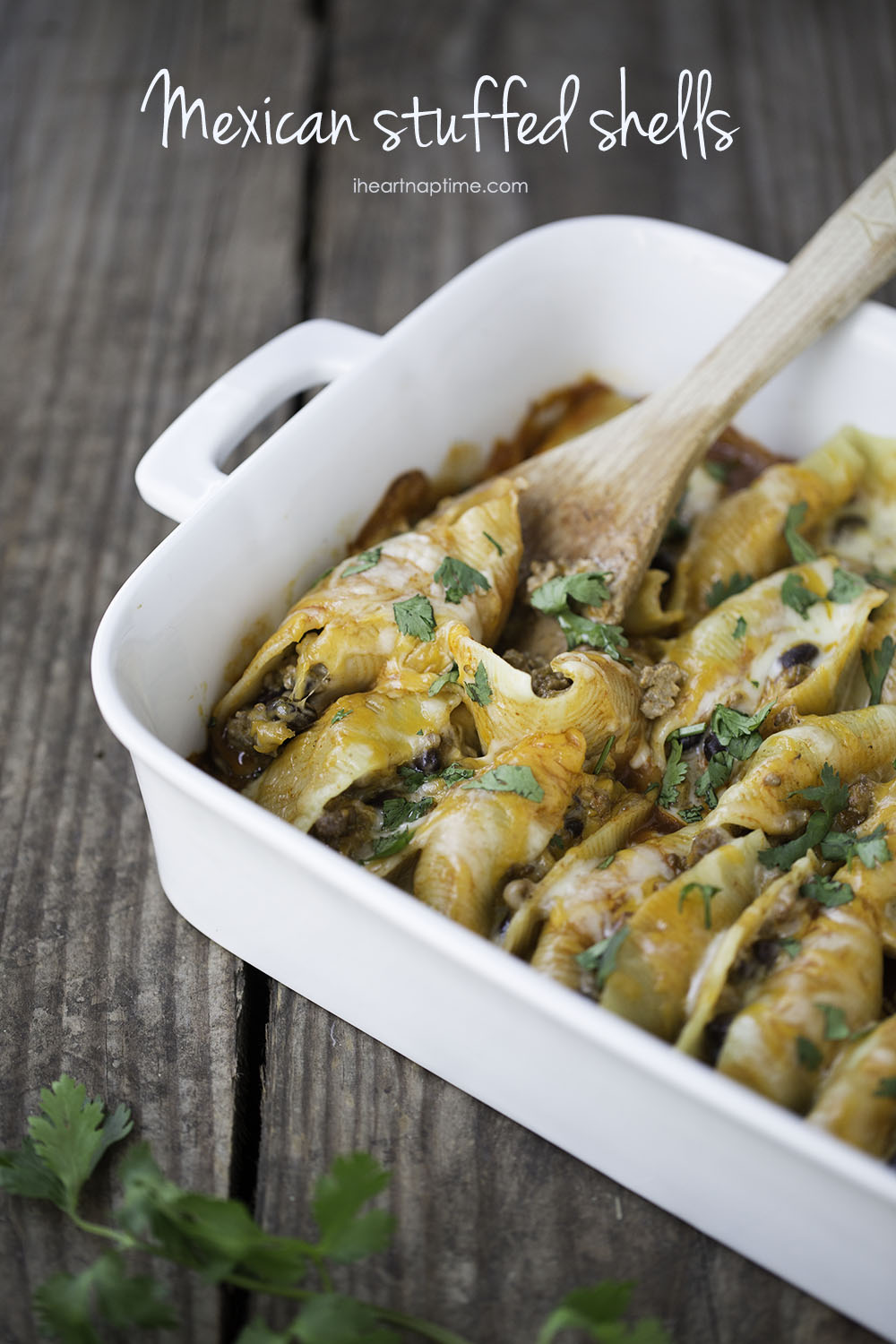 image: I Heart Naptime

These pasta shells are my lasagna swap. This is another fridge or freezer meal that can be made on Sunday; many of the ingredients can be prepped ahead of time, which will cut your meal-prep time in half in during the busy week, as there is a bit of chopping involved. My suggestion is to cook the ground beef up while chopping the veggies. The watermelon salsa is a nice balance to the pasta, and it usually gets devoured in minutes.
---
Thursday: Burrito Bowl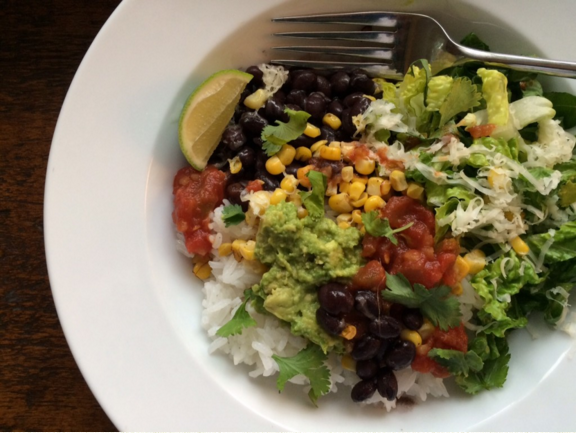 image: Dinner: A Love Story

This meal has all the elements of what my son Nacho loves about Mexican food: rice and beans and in a bowl! If I were to put all these ingredients in a tortilla, it would not be touched. My son, like most kids, wants a visual, which is why this yummy dish is not only easy to make, it is beautiful. The recipe has a weekend and a weeknight version. Which means easy and easier. The recipe asks for the chicken to not be shortchanged as that may compromise the flavor—meaning cook as you put the bowls together. I marinate the chicken (on Sunday, of course!) in the spices that it calls for. OMG…it is so good when you eat it a few days later. The only ingredient I do not pre-make is the guacamole. Has to be fresh in my family. It takes all of five minutes to make, so I am not losing much time. I can get this bowl together in fifteen minutes.
---
Friday: Mexican Black Bean Pizza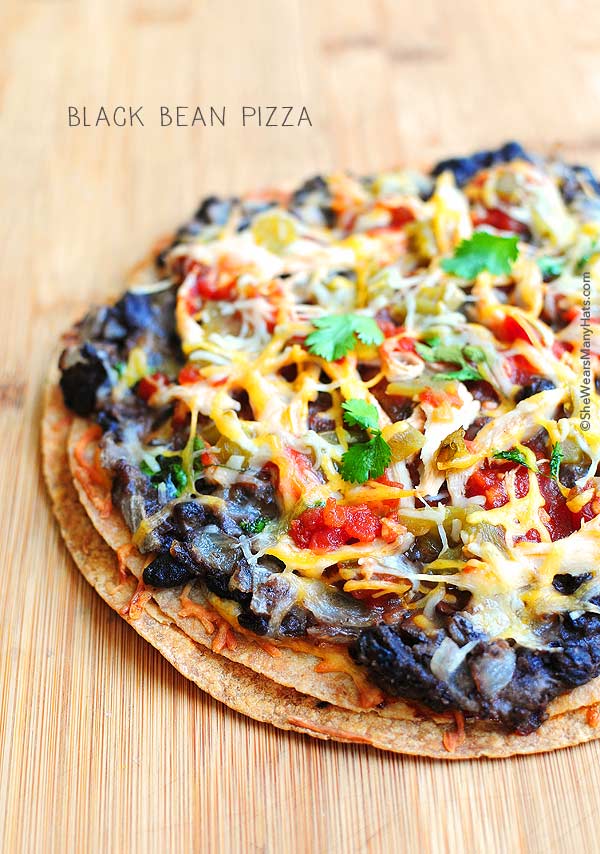 image: She Wears Many Hats

I remember these pizzas from when I was a little one. They are a fun way for the kids to have their pizza and eat it too, with the Latin ingredients I always have in the fridge and pantry. For Sunday night prep, just add the ingredients: since my hijo will not do salsa, I chop up a few tomatoes and store along with the cheese and prepared meat (shredded pork or chorizo). This one meal is so simple to put together, especially when homework and baths are still on the agenda for the night.
---
Easy Baked Nachos (Bonus!)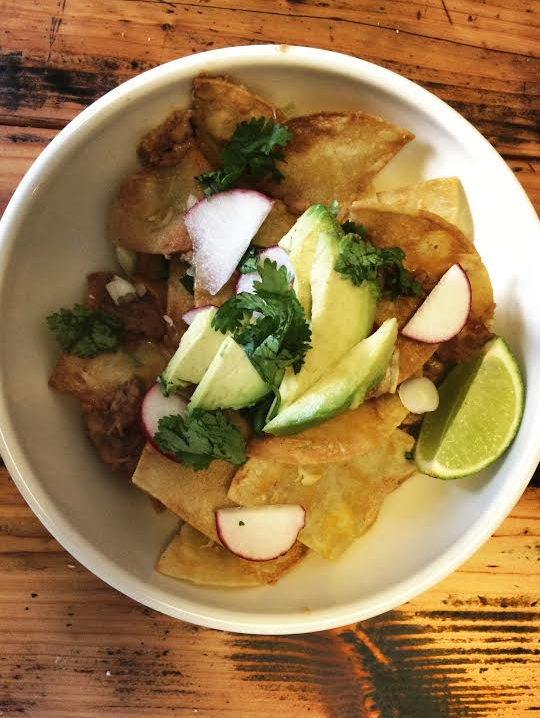 image: Motherburg
Okay, mamas—this is my own easy meal, and it is a huge hit. I do make my own corn tortilla chips, which adds about ten minutes to the recipe. However, since I do them Sunday night, I am not pressed for time the night I make the recipe. All I do is store them in a large re-sealable bag, and voila—they are ready for the night I serve these nachos. I use refried beans from the can to shake up our bean selection, and if I happen to roast a large chicken, I use that in place of the beans. You can easily swap restaurant-style store bought tortilla chips.