An Ironman consists of a 1.2 mile swim, followed by a 112 mile bike, and finishing with a marathon run of 26.2 miles. She has also won over 100 triathlons and 50+ running races in her storied career.
Heather is the Managing Director of the Fitness and Performance Academy at Club Med North America. In addition to everything else, Heather and husband, Todd, are raising twins Jordan and Josh (14) and Zachary (11).
How did you enter into the world of professional athlete?
I started doing triathlon for fitness and fun and quickly found that I loved the training-it fed my competitive side.  With three children, I found training to be time for just me, which helped me to be a more patient mom.  My husband and I thought and prayed extensively about racing professionally – it has turned out to be a great profession in so many ways.
Of all the advantages and opportunities you have had in your career, is there one element that stands out to which you can attribute your success?
Success and longevity in the sport for me has come through achieving the proper balance.  It's not easy to train in three sports, be a wife, mother, and businesswoman all at the same time.  It takes balance and knowing that on some days things will not go as planned.  I try to go with the flow, although it's not always easy.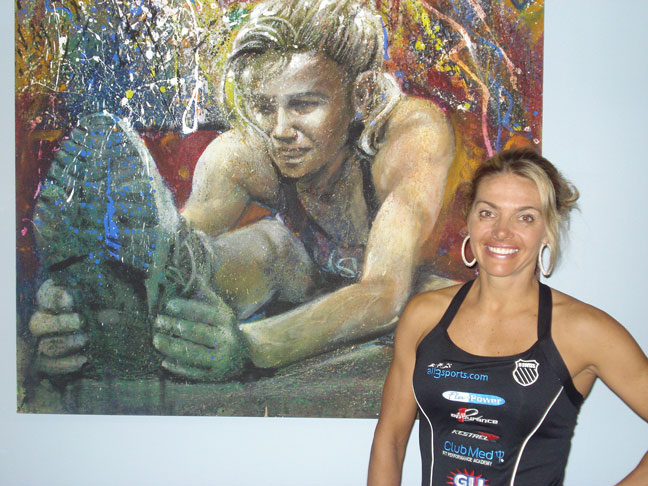 What is your favorite aspect of being a mom?
I love being a mom, my kids are very affectionate (my parents were, as well) – they hug practically everyone they meet.  I also love that my kids love and respect one another.  Knowing someone needs you and is counting on you is a great feeling, and the fact that I can provide the proper guidance and direction for my kids is what it's all about. 
How do you balance your mothering responsibilities with those of your career and still accommodate everyone who depends on you?
You asked how I find enough hours in the day to accommodate everyone – let me tell you, it is no easy task and there is often chaos – but the trick is to make it "happy chaos".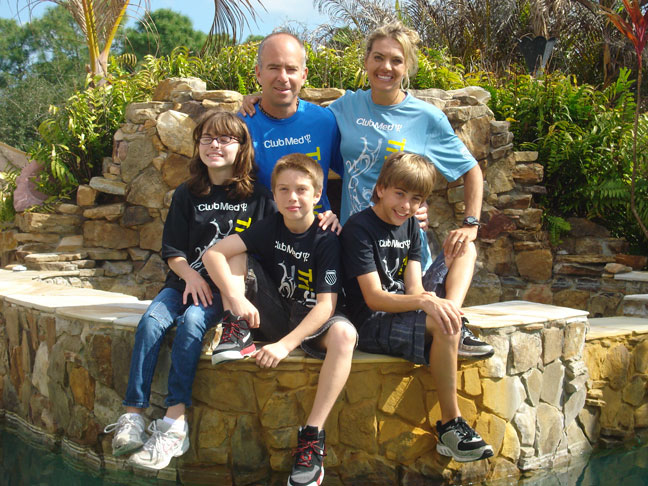 Who inspires you to keep it all going?
My daughter, Jordan, is a great inspiration to me.  She was born with cerebral palsy and has overcome more in her first fourteen years of life than most people deal with over a lifetime.  She spent the first six months of her life in NICU. We were also told she would likely never get out of a wheelchair.  Today she zips around with the use of walking canes and is smart as a whip.  The days I am tired and don't feel like going out for a workout, I just look at her and understand that she would love the ability to do what I do – she keeps me grounded.
Now that your career has evolved into this unique second phase, tell us a little more about what a typical week might look like for you.
Along with being a mom, wife, and having a full race schedule, I am also the Managing Director of the Fitness & Performance Academy Club Med North America.  Our sports academy is multi-faceted and focuses on developing all levels of athletes.  Some of the programs we offer include Triathlon camps and clinics, a full schedule of 18 different multisport events (including 5k & 10k running events, as well as Sprint and Olympic distance triathlons). My husband directs, as well.  We offer remote training packages for our clients, ranging from general fitness to elite level multisport training, as well as unique venues for corporate retreats and training conferences.  Club Med is one of the most unique venues I have ever been to; it is a beautiful all-inclusive 4 Star resort focusing not only on family, but on the development of high performance athletes, as well.
What advice can you offer mothers juggling careers, family, and fitness?
My advice is get out there and move everyday.  It makes you feel good about yourself and I truly believe it helps you to be a better mom.  When you are happy with yourself, it translates directly to your family.