Try to choose a slimmer cut look that allows room for your belly to grow like this pair of James Jeans Maternity Skinny jeans. The dark color is very slimming and the cut is modern and flattering to pair with a blousy top. We styled three looks for a date night, Sunday brunch and a day of shopping to show you how you can wear these maternity jeans in style. See which look best matches your own personal style!
Try a sheer top, flat sandals and a light bag for a day of shopping with the girls. 
1. James Jeans Maternity Skinny Jeans $132 2. Hale Bob Short Sleeve Flutter Sleeve Maternity Blouse $132 3. Belle Noel Enamel Cuff $100 4. Kathy Van Zeeland Perfection Shopper $119 5. Musa Swarovksi Crystal embellished Leather Sandal $460 6. Ingrid and Isabel Nude Everyday Maternity Cami $32
A colorful cami paired with a white and black tuxedo jacket looks sharp and chic for a date with your guy.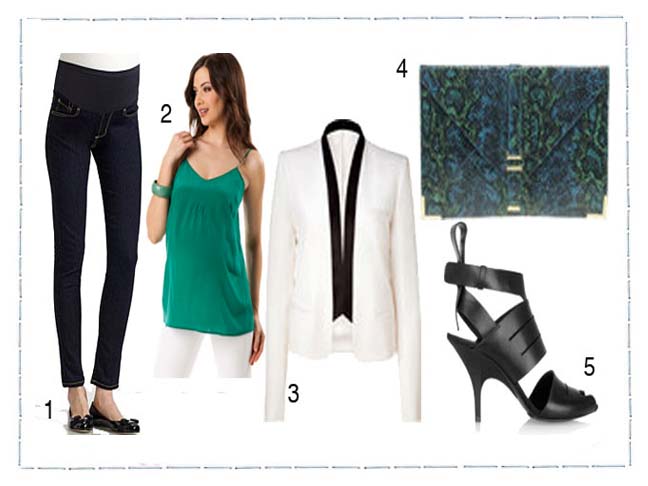 1. James Jeans Maternity Skinny Jeans $132 2. Spaghetti Strap Pleated Maternity Blouse $29.99 3. Balmain Ivory Tuxedo Jacket $2,505 4. ASOS Slot Through Portfolio Clutch $36.36 5. Alexander Wang Nadia Leather Sandals $525
A colorful kaftan and bohemian accessories are comfortable and stylish for a casual Sunday brunch.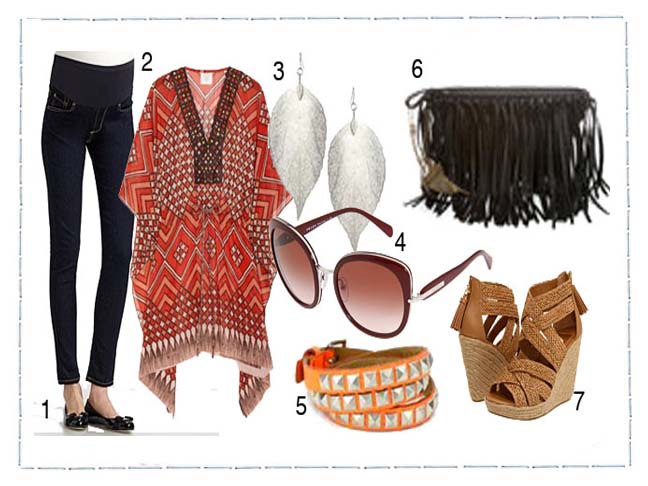 1. James Jeans Maternity Skinny Jeans $132 2. Anna Sui Printed Silk Chiffon Kaftan $485 3.Pieces Piano Shop Earrings $12.73 4.  Prada $310 5. Streets Ahead Silver Pyramids Orange Top with triple wrap cuff bracelet $55 6. House of Harlow 1960 Hayden Fringed Clutch $245 7. DV by Dolce Vita $79