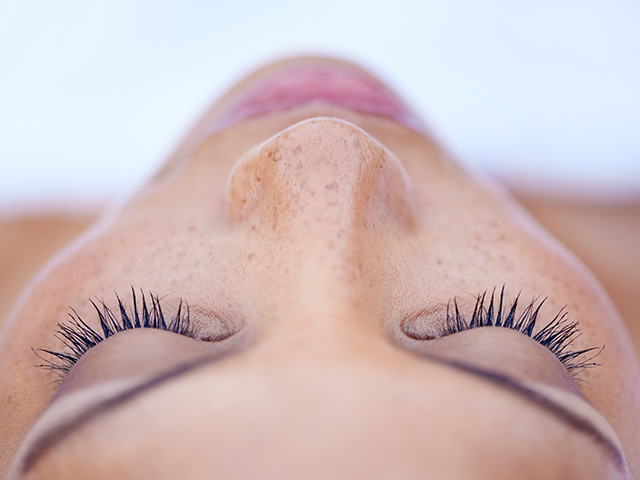 Apple cider vinegar (ACV) is widely known to have many health benefits, but the beauty uses and benefits aren't as well known. Which is crazy, because there are some really great beauty uses and benefits from apple cider vinegar—the list budget-friendly beauty DIYs is impressive. So if you're only using apple cider vinegar as a dressing on your salad, you are seriously missing out.
Here are some surprising benefits and beauty uses for apple cider vinegar that will have you adding a giant bottle to your beauty regimen. Be sure to buy raw and unfiltered apple cider vinegar when you stock up. Bragg Organic Raw Apple Cider Vinegar is my favorite; you can buy it here on Amazon for under $11.
As an astringent
Apple cider vinegar has astringent properties and is a good source of alpha hydroxy acids, so it works great as a skin toner. You can make your own by mixing equal parts ACV and water if your skin is oily, or mixing two parts water and one part ACV if you have normal or dry skin, and applying with a cotton ball. Leave on for a couple minutes and then rinse off.
As a sunburn or burn soother
Apple cider vinegar can soothe sunburn because it helps calm itching, inflammation, and irritation. It also helps with pain and to speed up the healing process. The best way to use it for this purpose is to add one to two cups of ACV to your lukewarm bath and soak for up to thirty minutes.
To make your hair shiny
Apple cider vinegar helps to promote soft and shiny hair due to its clarifying properties. It removes build up and restores your scalp's pH balance. Create a hair rinse by mixing a quarter cup of ACV with two cups of water. Massage into hair after shampooing and rinse off after five minutes. Use this rinse once a week for shiny hair.
As a pimple fighter
Thanks to its antiseptic and antibacterial properties, Apple cider vinegar makes a great pimple and acne fighter. Mix one part raw ACV with two parts water. Soak a cotton ball in the mixture and then apply to the affected area. Rinse off after ten minutes. Reapply several times a day until pimple goes away.
As a teeth whitener
If you are feeling that your teeth are looking stained, you can use apple cider vinegar to help whiten them. The acid in the ACV helps remove the yellowing of teeth and also kills the bacteria inside your mouth. Mix one part ACV with three parts water and use as a mouth rinse one to two times per day.
To whiten yellow nails
Similarly to using Apple cider vinegar as a teeth whitener, you can also use it to whiten yellow nails. Create a nail soak by combining a half cup of ACV and a half cup of lukewarm water. Soak nails for twenty to thirty minutes and then rinse off. Use treatment daily until discoloration is gone.
To fight dandruff
To get rid of dandruff with apple cider vinegar, mix two tablespoons of ACV with equal parts water. Massage into your scalp and leave on for five minutes. Rinse hair and then shampoo as usual. Use two to three times a week until dandruff is gone.
To clean your makeup brushes
Apple cider vinegar can remove the gunk and bacteria on every beauty tool in your makeup arsenal. So don't buy those expensive makeup brush cleaners when you can make your own. Mix one teaspoon of ACV with one cup of warm water. Soak your brushes and then rinse with water.
As a foot soak
Soak your feet in raw Apple cider vinegar for up to one hour to easily buff off calluses and rid yourself of any foot odor.
There are so many many wonderful uses, am I right?
Featured image: Getty/peopleimages/DigitalVision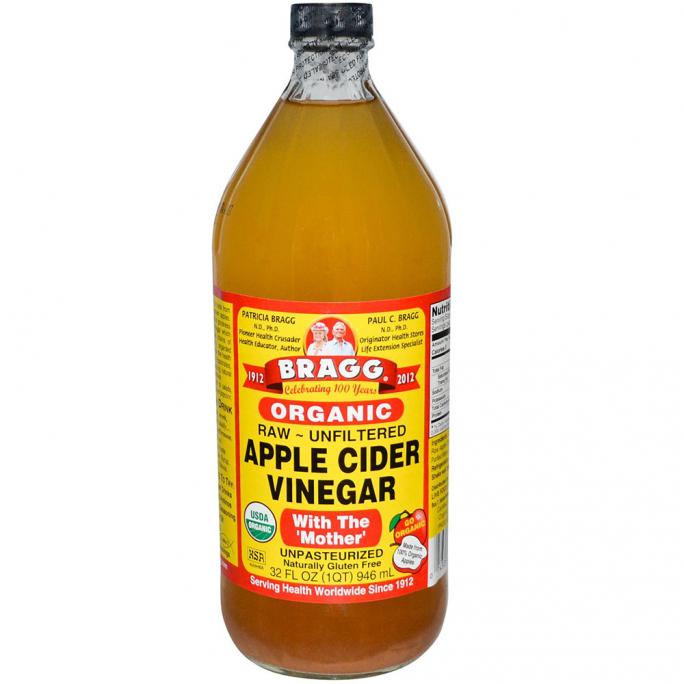 More DIY Beauty Ideas: