What I wouldn't pay to turn back the clock of time…
Scratch that. The truth is, I wouldn't pay that much. Not when there are reasonably prices anti-aging skin products on the market that REALLY do work. Ever notice that the most highly touted anti-aging products cost an arm and a leg? Call that expensive marketing. It turns out that there are plenty of affordable options for anti-aging out there, and they don't skimp on quality.
First, know what to look for in an effective anti-aging skin product. Lots of products will say that they've got the ingredients you need, but here's what doctors (that aren't trying to sell us anything) say you need to be looking for:
What is it? It's a Vitamin A compound.
What does it do? Some studies suggest that topical tretinoin (all-trans retinoic acid, the acid form of vitamin A) may improve sun damaged skin.
What is it? Alpha hydroxy acids, beta hydroxy acids, and poly hydroxy acids are a class of compounds that achieve a variety of beneficial effects for the skin.
What does it do? All three forms of hydroxy acids are exfoliants that remove a layer of old, dead skin and stimulate growth of new, smooth, and evenly pigmented skin.
What is it? It's an antioxidant which is crucial for cellular energy production in your skin, but you lose it with age.
What does it do? Topical application of this ingredient has been shown to replenish Q10 and provide antioxidant effects. This ingredient may help reduce fine wrinkles around the eyes and protect the skin from sun damage.
What is it? It's an herbal derivative from tea leaves.
What does it do? Green, black, and oolong teas contain compounds with antioxidant and anti-inflammatory properties. Anti-aging creams will most commonly feature green tea extracts.
What is it? It's an industrial derivative from whole grape seeds.
What does it do? In addition to having antioxidant and anti-inflammatory properties, it also promotes the healing of wounds. If you have acne scars, this is an ingredient to look for.
What is it? It's a vitamin B3 derivative.
What does it do? Niacinamide protects your skin against pollution and irritants. It has hydrating properties and corrects skin tone, as well as helping to reduce water loss in the skin.
Sources: Mayo Clinic, The National Center for Biotechnology Information
Now that you're armed with the info you need to choose an effective anti-aging cream or serum, check out our guide to the best anti-aging skin products in this slideshow.
More Skin Care Advice:
Like what you see? Don't forget to Pin it!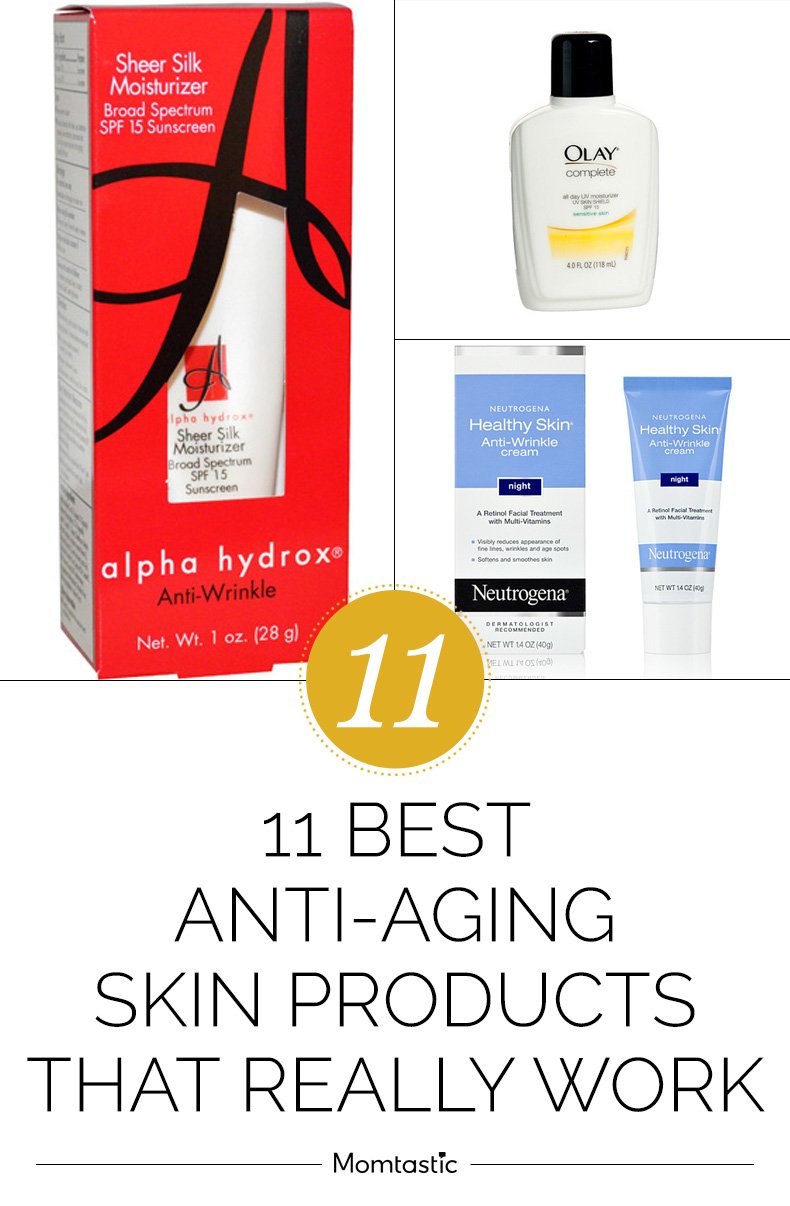 Affordable Anti Aging Skin Products
For Sensitive Skin

Eucerin Q10 ($9.50) has an almost cult-like following for three simple reasons: 1) it works, 2) it's cheap, and 3) it's great for sensitive skin. At under $10 it's worth a try, and you'll likely be a quick convert too. Comparing the ingredients side by side with more expensive creams, you'll wonder why you ever spent a dime more on anti-aging creams.

Buy it: Amazon

Photo: Amazon


Leaves Skin Supple & Smooth

Antioxidant-rich Fresh Seaberry Face Oil ($52) is one of the most potent emollients I've experienced. Just a bit of this hydrating treatment goes a long way in leaving skin supple and smooth. The addition of cranberry sea oil and vital omegas promote skin's elasticity, while superstar seabuckthorn oil (for which it's named) protects skin from harmful free radicals.

Buy it: Sephora

Photo: Sephora


If You Hate the Nightly Beauty Routine

Pop one of these Karuna Age-Defying+ Face Masks ($28) when you hop into bed at night and let it do its magic in 10 to 20 minutes. Packed with hyaluronic acid and soothing ingredients, it's a beauty treatment you don't even have to be standing up to reap the benefits of—perfect for if you're too lazy to go through the creams-and-serums motions before bed.

Buy it: Sephora

Photo: Sephora


Incredibly Potent

Makeup removal is a non-negotiable, but it doesn't have to be a massive chore. Yes to Blueberries Cleansing Facial Wipes ($5.99) contain extracts of brightening apple and lemon peel, and deliver antioxidants via nourishing blueberries. The result is smooth, healthy, glowing skin. These are incredibly potent - and such a great addition to a complete anti-aging regimen.

Buy it: Yes To

Photo: Yes to Carrots


Instant De-Puffing + Anti-Aging

Most devotees to Tony Moly's Panda's Dream So Cool Eye Stick ($12) love it for its ability to instantly soothe tired eyes, but the added benefits minimizing fine lines (via niacinamide) and hydration make this eye stick a must-have in your beauty bag.

Buy it: Ulta

Photo: Ulta


Skin-Illuminating Ingredients

Despite its light consistency, Alpha Hydrox Sheer Silk Moisturizer ($5.99) is one of the most potent anti-aging products available. The airy emulsion is formulated with skin-illuminating ingredients that instantly brighten your complexion, so it's perfect for those fuss-free, minimal makeup days. Its anti-aging prowess comes courtesy of powerful lactic alpha hydroxy acids, plus nourishing green tea, soy, and vitamins. With regular use, your skin will be visibly improved.

Buy it: Amazon

Photo: Amazon


Penetrating Pro-Retinol

Your moisturizer's absorption is enhanced when it's layered over a serum, so imagine the results when you combine the two in one powerful product. Garnier Ultra-Lift 2-in-1 Wrinkle Reducer ($16.99) is enriched with penetrating Pro-Retinol and rich emollients, which work together to firm and smooth even the driest skin.

Buy it: Garnier

Photo: Garnier USA


Get Rid of Dark Circles

Few ingredients are as powerful as vitamin C in the battle against aging skin. Lumene Bright Now Vitamin C Eye Roll-On ($3.99) delivers a cocktail of intensive ingredients, including antioxidant-enriched Arctic cloudberry and vitamins that, over time, negate the appearance of dark circles.

Buy it: Amazon

Photo: Amazon


Gentle and Protective

Sensitive skin demands an extra dose of TLC that many products simply can't provide. Olay Complete Daily Defense All Day Moisturizer ($13.99) is not only formulated with easily irritated skin in mind, but it also contains broad-spectrum SPF 15. Vital to your skin's good health, this gentle lotion leaves skin soft as it protects it from harmful UV rays.

Buy it: Olay

Photo: Olay


Banishes Oil

Harnessing the power of Swiss apple stem cells, Eclos specializes in potent anti-aging skin care. The Skin Renewal Clay Mask ($17.99) is a personal favorite that contains decongestants like green tea and rosemary, plus Moroccan lava clay to soak up oil. Used twice a week, skin feels softer, visible pores are diminished, and fine lines are reduced.

Buy it: Amazon

Photo: Amazon


Reduces Visible Signs of Aging

End the day with a rich night cream that hydrates and treats. Formulated with powerful retinol and vitamin A, Neutrogena Healthy Skin Anti-Wrinkle Cream ($15.99) is an airy moisturizer that softens on contact and, over time, reduces the visible signs of aging skin.

Buy it: Neutrogena

Photo: Neutrogena