It's no secret that Mother Nature is truly having her way with the country this winter. And she's been doing quite a number on beauty routines, too, what with all that dry air sapping skin of moisture and leaving it parched and uncomfortable. Find a luxurious solution in nourishing body oils, which are one of the new—and most welcome—kids on the beauty block. Here are eight delicate oils that treat skin to the TLC they so desperately need at this time of year.
Just a touch of Fresh Sugar Ultra-Nourishing Body Oil ($45) makes such a big difference. Rich in oils of evening primrose, jojoba, apricot kernel, and sweet almond, this delicate blend smells as it good as it feels. Not only does it lock in moisture, it also prevents dryness in the long term and soothes irritation.
Available in several scents, LaLicious Body Oil ($24) treats skin to more than just heavenly fragrance—it also leaves it baby soft. Nothing is more comforting than the Brown Sugar and Vanilla blend during an arctic-like chill. It's a guilt-free way to enjoy a little sweetness, and the oil's nourishing blend of coconut, sweet almond, macadamia nut, soybean, and vitamin E is a decadent antidote to dry skin.
If pure luxury is the destination, Tom Ford is the (very well-dressed) chauffeur. His Neroli Portofino Body Oil ($70) is so decadent it's almost criminal. Breathe in the intoxicating aroma of bergamot, rosemary, orange blossom water, mandarin, lavender, and other therapeutic notes as you massage the silky elixir into your skin. It's a true treat for skin in need.
During winter, mature skin can appear drier, duller, and more fragile. Coupled with a natural drop in estrogen levels, the skin is left especially susceptible to discomfort. Treat it with with a quick-absorbing moisturizer like Tata Harper Revitalizing Body Oil ($90). More than just a hydrator, it contains anti-inflammatory calendula and a cocktail of vitamins and minerals to feed thirsty skin and leave it refreshed and youthful looking.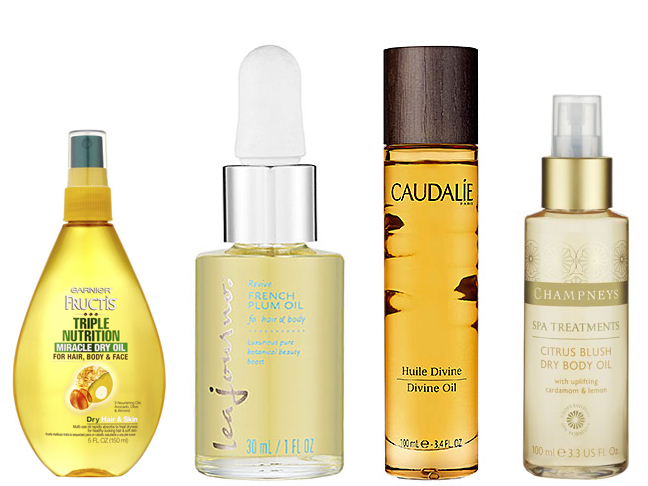 Just call it a miracle in a bottle. Garnier Fructis wowed the industry when it introduced the Triple Nutrition Miracle Dry Oil ($4.97), a multipurpose solution designed to transform brittle hair, dry skin, and even parched facial skin with a quick spritz. With avocado, almond, and olive oils, this potent formula sinks in immediately without any oily residue.
A magnificent almond aroma lends the Lea Journo Revive French Plum Oil ($65) irresistible allure. Its blend of pure French plum oil and vitamin E is formulated to leave skin consistently soft; long-term use yields the baby-soft skin of your dreams. Bonus: You can use it on your face and run it through dry strands for a moisture kick, too.
Never has a name been more appropriate. Caudalie Divine Oil ($49) is simply beautiful, from its golden tinge to its outstanding mix of sesame, hibiscus, grape seed, and argan oils. Leaving the skin softly scented with a delicate floral finish, this oil feels almost passionate in its execution—the divine scent, the potent hydrating ingredients, the almost mystical gilded appearance.
Give your skin an instant upgrade with Champneys Spa Treatments Citrus Blush Dry Body Oil ($7.99). This phenomenal treat feels less like a treatment and more like a pampering experience, with a radiant lemon and cardamom scent and an instantly softening formula that lends skin a deliciously soft feel on contact.
More Winter Beauty Tips: