Paper crafts are a fun way to keep your kids busy. I love sitting with my daughters and working on these projects, whether we're breaking up a long afternoon or avoiding going stir crazy during a rainy weekend! Sometimes I can even get away with setting up a station for them to do paper crafts alongside me while I work (usually on my own crafts).
Here's something else: Paper crafts are a simple and inexpensive (and less time consuming) alternative to visiting the craft store. Many of the materials can be found at home and you can make use of items like toilet paper rolls or paper bags that would otherwise be recycled.
These paper crafts stretch the imagination and once made, many of them can be played with for hours on end. Feeling inspired? Try them all!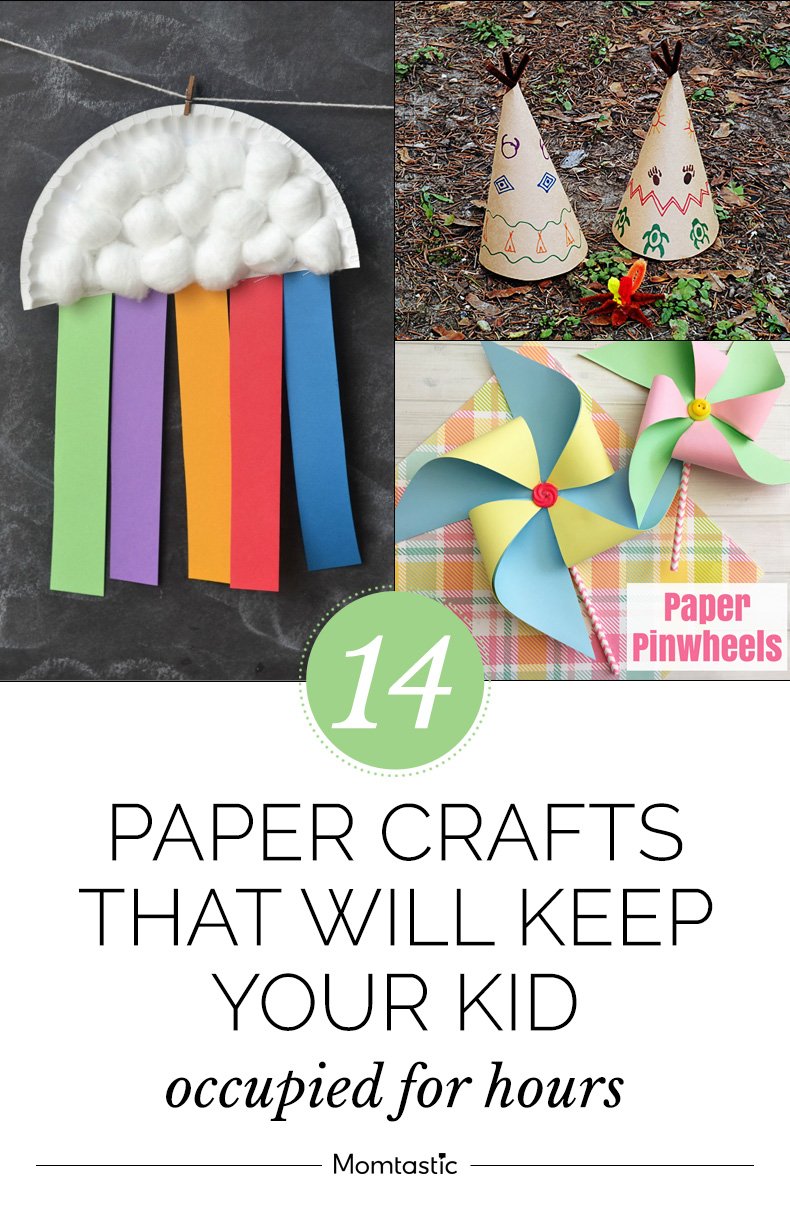 14 Paper Crafts To Keep Your Kids Occupied For Hours
Paper Plate Rainbow

With some cotton balls, a paper plate, colorful card stock, and a ton of glue, your kids can add extra cheer to your home!

Construction Paper Teepees

This outdoorsy project is a fun way to teach kids about Native American culture. The teepees make cute Thanksgiving centerpieces, too.

Paper Pinwheels

Paper pinwheels can be so colorful! Grab bright card stock and some fun straws and the kiddos will be entertained for hours.

Paper Chain Caterpillar

This adorable guy can be as big or small as your child wants. A fun accompaniment to the book The Very Hungry Caterpillar. 

How to Make Paper Flowers

You can use old encyclopedias to make this crafty paper flower bouquet. It's perfect for a teacher's gift!

Marbleized Paper

Making marbleized paper is so much fun and it's even a bit messy -- which kids love! I promise it is to easy clean up, though.

Toilet Paper Roll City Blocks

Kids can build a little city out of empty toilet paper roles -- which are much less painful to step on than LEGOs!

Origami Paper Monsters

These adorable monsters can be used as puppets or bookmarks. A perfect favor for Halloween parties, too.

Paper Plate Tropical Fish

These cheerful and easy to make tropical fish add a pop of color to a kid's room.

Paper Bag Roses

Put extra paper bags laying around the house to good use by making this unique bouquet.

Arctic Animal Paper Fans

How cute are these paper fans?!

Paper Towel Tie Dye Butterflies

Using paper towels, kiddos can create beautiful tie dye butterflies.

Toilet Paper Roll Puppets

Most kids know the classic children's tale, The Three Little Pigs, and now they can reenact it with these adorable little puppets.

Watercolor Paper Leaf & Branch Mobile

Kids of all ages can create this gorgeous mobile with just a few supplies.