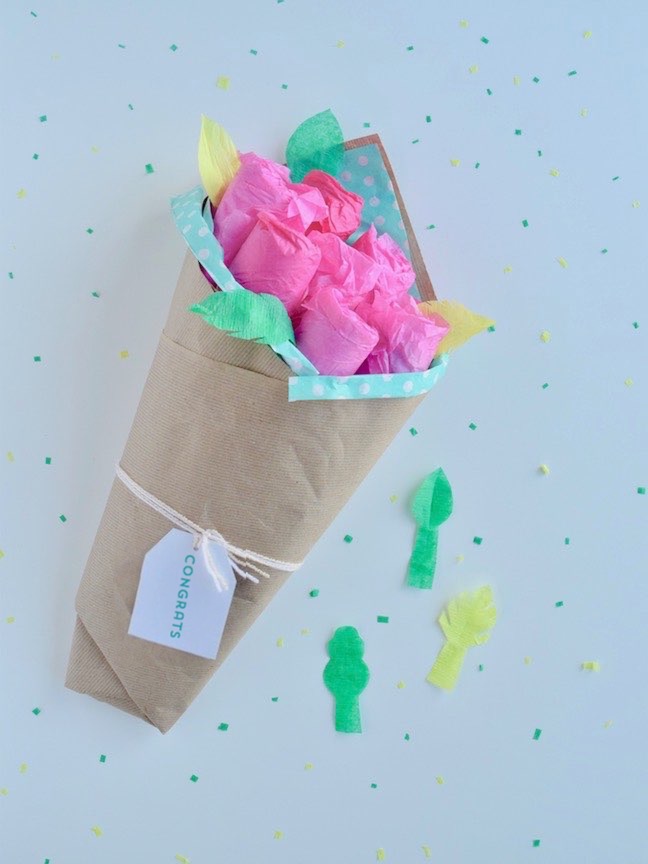 A few of my friends are pregnant right now. One is welcoming her third, while another is expecting her fourth. I've had two myself and I loved having hand-me-downs from baby #1 to pass down or when friends gave me their clothing and gear. But there are certain mommy must-haves that you just can't share from one kid to the next. Diapers, diapers, diapers.
Our registry had the rattles, onesies, and carriers that magazines, websites, and blogs swore we needed to prep for our little girl, but no one stressed the urgent need for diapers. Lots and lots of diapers. Sure, we had a box or two, but it just takes a couple of unexpected blowouts right after you've just swaddled a little butt in a fresh diaper to deplete your supply. Let's face it, diapers are truly the gift every new parent needs.
Before you just wrap a big 'ole box of diapers and slap a bow on it, bust out some inexpensive supplies and make the prettiest DIY diaper bouquet ever. At first glance, your pregnant friend won't even know this floral stunner is made of diapers. Grab some tissue paper and twine, and follow along while I show you how to DIY a fresh take on a diaper bouquet.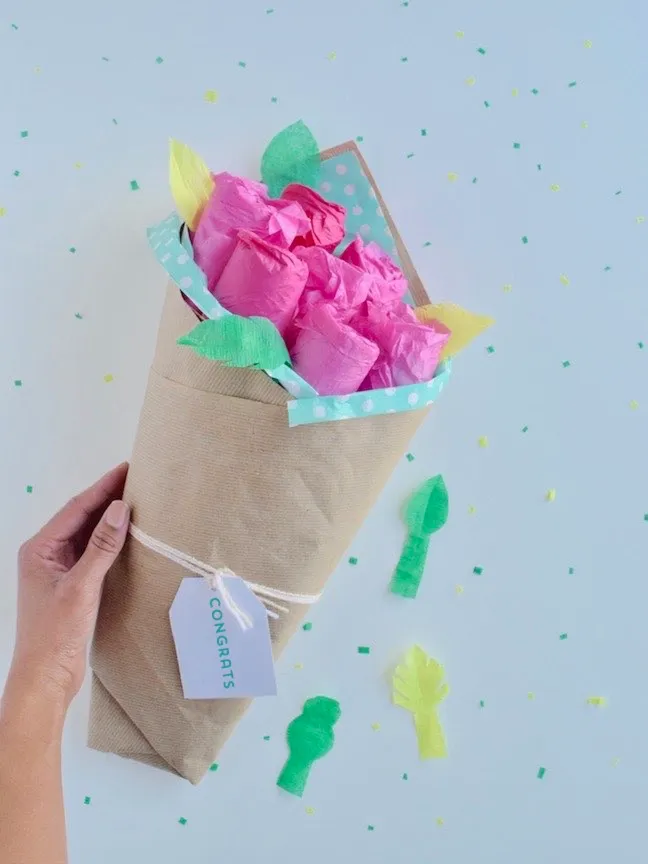 Supplies
1 to 2 diapers per bloom, depending on desired fullness; 9 blooms for small bouquets, and 12 to 14 for large
tissue paper in 3 shades (I used pink for the flowers)
patterned tissue paper (to wrap flower bundle)
kraft paper (to wrap flower bundle)
green crepe streamers (for leaves)
scissors
transparent tape
rubberbands
cardstock (optional)
twine/ribbon/string (optional)
Instructions
Step 1: Cut one sheet of tissue paper in half lengthwise. Fold each strip in half lengthwise. Set one strip aside. Tuck a diaper inside the folded strip (see below). Fold the diaper in half, and roll it like a burrito into the tissue paper. Secure each rolled diaper with a rubber band. Repeat with several diapers to create your bouquet.
Step 2: Fold a strip of crepe streamer in half lengthwise. Using scissors, cut half of a leaf shape. Unfold the leaf to reveal a symmetrical piece of greenery to tuck into your bouquet (see below). Repeat with various shades of green streamers to create additional leaves.
Step 3: Bundle your diaper flowers together, and secure with a large rubber band. Wrap the bundle in a sheet of patterned tissue paper. Tape the tissue paper in place to secure the wrap. Repeat with a sheet of kraft paper. Tape the kraft paper to secure it around the bundle. Add a decorative strand of ribbon, twine, or string. If you'd like to add a congratulatory tag, cut a 2.5″ x 3″ rectangle from cardstock. Use a punch to create a small hole near the top of the tag, and wind the ribbon/twine through and around the flower bundle.