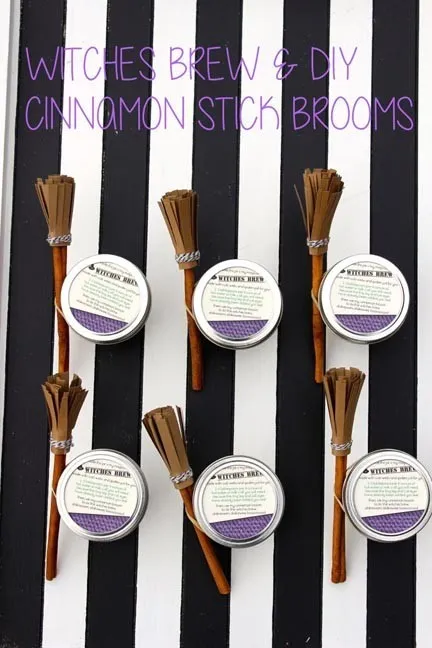 We have a brewtastic idea for Halloween party-throwers looking for a unique Halloween favor, and for those looking to make small gifts for friends this Halloween. It's a DIY witches brew. This brew doesn't contain spider legs, frog eyes, or cat hair—it's just a mix to make delicious and warm Chai green tea. But, sshhh, don't tell them that!
The witches brew jar reads:
Inside this jar is my magical witches brew,
made with cobwebs and spiders just for you.
2-3 tablespoons per 8 ounces of hot water or milk is all you will need,
because the frog leg and cat eyes have already been added, you see!
Then, use my cinnamon broom to stir the witches brew,
alakazaam, alakawee, boooooo!
You may drink this and your face will turn green…
But don't worry, it will make for a Happy Halloween.
You can download the Witches Brew free printable here [PDF].
Here's how you create the witches brew, accompanied by a DIY cinnamon stick broom to stir the brew…
Supplies:
4 oz. quilted crystalized Kerr jelly jars (You can find them at Target.)
White sticker paper or white card stock from your local Office Depot or Michaels
Kraft paper (We found ours at Michaels.)
Cinnamon sticks
Black and white twine
Scissors
Rubber bands
Instructions:
Cinnamon Broomstick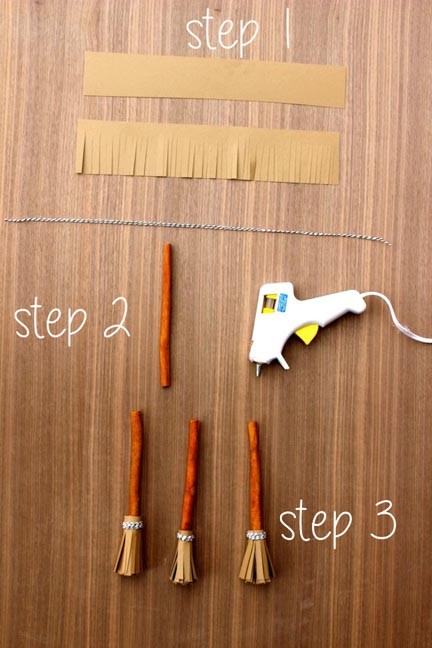 Step 1: Cut thin strips of kraft paper, and then use scissors to add fringe to the strip of paper.
Step 2: Add a dab of hot glue near the bottom of the cinnamon stick to glue one end of the kraft fringe on the stick; then start to wrap it around the cinnamon stick. When you reach the end of the strip, add another dab of hot glue inside the paper to keep the broom bristles "coiled" together.
Step 3: Place a thin line of hot glue along the top of the bristles; then wrap the black and white twine around it. You will need about 6-12 inches of twine per stick, depending on how thick you want the band to be.
Witches Brew
Step 1: Cut the witches brew labels and stick to the Kerr jar lids.
Step 2: Add 3-5 tablespoons of the green tea Chai mix to each Kerr jar and seal the lid.
Step 3: Use a rubber band to attach the cinnamon stick to the witches brew jar.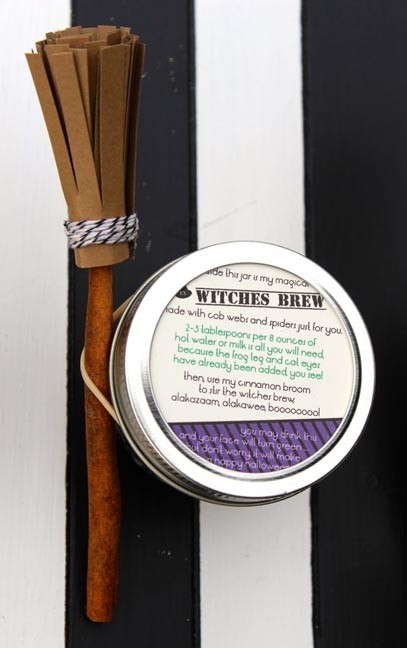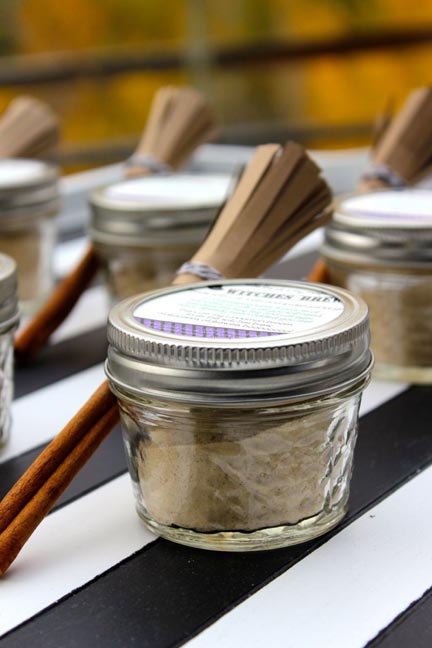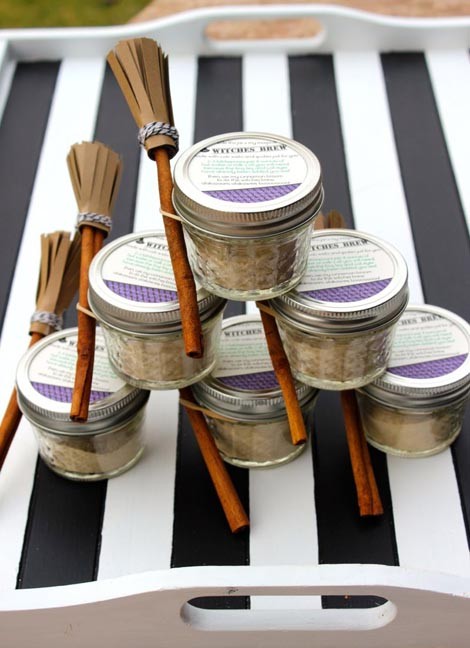 Keep some of the Chai green tea for yourself…and try not to actually turn green this Halloween!
Images via j. sorelle
More Halloween Crafts for Adults: