(Pink) milk it this Valentine's Day! You don't need artificial colors, soda or even candy to keep it fun and festive while serving up big love this February 14th. All you need for this kitchen DIY: strawberries, sugar and milk.
Three ingredients, two steps. That's all it takes to make this sweet treat for your little cupid.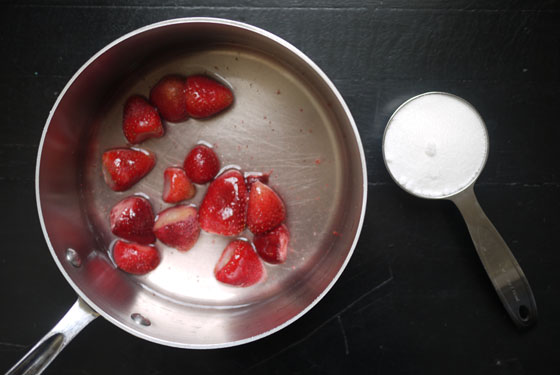 Step 1: Make strawberry simple syrup
Making simple syrup—cooked down sugar water—is simple stuff. Everyone has a different ratio of water-to-sugar, the easiest being one-to-one. To flavor simple syrup, put a flavoring ingredient in the pot with the sugar and water and allow it to give off its flavor as the sugar and water boil and thicken. Depending on the added ingredient, you may need to strain the syrup before serving.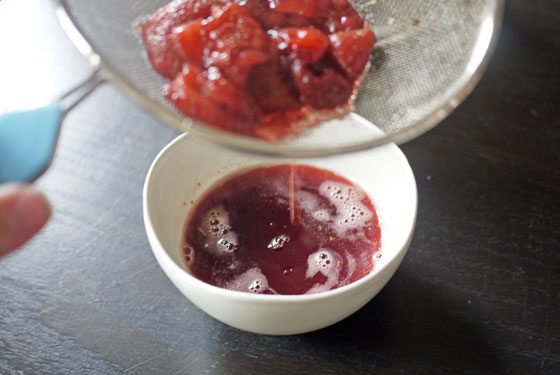 For pink milk we're using strawberries (fresh or frozen) to flavor the syrup, so we need to strain it to keep the syrup from having hunks of fruit or seeds. I also changed the water-to-sugar ratio to keep this relatively low in sugar for the kiddos. 
Step 2: Add strawberry syrup to cold milk
Pour a tall glass of whole or skim milk and mix in strawberry syrup just as you would chocolate syrup. How much syrup you use depends on how sweet you want the milk to be.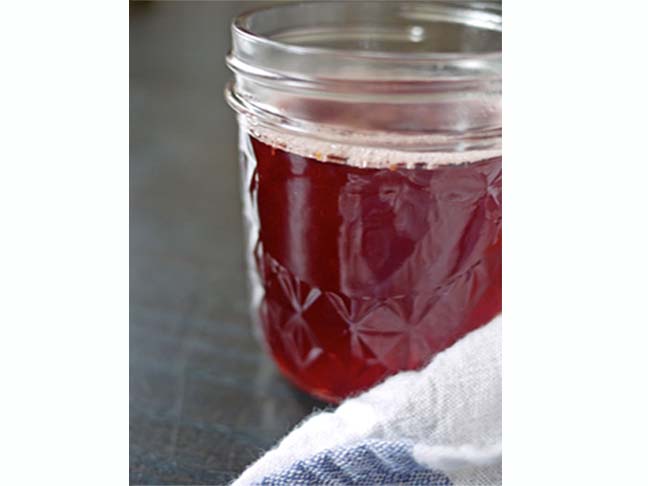 More syrup, more sweet (and more pink!). Less syrup, less sweet (but more leftovers for pancakes, yogurt or seconds!).
Happy Valentine's Day!
Homemade Pink Milk
(makes about 1 cup/16 tablespoons syrup)
Ingredients
1 cup water
1 cup cleaned, trimmed & chopped strawberries, fresh or frozen
½ cup granulated sugar
Milk, whole or skim
Directions
1. Add water, strawberries and sugar to a small pot set over high heat. Bring to a boil and reduce heat to medium-high to maintain a moderate boil for about 10 minutes, until the mixture thickens to a maple syrup consistency.
2. Remove syrup from heat and pour through a fine mesh strainer set over a medium bowl. Once all of the liquid has poured through, you can use a rubber spatula to press down on the fruit in the strainer, just be careful not to push the seeds through. (You can skip pressing down on the fruit or line your strainer with a cheesecloth if the wire mesh isn't fine enough to keep seeds from dropping into your syrup.) Allow your syrup to cool completely before mixing into milk. 
3. Add about 2 tablespoons of the syrup to each 1 cup of milk, adjust to taste. Serve cold!