I'm in the minority of people to say I don't like the look of the Stokke Tripp Trapp High Chair. People looooove this chair and before raving about its function, people usually rave about how it looks. But looks aside my toddler has been majorly fighting eating in the high chair and we often eat on the floor or I'll have him on my lap which is far from ideal, so when I had the chance to test drive the Stokke Tripp Trapp, I jumped at the chance to see what it's all about. Spoiler alert: a supportive foot rest is as important as all the experts say it is.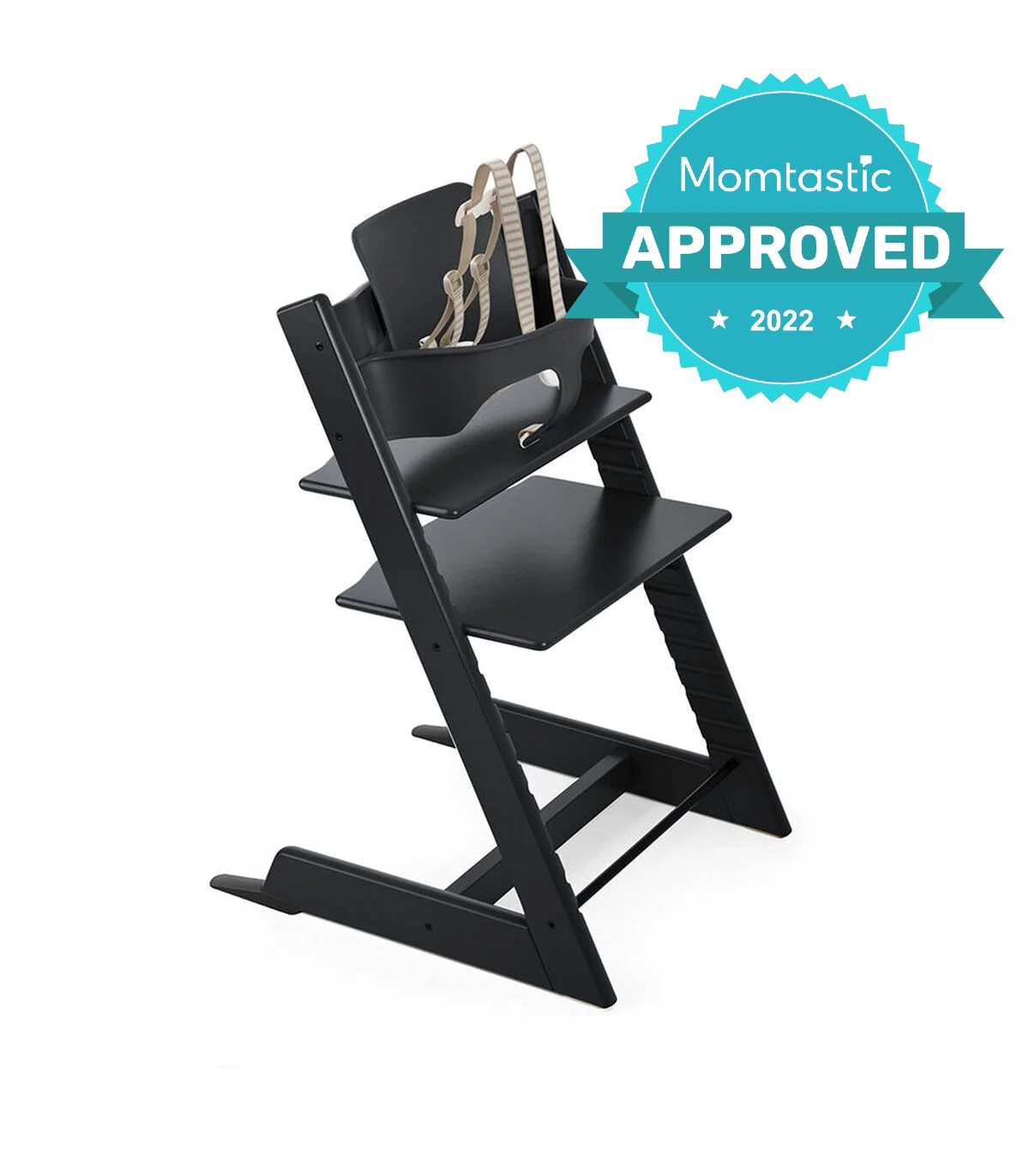 This Stokke chair is the first high chair I've tried that can be not only positioned fully upright, but has a foot rest that my toddler can actually reach to support his legs (it's also one of the only ones on the market that does these things). Besides the Stokke Tripp Trapp, there's the Stokke Steps and the Nomi that deliver on these points and, to a much lesser extent, the Abiie and Keekaroo chairs.
"We aren't brand loyalists, but what we want to see in a high chair from a safety and positioning standpoint are first a totally upright seat," says Solid Starts founder Jenny Best. "This is crucial for swallowing safety. Eating reclined is not safe for either spoon feeding or solids, and is a very dependent position for the baby. It's much harder for baby to lean in and engage if/when reclined." Note the Stokke Tripp Trapp does have a reclining option, as pictured above, that you can use for babies before they are able to sit – not necessarily for feeding, but rather to get in the habit of having baby join family meals.
Second, she says, it's important for a chair to have a foot rest. "This is most crucial for postural control. Having the feet firmly planted with the knees bent at 90 degrees sets the hips/pelvis up for perfect alignment for sitting. When the hips and pelvis are neutral, it encourages the back and neck to be upright—sitting strong is ideal for solids. Therapy speak is 'what happens at the hips, happens at the lips" so this strong base of support helps provide the freedom for the lips, tongue, and jaw to do their job for chewing. And finally, we like a removable tray, so the chair can be pulled right up to the dinner table. This way baby can see, smell, and experience the family meal from the start."
The Stokke Tripp Trapp satisfies all of these points, plus it grows with your family and can be used for years – literally from birth to adult, not only because it "transforms" to suit various stages of life, but because it's made of very durable material. What shocked me, however, is how much of a difference being totally upright and having a foot rest made over the few months we have been using the chairr. Sure my son still plays/throws his food and has tantrums now and again, but overall his confidence when it comes to eating has grown leaps and bounds as he seems more secure (and is more open to actually sitting in the chair) – plus I feel more secure knowing he is sitting in a way that reduces the risk of choking.
The chair comes in a few color options so whether or not you like the look you can match it to your home decor. The one downside is that this chai is expensive and you'll likely want/need many accessories to get the most out of it, all of which cost extra.
Bottom line: I haven't spoken to a feeding expert who doesn't love this chair and highly recommend it, and now I fully understand why.