Kids get sick and they get sick often. As stressful as this can be, it's normal, but it's important to stay on top of it as things can escalate quickly when dealing with children's fragile systems. With that in mind it's imperative for any household with a child of any age to have a fast, accurate and easy to use thermometer.
Generally speaking there are two types of thermometers: digital stick and infrared.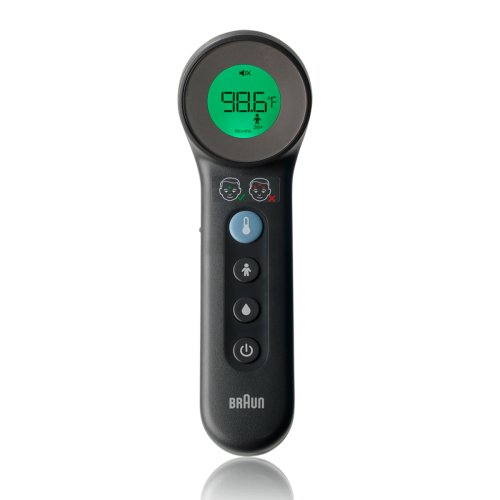 Digital stick thermometers are your best bet for a cheap, small and accurate option. They can take temperatures from the mouth, the armpit or the bottom. The downside? They're not that fast and with babies and small children that can be a problem. By contrast, infrared measure the heat your body emits via the forehead or ear – these are the ones you probably saw stores, gyms, supermarkets etc. widely using during the peak of the Coronavirus pandemic. What's great about them is that they give temperature readings near instantly and they're easy to use. The downside? They're usually more expensive and with a few exceptions, aren't recommended for newborns as rectal readings are considered to be more accurate – for newborns accuracy is more important than anything. The one notable exception is Braun's 3-in-1 No Touch Thermometer, which works for all ages including 0-3 months (as to all their models with their "age precision technology").
In fact, it's worth taking a deeper dive into the aforementioned Braun option (pictured above) because while it's a bit of an up-front investment at $65 it's arguably the best option out. It lets you select an appropriate age setting (0-3 months, 3-36 months and 36 months-adult), before taking a temperature because the definition of a fever changes based on age. Plus, in addition to allowing parents to measure temperature via the forehead, it can be used to measure food and bath temperature. The brand also makes and ear thermometer,  ThermoScan 7 Ear Thermometer with Age Precision, which includes the same age precision technology for age appropriate fever readings, but also has a pre-warmed tip minimizing the cooling effect of the ear canal, providing accurate measurements – proven more accurate even than forehead or rectal thermometers.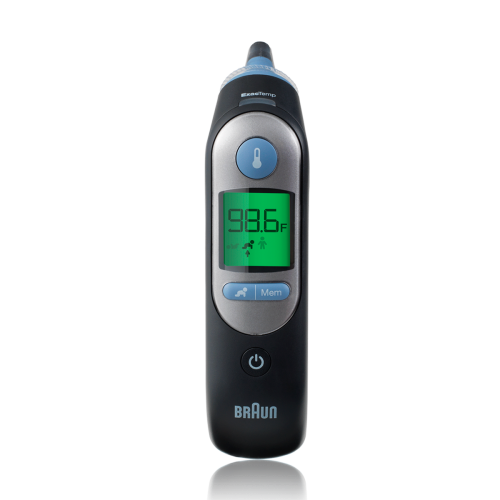 While it's hard to argue with the speed, accuracy and advanced technology of the Braun options, if they're not in your budget, the Vicks ComfortFlex Digital Thermometer is oft named as the best and fastest digital stick option and, at just under $10, it's an affordable buy for kids and adults. It works in the mouth, the armpit or the bottom.

More Health & Wellness: