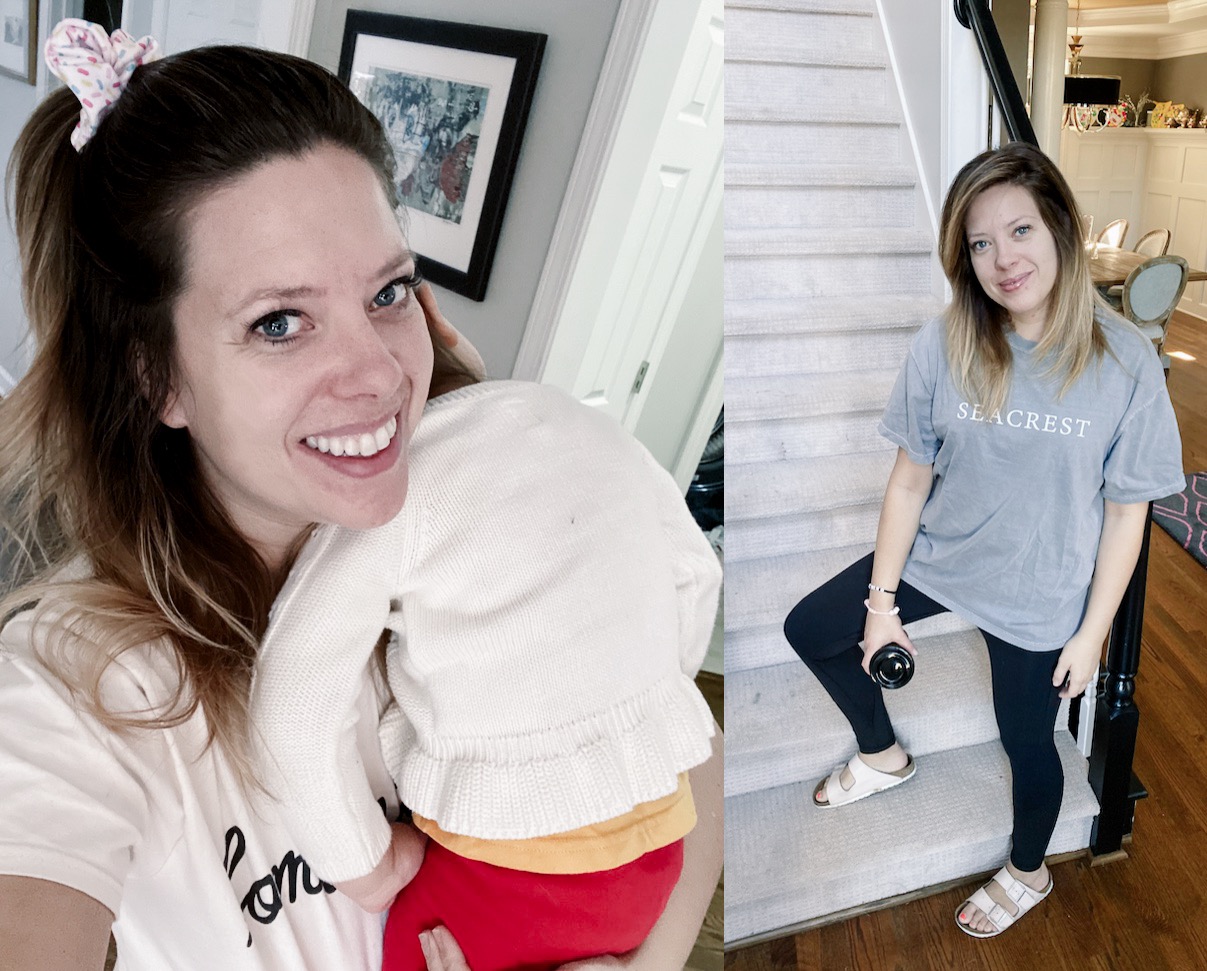 I'll admit it: I've always thought of myself as a pretty cool mom. Or at least, cooler than the average. I still listen to rap music, I am a judgment-free zone with local teenagers, and I drop F-bombs like it's going out of style. But recently, something happened that stopped me dead in my sustainable shoe-wearing tracks, and now I'm wondering if this casual, cool-housewife-next-door thing is really working anymore.
I was chatting with our sixteen-year-old babysitter who lives down the street, first on the topic of her schoolwork and then shifting into a rundown of our favorite local salons. Suddenly it dawned on me that if you didn't know us and you happened upon us from afar, you might think we were just two girlfriends hanging out. But is that a good thing?
Both of sporting fresh ombre highlights and scrunchies on our wrists, each in an oversized souvenir t-shirt from a family vacation and Lululemon leggings, we were dressed identically: down to the shoes. I quickly sized her up, envying her nails (she went for the coffin shape I'd been meaning try. Note to self: do it next time!) and makeup-free face save for black mascara and Chapstick (Same here).
What was happening? 
Just as the terrifying reality hit that I might be starting to look like a wannabe VSCO girl without even knowing it, she inadvertently confirmed my suspicion. "Love your Birks, by the way," she said, gesturing in the direction of the new pinkish-white comfy love fest happening on my feet. "I've never seen that color before!"
"Thanks," I said, telling her that my husband procured them in SoHo, NYC at the flagship store.
"Right on!" she exclaimed (something I 100% say….) before grabbing her hydro-flask full of cold brew and soy milk and bending down to kiss my daughters on her way out the door.
Horrified, I glanced down at my own reusable cup full of cold brew, and started to think about how utterly ridiculous I must seem to this trend-right teenager.
Here's the thing: I am all about being cool. I get that as a dedicated yogi and part-time vegan (yet to give up Parmesan cheese or leather handbags, but I'm getting there…), my lifestyle does naturally allow a lot of the tendencies of the younger set. But long ago, before I became a stay-at-home mom working a few hours a week remotely from my home office, this is not how I pictured my early-thirties level cool looking. Not at all.
In my twenties, I worked in a string of chic offices for glossy publications and retail brands, toted a Ferragamo briefcase to work and interacted with high-level executives comfortably in my sky-high heels. I ate $16 takeout lunches and wore CHANEL lipstick, kept up with quarterly jewelry cleaning on all my frequently worn pieces and had a shoe repair guy in my iPhone contacts. Even my freaking cat was extra: his name tag was from Tiffany's.
Now that I've side-stepped that grandiose life for a quieter, if still comfortable suburban one, things have changed. Gone are the days of high heels and in have marched the "Birks," Keds, and my trusty Melissa jelly flats for when I want to feel "fancy." WTF is happening?
I am thirty-something mother of two and I drive a big black SUV. I dress my daughters like they're headed to baby balls rather than preschool, and yet my entire wardrobe (or at least, the part of it that I wear…) consists of oversized message tees, tiny denim shorts or high-quality black leggings, and hoodies.
It's just all so… comfy. It makes so much sense. I type this as I sip my Starbucks out of a reusable cup and huddle under a blanket I bought off Etsy, listening to some emo song I picked up a few weeks ago while watching a teenage-focused romance flick called After. I would put money on our favorite babysitter having watched it too, and downloading the same soothing songs that I did after looking them up online.
Am I having a third-life crisis over here? Is this behavior normal? I remember my own mom in the 90's dressing like a woman, in silk stockings and sweater sets, large pearl earrings and trench coats…
My sister-in-law, to whom I look for advice on all topics, dons a different Burberry jacket for fall and winter and uses personalized stationary. When I showed up at her home in Connecticut to throw her a baby shower last weekend, I felt like a complete moron in the oversized tee and sweats I'd recently picked up in the juniors department at Target. (Hey, that outfit only cost me thirty bucks from head to toe!)
I'm comfortable in my own skin, and not embarrassed at preschool pickup when I am literally the only mom of the bunch dressed like a dang teenager. But I have to wonder if, at a certain point, I'll start to feel like a bit of a loser? It didn't happen on purpose or overnight, this transition from chic working woman to tree-hugging wannabe high school kid. In fact, I dare say I was rocking those oversized thrift store tees and Lulus before my teenaged neighbors were.
But is it time to suck it up and go shopping for grown-up clothes, or is there something to blending in with the teenage contingency? One day, my kids (now 4 and 2) are going to look me up and down and tell me the jig is up. (They already have banned me from singing along to the car radio).
Until that day comes, you'll be likeliest to find me on my laptop at the nearest Starbucks sipping out of my reusable straw, or sifting through the Goodwill racks for fun finds while scrolling Instagram half-heartedly. I do stop the madness at the puka shell necklace, though: does that mean I can get away with this VSCO wannabe thing for a little while longer?
Hey, as long as we're saving the turtles… it can't be all that bad!
More Funny Parenting Stories: