Remember back in the day when kids' t-shirts had inappropriate messages like, "I'm too pretty to do homework , so I have my brother do it for me."and "Sorry ladies, I only date models."? Shirts with all kinds of questionable messages were the norm. Thankfully, after a lot of parental backlash, major retailers have started to really rethink their apparel's messaging. Girls are more than adorable princesses and boys are more than strong chick magnets. I'm genuinely excited by some of the back-to-school tees I've seen on shelves this summer, so I've rounded up 20 empowering t-shirts for boys and girls that bust gender stereotypes.
Want to buy your kids their own back-to-school tees with strong and positive messages? Check out this round-up of empowering tees for boys and girls.
Love what you see? Don't forget to Pin it!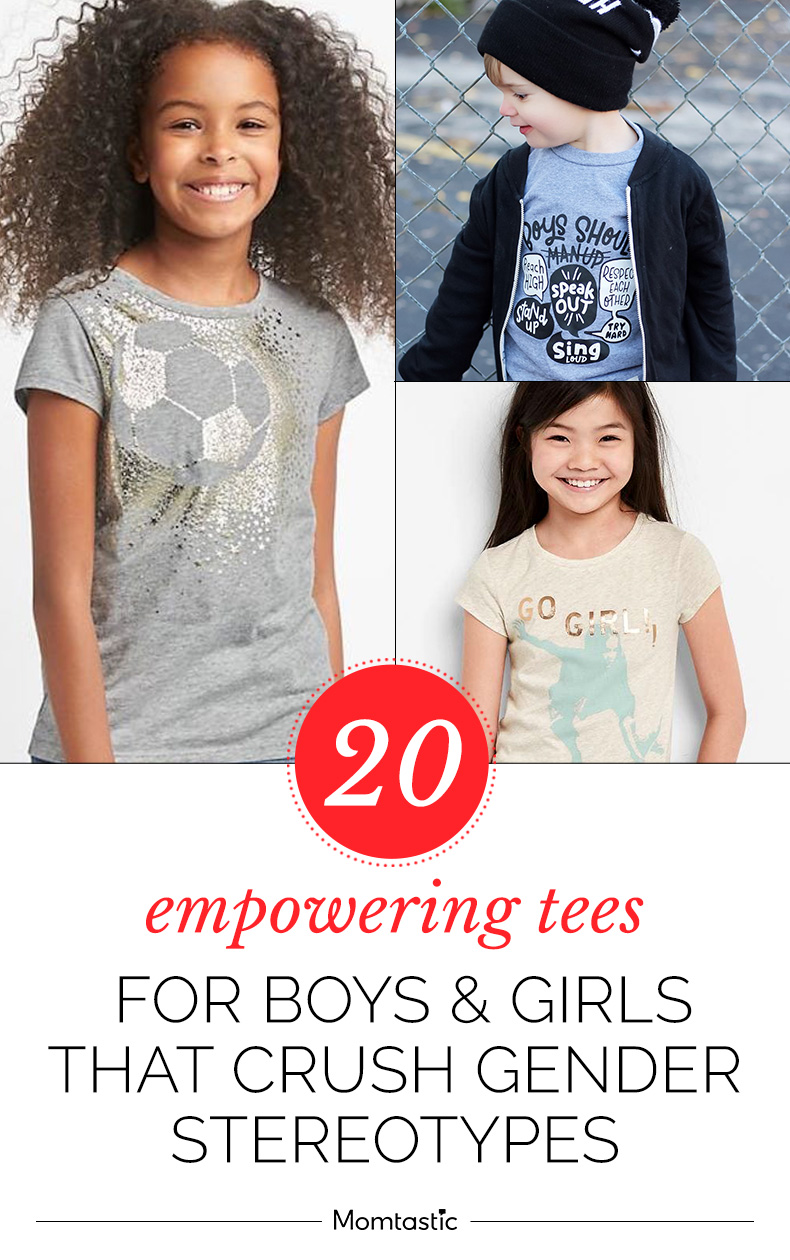 20 Gender Stereotype Busting Tees for Back to School
Girls' Soccer Tee

If your girl is a powerhouse on the field, let her display it off-field, too.

Image: Gap

Boys' Anti-Man Up Tee

Remind him to stand up, reach high, respect other kids, and sing loud with this tee's proclamations.

Image: Wire & Honey

Girls' Moon Tee

Your star-gazing girl knows the difference between waxing gibbous and waning crescent, so let her show off her astrological aptitude with this out-of-this world tee.

Image: Target

Boys' Moon Mission Tee

This glow-in-the-dark tee is perfect for boys who aren't afraid to wear purple.

Image: J. Crew

Girls' Be-You-Ti-Ful Tee

This shirt literally defines all that girls can be by just being themselves.

Image: Crazy8

Boys' Science Tee

If your son is more brainy than brawny, this science tee will be his go-to all year long.

Image: Target

Girls' Power Tee

Your daughter has what it takes to be the boss, so let the whole world know it.

Image: H&M

Boys' Artist Tee

If your boy loves to tap into his artistic side, this tee will probably be in heavy rotation in his wardrobe.

Image: OshKosh

Boys' Dino Facts T-Shirt

If your boy loves to tap into his artistic side, this tee will probably be in heavy rotation in his wardrobe.

Image: Oshkosh

Girls' Future Careers... Tee

Her future reaches far beyond a reflection in the mirror.

Image: Wire & Honey

Boys' Brain Power Tee

Power doesn't just come from muscles. Let your son show off his mental skills with this brainy tee.

Image: Target

Girls' Planetary Tee

If magnetosphere, dipole, and rotation stats are a part of her daily dialogue, this Jupiter tee will be the star in her wardrobe.

Image: Land's End

Boy's Band T-Shirt Tee

Let your band kid toot his own horn in this instrument-filled tee.

Image: Target

Girls' Let's Be Epic Tee

She's out to change the world, and this tee will encourage her squad to join her movement.

Image: H&M

Boys' Wicked Smart Kid Tee

This shirt uses comic book styling to tout your boy's brainy nature.

Image: OshKosh

Girls' Smart Girl Tee

She's got brains, and she knows it. This shirt lets her show it.

Image: OshKosh

Boys' Be Kind Tee

Boys aren't always taught to embrace their empathetic, thoughtful side. Let him know that kindness is crucial (and cool).

Image: Target

Girls' Skateboard Tee

If you girl would rather be a skateboarder than an ice skater, this tee will be the perfect fit.

Image: Gap

Boys' Periodic Table Tee

If electrons and neutrons get your son more excited than pitchers and quarterbacks, this ultra-genius shirt is for him.

Image: Target

Girls' Coding Tee

This tee makes sure the message is decoded, and it says that STEM stuff is for everyone.

Image: Wire & Honey

Boys' Positive Vibes Tee

Everyone looks good in pink, even little boys. And, this shirt's positive message is guaranteed to boost his mood.

Image: Old Navy