Boo! Has Halloween snuck up on you this year? Along with settling on the costumes and the decorations, you've got to whip up some Halloween treats. Don't be scared—these quick, last-minute spooky snacks (each made with just a few ingredients) will save the haunted day!
1. Pretzel Ghosts
It doesn't get any easier than this. Melt white candy melts (available at most party or craft supply stores, all baking supply stores and through Amazon Prime). Dip pretzel sticks three-quarters of the way into the melted candy and prop up in a container filled with rice. Refrigerate for 15 minutes or so, until the candy is fully hardened. In the meantime, melt chocolate candy melts or, in this case, chocolate chips will do. Dip the end of a toothpick or chopstick in the dark chocolate and dab on your "ghost" to make two eyes and a mouth. (See the top main image.)
2. Spiderweb Eggs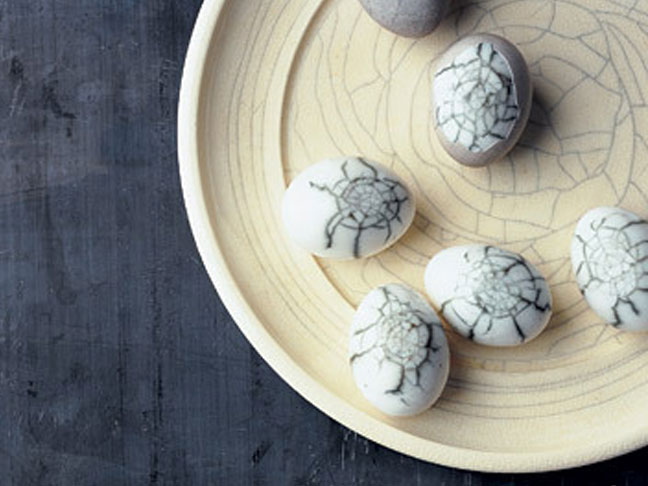 I love this idea from Martha Stewart! The "recipe," which only requires eggs and frozen blueberries, makes a fun and healthy snack and also a perfect Halloween display. No worries if your little goblins skip over the Halloween eggs for candy—unlike other party foods, you can pop these right back in the fridge for breakfast or a spooky lunch box surprise.
 

3. Meringue Bones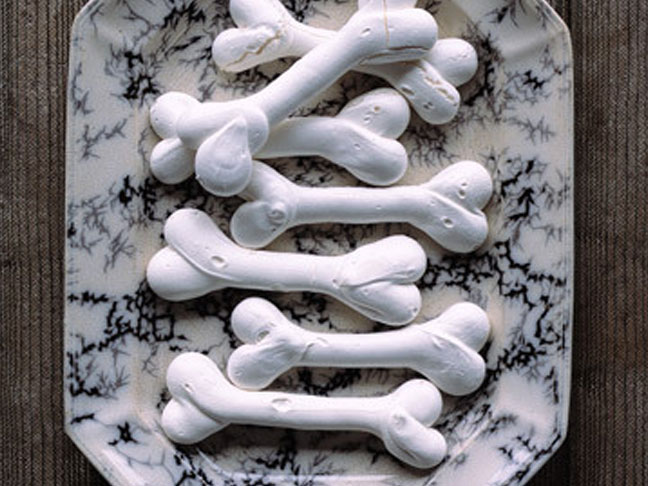 This is another brilliant find from Martha, the queen of Halloween. With just egg whites, sugar and 20 minutes of prep time (plus an hour of unattended baking time), you can put together your very own edible bone yard. Don't have the pastry bag and round tip that Martha's recipe calls for? No problem! Fill a gallon-sized plastic baggie and cut off a corner. Squeeze the meringue out of the snipped corner and into a bony shape.
4. Silly Frankenstein Smiles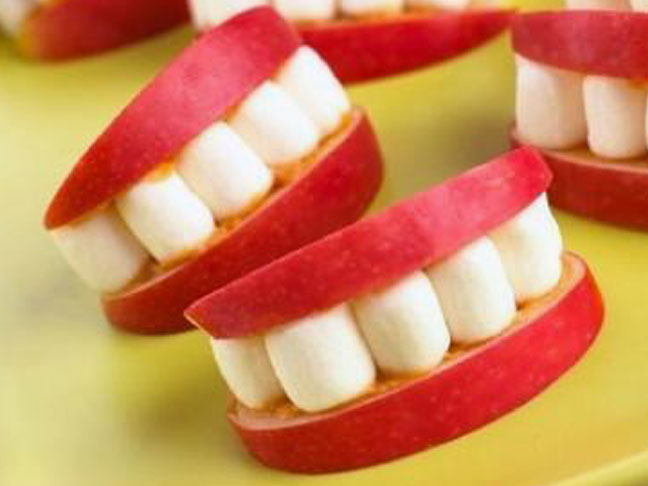 These have been going around, but I first saw them in one of my Annabel Karmel cookbooks. I love that they are fun, but healthy, too! Just a few mini-marshmallows make this Halloween snack feel like a treat. Cut an apple—red or green—into eight slices. If not using right away, rub with lemon to keep them from turning brown. Or, better yet, cut the apples ahead of time so that they can turn an icky brown color! Spread creamy peanut butter on one piece and dot with mini-marshmallows, flat side down. Spread peanut butter on a second piece of apple and place on top of the marshmallows to complete Frankenstein's smile. If you want an oozy, gooey smile, be sure to lay the peanut butter on thick. These should not look perfectly neat!
5. (Chocolate) Milk and Honey Balls
Milk and honey balls might be one of the easiest treats ever created. For this chocolate version—which tastes shocking similar to peanut butter cups—substitute Ovaltine for the traditional malted milk powder. You'll need 1 cup of Ovaltine for every ½ cup of peanut (or sun) butter and ¼ cup of honey (these measurements will make about 2 dozen bonbons).  Simple, healthy and tastes like candy? Maybe the saying should be "tricked-for-treat."
*Note: Also pictured with the pretzel ghosts are scary witch fingers. These, too, are super easy—all you need is the candy mold and colored candy melts, all of which are available for quick shipping through Amazon Prime or may be available at your local party, craft or baking supply store.
Want more Halloween Recipe ideas?