prep time: 30 minutes
cooking time: 1 hour
yields: 6 servings
Ingredients:

2 pounds butternut squash, peeled and chopped into cubes
3/4 cup red lentils
1 large onion, chopped
4 garlic cloves
1 carrot, peeled and chopped
1 parsnip, peeled and chopped
1 celery stalk, chopped
6 cups chicken or vegetable broth
1 teaspoon fresh thyme, minced
3 tablespoons olive oil
1 teaspoon allspice
salt & pepper to taste
roasted pumpkin seeds (optional for garnish)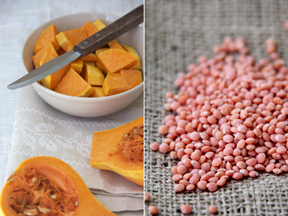 Preparation:

Step 1: Preheat oven to 350 degrees. Toss chopped butternut squash in roasting dish with 1 1/2 tablespoons olive oil, thyme, garlic cloves, fresh cracked salt and pepper. Roast for 30 – 40 minutes, or until soft.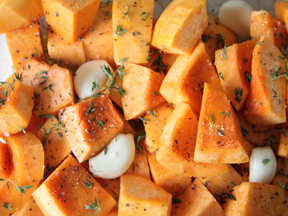 Step 2: Heat the remaining of the olive oil (1 1/2 tablespoons) in a large pot. Waiting 3 to 5 minutes before adding the each ingredient, slowly add chopped onion, carrot, parsnip, and celery.
Step 3: Add red lentils and broth to the pot; bring to a boil. Reduce heat and simmer.
Step 4: Once the squash is ready, add it to soup and remove soup from heat immediately. Cool slightly.
Step 5: Puree soup in batches with a regular blender, or with an immersion blender.
Step 6: Pour blended soup back into pot under low heat to warm it. Season with allspice and sal and pepper, to taste.
Step 7: Ladle soup into bowls. Garnish with thyme, roasted pumpkin seeds, a dollop of yogurt (or sour cream), and fresh cracked pepper. Enjoy!
Want more Fall Recipes?
Karen Biton-Cohen blogs at K. abc Food & Photography.