Cinco de Mayo is already upon us and, since I'm a huge Mexican cuisine fan, I'm very excited to cook fun, festive food for this holiday!
 
Nachos are so great because you can add pretty much anything to them.  While the chips should be delicious, they also are really the vehicle, if you will, for cheese, peppers, and other tasty Latin flavors!
Ingredients:
3 large fully cooked, chicken sausages (I love the chicken-apple sausages from Trader Joe's)
5 cups of your favorite, salted tortilla chips
1 (2 pound) round of Queso Fresco, crumbled
1 cup roughly chopped roasted red peppers
3 finely chopped scallions
2 tablespoons olive oil
Salt and pepper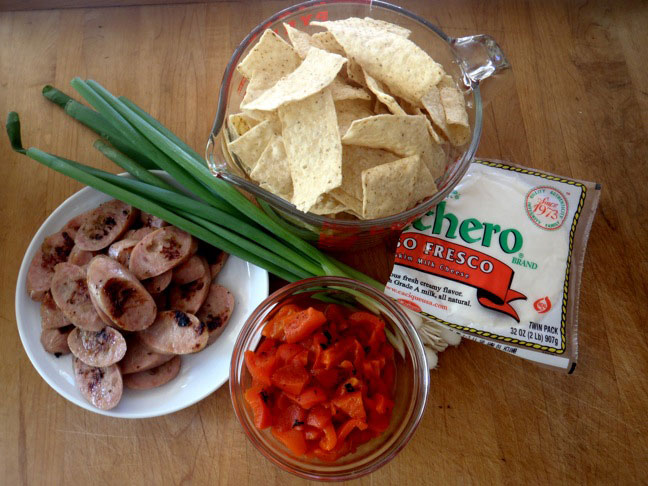 Preparation:
Serves 8 to 10
Prep Time: 15 minutes
Cooking Time: 15 minutes
Preheat the oven to 375 degrees.
Cut the sausages on a bias into thin slices and heat a large saute pan over high heat, with a bit of olive oil. Once the pan is hot, saute the sausages to brown both sides, about 4 minutes total.
Add the chips to a rectangular baking pan (approximately 9 X 13 X 2-inches).  
Add the cheese and use your hands to toss a bit with the chips.  Add the peppers and sausages evenly around the pan and then sprinkle the onions all over the top.  
Drizzle with the olive oil and season with salt and pepper.
Place in the preheated oven and bake until the cheese is melted and starting to bubble, about 15 minutes.