When it comes to pies, do you prefer sweet or savory? I typically opt for sweet ones, like apple or peach. There's nothing like my grandma's homemade apple pie, topped with a scoop of vanilla ice cream. But, recently I decided to try a new recipe. Instead of a dessert pie, I made a savory, crustless Frito pie. It was delicious. A menu with Frito pie for dinner, then grandma's apple pie for dessert sounds good to me!
This one-pan meal is a win for busy families because it's easy to make, takes less than 30 minutes from start to finish, plus it's simple to clean up. Think of a basic chili with less liquid, and then topped with sizzling cheese and Fritos, then another layer of cheese. Anything topped with cheese and Fritos earns major points in my cookbook!
Here's the recipe that's, well,  easy as pie!
Frito Pie
Ingredients
1/2 yellow onion, diced
1/2 red pepper, diced
1/2 jalapeno, diced and seeds removed (optional)
1 garlic clove, minced or pushed through garlic press
1 tbsp tomato paste
1 pound lean ground beef (or ground turkey)
2 tablespoons taco seasoning
2 tablespoons olive oil
Salt and pepper to taste
1 can chili beans
1 10 oz. can Rotel (diced tomato and green Chile)
2.5 cups shredded cheese (cheddar, sharp cheddar or white cheddar)
2-3 cups Fritos corn chips
Directions: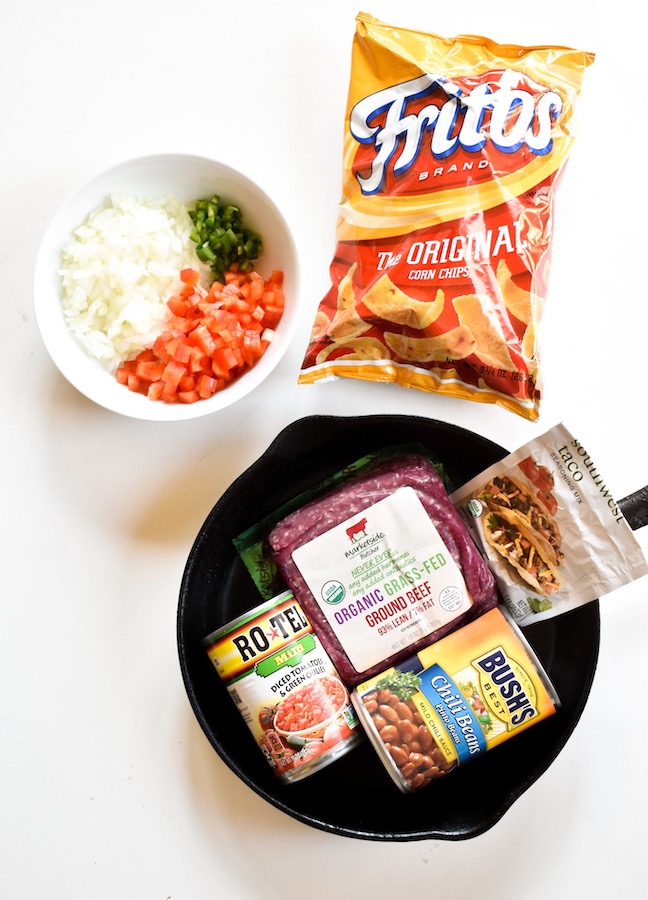 Step 1: Heat a cast iron pan or oven proof pan (even a dutch oven will work) over medium heat with about 2 tablespoons olive oil.
Step 2: Add the diced onion, red pepper and jalapeño. Sauté the veggies until soft and translucent, then add the beef. Season the beef with salt and pepper, and cook it until it's no longer pink. Remember to break up the large pieces of meat as it cooks.
Step 3: Add the taco seasoning, and mix it in well.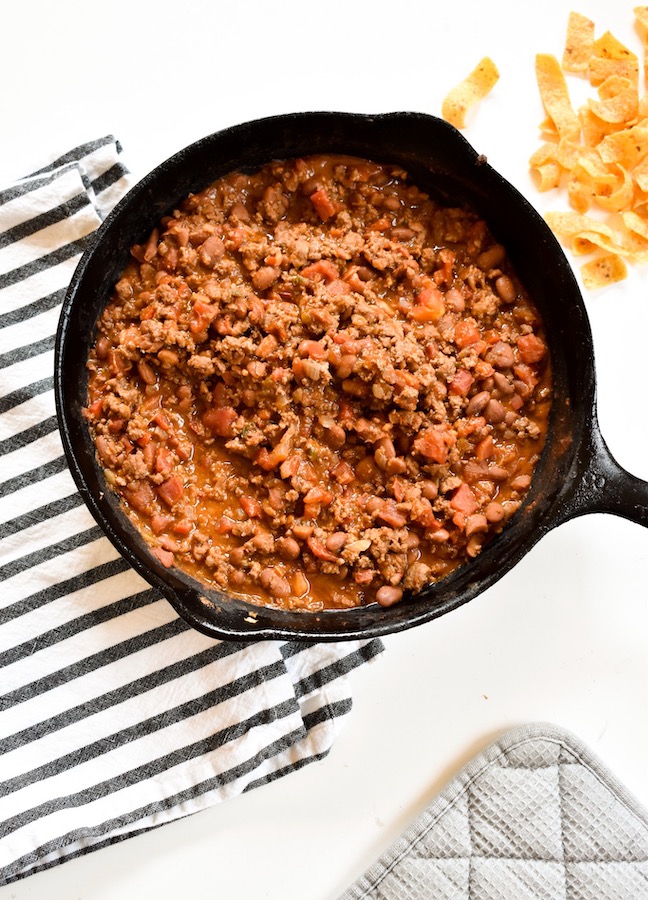 Step 4: Next, add the beans, can of Rotel, tomato paste and stir to combine. Let all the ingredients cook together on low for about 10 minutes. Stir as the mixture cooks.
Step 5: While the food cooks, pre-heat your oven to medium broil.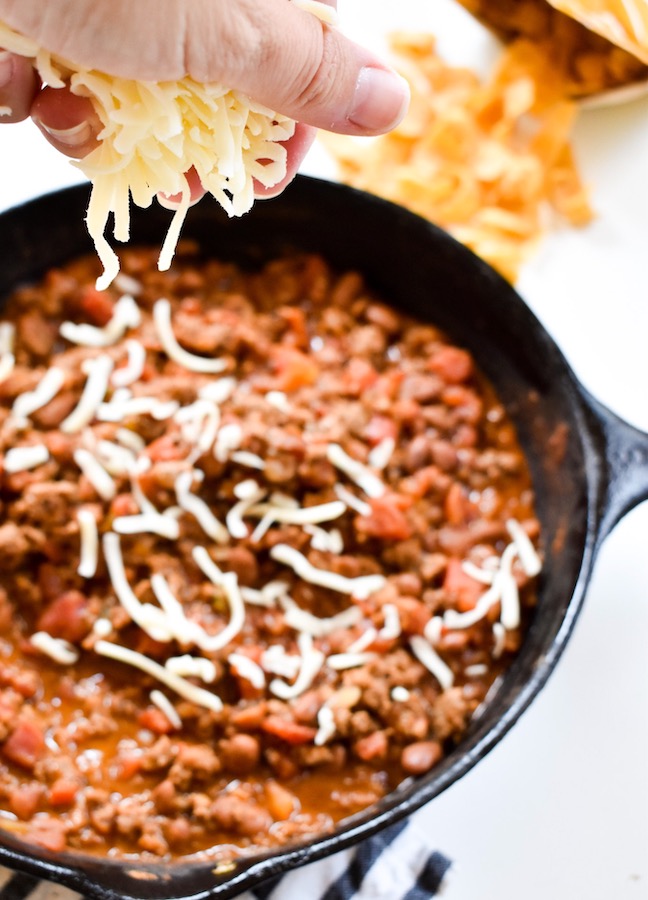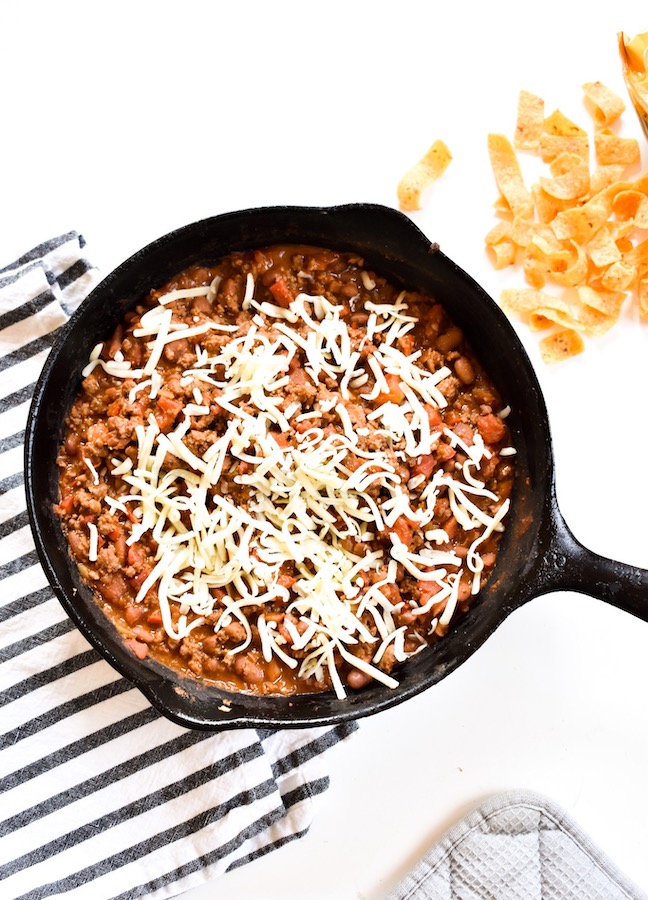 Step 6: Once the "chili" is ready, top it with 1.5 cups of cheese (gimme all the cheese), then all the Fritos, then top with the remaining cup of cheese.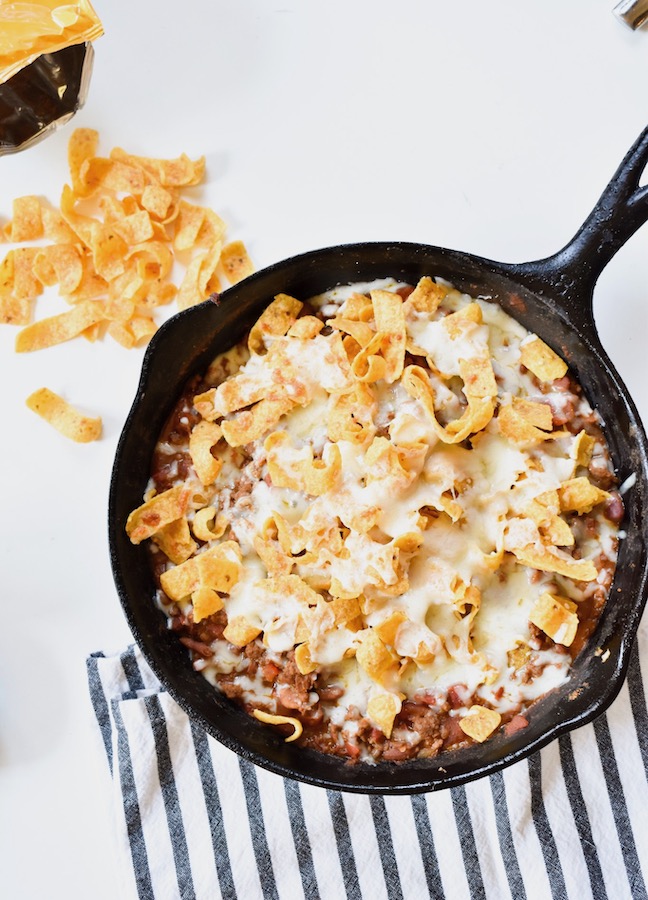 Step 7: Set the pan in the oven and broil it for about 3-5 minutes, or until the cheese is melted and just bubbly. Watch it closely. I tend to put something in the oven on broil, walk away and then it burns.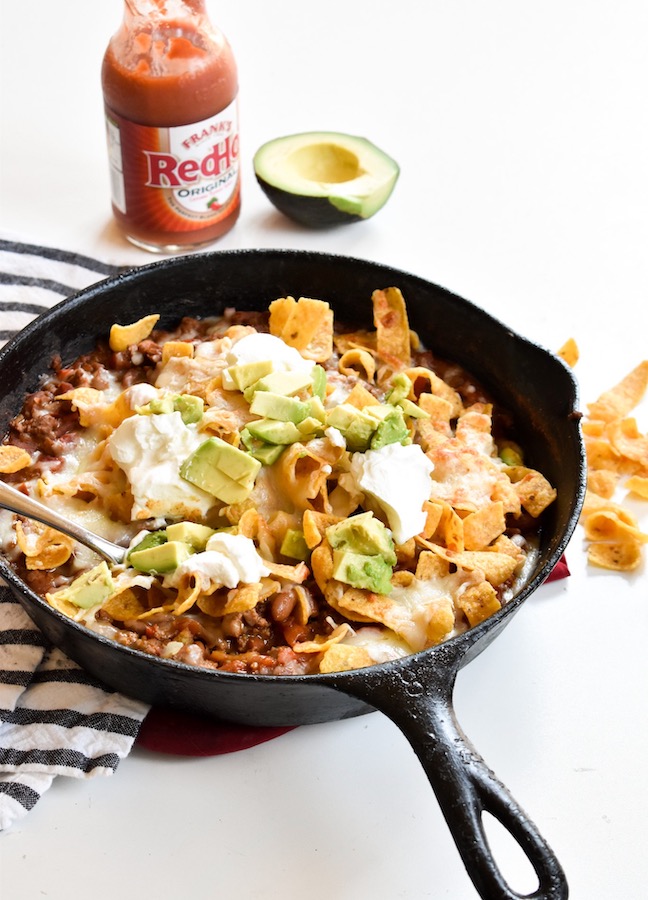 Step 8: Serve it immediately with favorite toppings, including green onions, avocado, tomato and sour cream. My kids don't love tomatoes, so I omitted those this time around, and it was still delicious.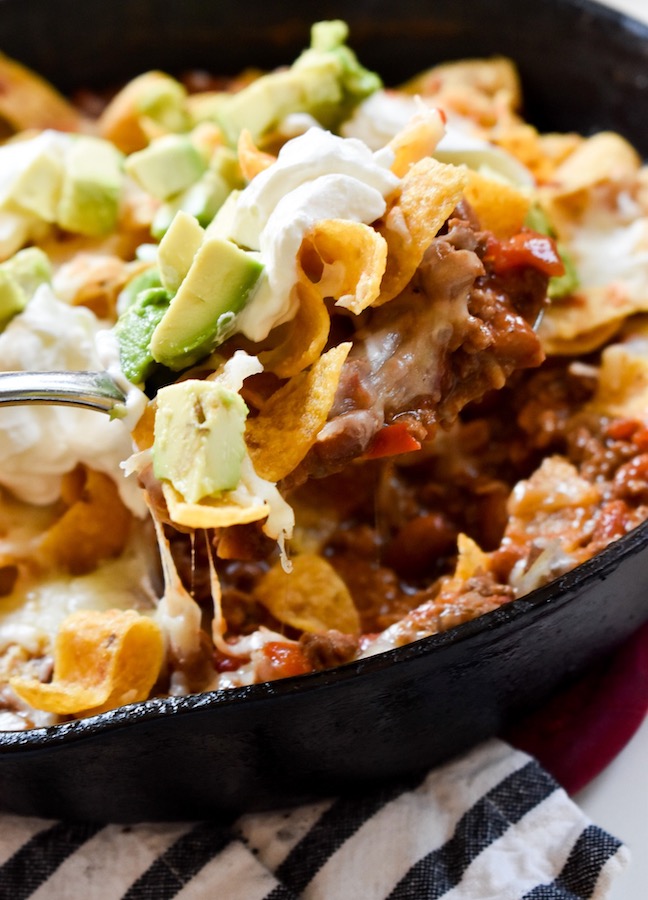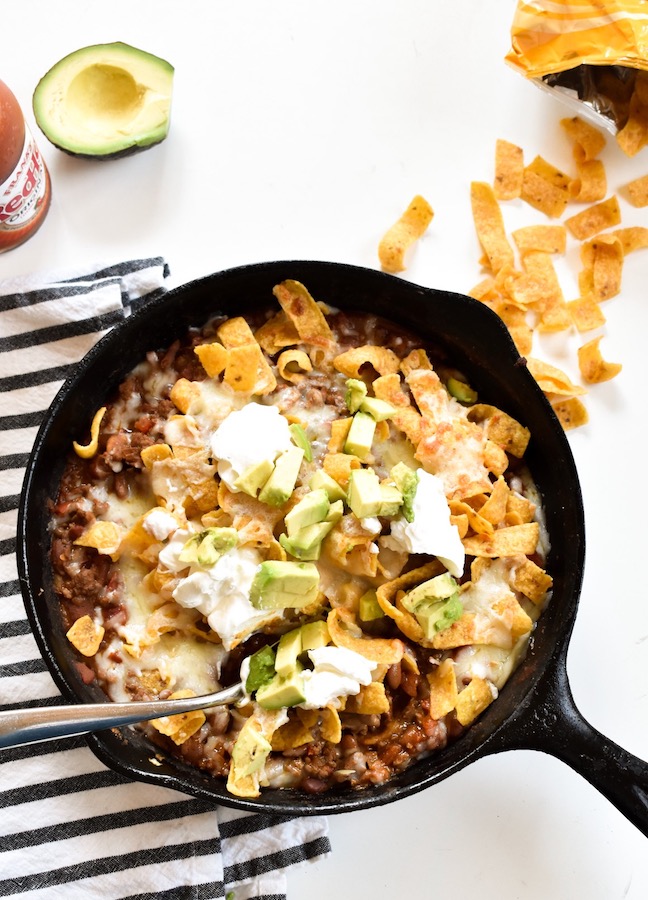 More Easy Dinner Ideas: