We're headed into fall and while pumpkin is the main flavor of the season, let's not forget about APPLES! As someone who always prefers apple anything over pumpkin, the idea of making my favorite apple pie is daunting.  Plus, I don't need a whole pie taunting me to eat it. That's how these apple pie nachos came to be! Not only are they quick to whip up in about 10 minutes, they're SO delicious! I can get the taste of apple pie in a much more manageable way than dealing with a fussy crust. Made with homemade cinnamon sugar tortilla chips, cinnamon apple chunks and your favorite toppings, like caramel, pecans and whipped cream, it's sure to be a favorite for the whole family.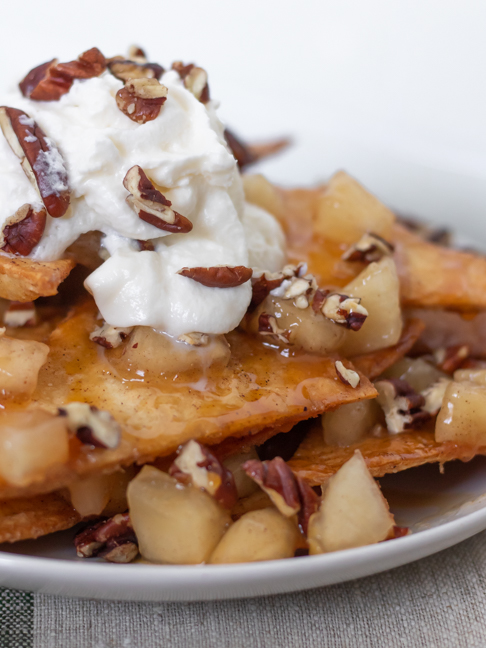 In my version of apple pie nachos, I use a can of apple pie filling, home baked tortilla chips and some some pre-made toppings. However, you can make it even easier with store-bought cinnamon sugar pita chips. If you're like me and always have tortillas in the house, this homemade version is ideal! Simply toss them in butter and cinnamon sugar, and bake until crispy. Then you assemble all of the pieces together like any other type of nachos. Depending on your preferences (or your picky kiddos'), add toppings like caramel syrup, nuts, whipped cream or vanilla ice cream. They truly taste like a bite of fall!
I love recipes like these because measurements don't really matter. Make as much or as little as you want! The recipe below includes amounts, but it's easy to make a plate for yourself or a plate for the whole family whenever you're in the mood for apple pie.
Here's how to make your own apple pie nachos in just 10 minutes!