Mangoes and papayas are very sweet through September, so why not add this to your Labor Day soiree?
Once upon a time, when I was single and had no kids, I'd spend hours upon hours making everything from scratch.  I'd grow each ingredient if I could.  Really!  Now my family is my life, and I'm surprised when I find myself with an extra moment in the day.  So now, I'm known to use canned pineapple. It's very good, much faster than fresh, and can be found "in its own juice" rather than in syrup.  When I use it, I always find a way to incorporate the juice into the recipe.
My goal when creating meals is to aim for something the whole family will enjoy. I find that most kids like shrimp, including mine!  But by all means omit the chipotles in the dressing for the kiddos! They are quite spicy! This is one green salad they might love.  
Ingredients:
Olive oil to coat pan
1 pound medium shrimp, peeled and deveined
8 ounces mixed greens
1 (20-ounce) can pineapple chunks in their own juice
1 cup fresh mango, peeled and cut into 1/2″ chunks*
1 cup fresh papaya, peeled and cut into 1/2″ chunks
1/3 cup coconut flakes, toasted
2 tablespoons seasoned rice vinegar
1 1/2 teaspoons very finely chopped chipotle chilies in adobo sauce
2 tablespoons extra virgin olive oil
Salt and pepper to taste
Preparation:
Serves 6
Heat the oven to 375 degrees and cover a baking sheet with foil.  Drain the pineapple, reserving 1/4 cup of the juice for the dressing. Set aside. Coat a large saute pan with olive oil over high heat.  Place the shrimp on a baking sheet and season both sides with salt and pepper. Once the pan is hot, cook the shrimp quickly, about one minute per side. Set aside to cool.
Add the greens, drained pineapple, mango, papaya, and cooled shrimp to a large salad bowl. Cover it with plastic wrap and place in the refrigerator until needed.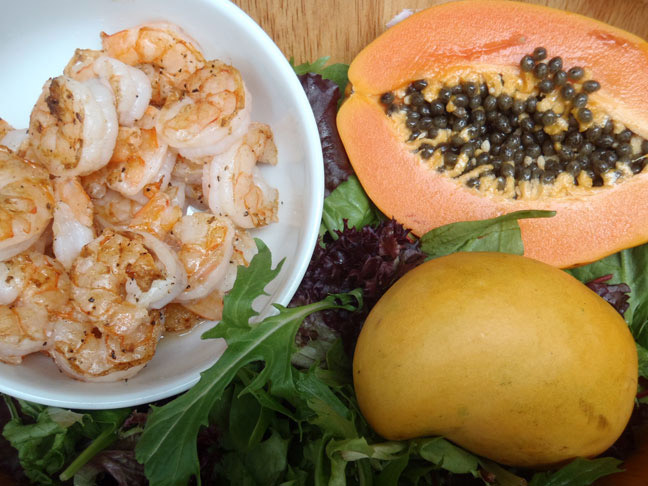 Spread the coconut flakes in a single layer on the foil-lined baking sheet and toast them in the oven until golden brown, about three minutes. While the coconut is cooking, combine the reserved pineapple juice, rice vinegar, chipotles, and  oil in a small bowl.  Blend and season to taste with salt and pepper.  Mix the salad with the dressing and toasted coconut just before serving.
If you're lucky enough to find a few moments during the day, prep the ingredients, put them in the same bowl you'll be serving the salad in, and when you're ready to serve, just toss everything together with the dressing.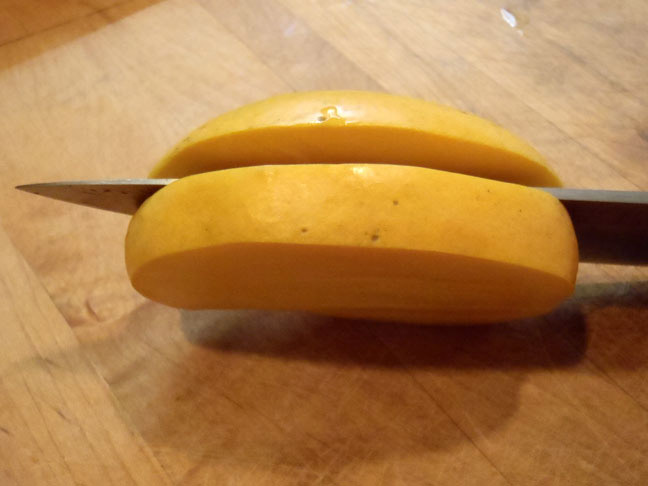 * Note that mangoes have a big, flat pit, that runs the length of the fruit.  Slice on either side of this pit and remove the skin with a small knife.