Mac and cheese. It's one of those kids foods that never fails to please. But, how can we make it healthier? Basically, by not making the one that comes in a box. Although the producers make claims about it being healthier than before, it's still shelf life food and that can't be good. This sweet potato macaroni and cheese is much healthier!
If your kids love the look of packaged mac and cheese, then this is the perfect way to get the same colour! If they haven't ever had it (mine haven't) then they'll just fall in love with the sweet flavour of the cheesy sauce and stand at the bowl eating it when Mummy leaves the room for a second whilst taking the photos….oops…maybe that's just my son.
I made this to have for dinner, but the problem was, he ate a whole bowl for second lunch, so I had to rethink my plans and I've kept it in the fridge for the next night. Which is a great thing about this dish, not only does this sweet potato macaroni and cheese freeze well (it's the sweet potato that helps with this as cheese sauce is notorious for splitting after freezing) it also reheats really well!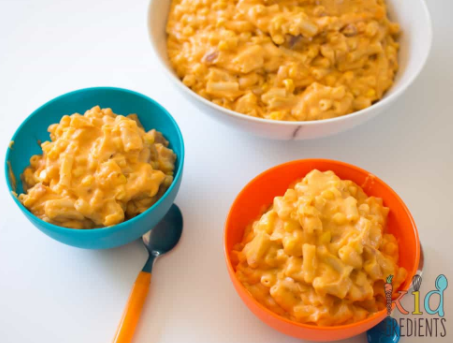 If you're looking to please the whole family, this is the perfect meal, with the bacon, and onion well and truly mixed through, and the sweetness of the sweet potato, there's a lot of appeal in this pasta. I think even hardened mac and cheese lovers will like this healthier version.
If you're not keen on bacon, then skip it, otherwise, the extra bit of saltiness that it adds to the dish is fabulous!  If you want to add in extra veggies, then this is the perfect dish for that too, grated zucchini or carrot would be perfect, or even some sliced mushrooms, cauliflower or broccoli florets would work really well!
Because it reheats so well, you could make this at lunchtime for times when the evenings are crazy and just reheat at dinner, making the perfect super quick meal, great for when there's after school activities and other stuff to contend with.
For more information about this nutritional powerhouse veggie, check out Australian Sweet Potatoes.