I'm a pretty big fan of brinner – breakfast for dinner that is…  Once I finish work, pick up my son from daycare and we get the train home, I have a very hungry four-year-old on my hands.  If I don't have anything prepared, breakfast for dinner is my go to.
Frittatas, pancakes, quiche, crepes, breakfast taco's, omelettes and fritters can all be made with some basic ingredients that you already have in your pantry.  It's also super economical and a great option for busy families that want a substantial meal but don't have a lot of time to spend in the kitchen. Serve with a simple salad or a side of steamed veggies and you have yourself a meal.
I have put together a collection of 21 breakfast recipes that would make a suitable dinner for families.  Pancake sushi rolls, breakfast pizzas, tomato and egg stir-fry, savoury oatmeal to name just a few. I did squeeze a blueberry pancake recipe in because how happy will the kids be when you tell them they are having pancakes for dinner!
Pin for later: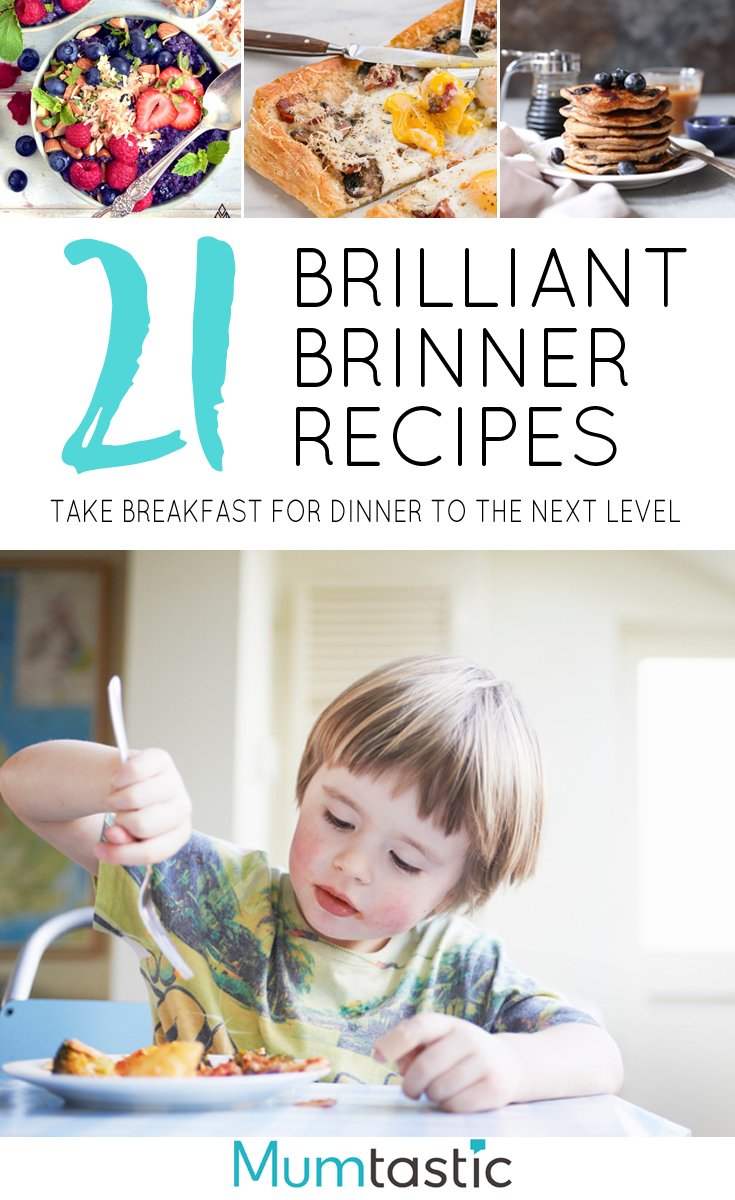 21 Breakfast for Dinner Recipes
Slab Breakfast Pie

Super easy to throw together and ready in less than 25 minutes, this breakfast pie is a great dinner option that the kids will love. Get the My Kitchen Love recipe here.

Image: My Kitchen Love

Crustless Vegetable Quiche

This is a super adaptable recipe so get creative.  Serve with a simple salad and you have yourself a delicious meal without the fuss of preparing pastry.  Get the Killying Thyme recipe here. 

Image: Killing Thyme

Shakshuka Tomato

Poached eggs in tomato with capsicums and gorgeous middle eastern flavours. Perfect for a meat free Monday. What's not to love.  Get the Eat With Enzo recipe here. 

Image: Eat With Enzo

Oatmeal Pancake Egg Roll-ups

How good do these pancake roll-ups look. They are made using all good things; oats, wholewheat flour, eggs and more.  A nutritious meal at any time of the day...  Get the Watch What U Eat recipe here.

Image: Watch What U Eat

Quinoa Breakfast bowls

Fancy something a little sweeter for dinner?  This is a great option.  Not only does it look amazing, it's also good for you and sure to impress the kids. Get the The Little Pine recipe here. 

Image: The Little Pine

Scrambled Egg and Veggie Quesadillas

Scrambled eggs and quesadillas, need I say more!  You will have this on the table in 30 minutes and with eggs, beans, avocado and coriander it is a deliciously healthy vegetarian meal.  Get the Avocado Pesto recipe here. 

Image: Avocado Pesto

Cauliflower Hash browns

With only 6 ingredients and ready in 15 minutes you can't go wrong with these cauliflower hash browns.  They taste so good the kids won't realise they are eating a good serving of veggies.  Get the Wholesome Yum recipe here. 

Image: Wholesome Yum

Breakfast Nachos

5 ingredients and have a dinner on the table that will be eaten with gusto.  I promise...  Breakfast nachos with eggs, salsa and cheese.  Sneak a few veggies in as well, they are sure to go unnoticed.  Get the Living Well, Spending Less recipe here. 

Image: Living Well, Spending Less

Tomato and Egg Stir Fry

Such gorgeous flavours with so little ingredients!  This is a popular Chinese dish that will now be a favourite in my home, so good.  Serve with rice, noodles or simply as is and you have yourself a simple yet delicious meal.  Get the Red House Spice recipe here. 

Image: Red House Spice

Breakfast Pizza

I love the sound of this healthy take on a pizza.  Featuring breakfast favourites like eggs, sausage and cheese the kids will too.  Get the My Life Cookbook recipe here. 

Image: My Life Cookbook

Homemade Oven Baked Beans

Who doesn't love baked beans for breakfast?  Well now you can have them for dinner too, just be sure to make them yourself.  They are super simple and the oven does most of the work. Get the Lauren Caris Cooks recipe here. 

Image: Lauren Caris

Carrot Oatmeal

I'm a huge fan of oatmeal for breakfast but this savoury version would also make a delicious dinner. Call it a risotto and it's sure to be a hit. You could even top it with a seared chicken breast.  Get the A Bite of Inspiration recipe here. 

Image: A Bite of Inspiration

Corn Fritter

Make a large batch, freeze the leftovers and you will have dinner without cooking anything - winning. Top with a poached egg, smoked salmon or enjoy as is. Get the Little Big H recipe here. 

Image: Christi Hancock

Blueberry Banana Oatmeal Pancakes

This list wouldn't be complete without pancakes.  And why not serve them for dinner on occasion.  These ones are made using oats and banana and they are also egg-free for kids with allergies.  Get the Domesticate Me recipe here. 

Image: Domesticate Me

Baked Breakfast Tostadas

I could eat these all day.  A simple but deliciously heathy dinner option ready in 20 minutes.  I bet the kids would love to help make these tostadas.  Get the The Life of Jolie recipe here. 

Image: The Life of Jolie

Pancake Sushi Rolls

Love this idea.  It's also super adaptable, so fill these pancakes with whatever you have on hand.  Leftovers even.  Get the Happy Kitchen Rocks recipe here.

Image: Happy Kitchen Rocks

Egg and Potato Boats

Tell the kids you are serving them edible boats for dinner and they will be super excited.  Serve with a simple salad and you have a dinner with whole family will love. Get the Home and Plate recipe here. 

Image: Home and Plate

Puff Pastry Breakfast Pizza

Egg and bacon pizza for dinner anyone?  Made using puff pastry its quick and super adaptable.  Delicious on its own or sneak a few veggies in.  Asparagus, grated zucchini, peas would all be great. Get the The Life of Jolie recipe here. 

Image: The Life of Jolie

Savoury Crepes with ham and egg

Often made with sweet ingredients these savoury crepes are a lovely alternative. They are also health, made using wholewheat and buckwheat flour - my favourite.  Get the Masala Herb recipe here. 

Image: Masala Herb

Green Shakshuka

We have had a tomato shakshuka but this one is full of delicious greens.  Made in the one pot it's a delicious meal any time of the day. Get the Happy Kitchen Rocks recipe here. 

Image: Happy Kitchen Rocks

Spanish Omelette

Spanish omelettes or tortillas are quick to whip up, taste fantastic and are very versatile,  This one is made using sweet potato, peas and saffron.  Get the Big Little H recipe here. 

Image: Christi Hancock