Imagine being six years old and not being able to eat regular pizza . . . it's a huge bummer!
My little guy is a great sport, but having to be gluten-free isn't always easy for him.  Almost every kids' birthday party features pizza and cake (go figure).  I have a stash of gluten-free cake to bring for my son, but pizza hasn't been as easy.  I'm always experimenting with various flours in search of a good gluten-free pizza dough.  So far, our favorite dough has been made with buckwheat flour — most likely because it has a delicious, nutty flavor.
This dough makes a thin, crispy crust, which is able to hold strong flavors without overpowering them.  It's wonderful with my Fig-Pesto Pizza!  (I do have to admit that my son's favorite toppings are simply ketchup and/or cheese, as seen in the photo.)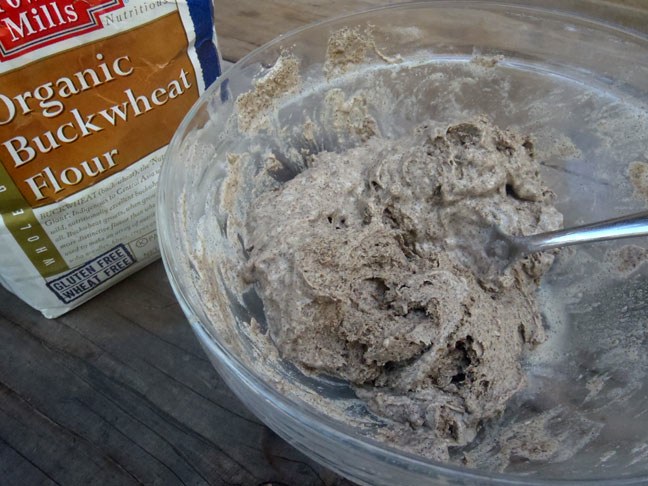 Ingredients

1 cup buckwheat flour
1 cup cornstarch
1 teaspoon salt
2/3 cup plus 1/4 cup buttermilk
2 eggs
1 teaspoon finely minced garlic
Olive oil to coat baking sheet and hands
Preparation

Serves 6 to 8 
Prep Time: 5 minutes
Cooking Time: 20 minutes
Heat the oven to 425 degrees, cover a baking sheet with foil, and coat it with olive oil.  Set aside.
Combine the dry ingredients in a large mixing bowl, and make a well in the center.  Add the buttermilk, eggs and garlic in the center of the well. Gently mix only until combined. The dough will be much wetter than a typical bread or pizza dough.
Coat your hands with olive oil and gently press the dough into an even layer covering the foil-covered baking sheet. You will need extra oil on your hands to prevent sticking. When the dough is shaped, bake until it's slightly golden on the edges, about fifteen minutes.
Remove from the crust from the oven, reduce the temperature to 375, and add  your favorite toppings. Return  the pizza to the oven, and bake until the all of the toppings are heated through, about 5 minutes.