As I often say, canned pumpkin puree is great — it's made from pumpkins at the peak of their season. I try to work it into all sorts of fall recipes, and this one has been a huge hit of mine for the past few years! 
These cookies warm the hearts and tummies everyone who tries them!  (And don't you feel good when there's a vegetable serving in cookies your kids love?  And please, tell them what they're made of!)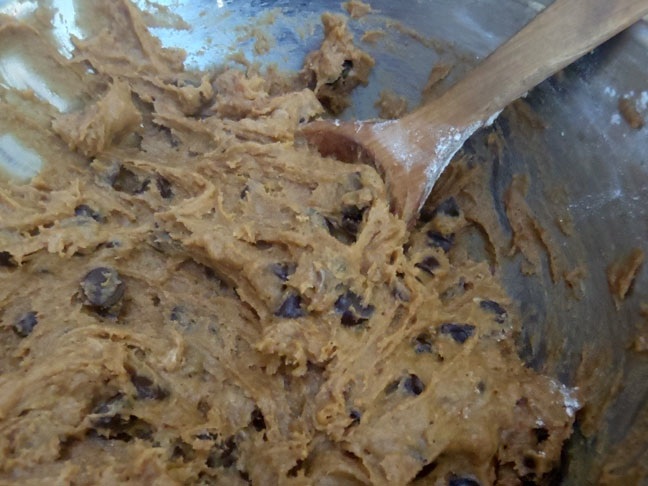 Ingredients
2 1/4 cups all-purpose flour
1/4 teaspoon baking soda
1/2 teaspoon salt                                                           
3/4 teaspoon each: ground cinnamon, ground cloves, and ground nutmeg
1 cup unsalted butter, at room temperature
1 cup granulated sugar
1/2 cup brown sugar
1 tablespoon half and half
1 tablespoon molasses
3/4 cup pumpkin puree
2 teaspoons vanilla extract
1 egg
1 1/2 bags semi-sweet chocolate chips
Preparation
Preheat the oven to 375 degrees and cover a couple baking sheets with parchment paper.
In a medium-mixing bowl, combine the flour, baking soda, salt and spices, and set aside.In a slightly larger mixing bowl, cream the butter with the sugars.  When the butter and sugar are well blended, add the half and half, molasses, and vanilla.  Fold in the pumpkin puree followed by the egg and mix until well incorporated.  Add the flour mixture to the batter and combine, mixing only until it's well incorporated.  Then fold in the chocolate chips. 
Use your hands or a tiny ice-cream scoop (about 1 1/4 inch) to drop dollops of dough on the parchment covered baking sheets — about nine to twelve per sheet, with ample space for spreading.  Bake for approximately twelve to fifteen minutes.  They should only be very slightly golden around the edges and will still appear a bit raw in the center.  Leave them for about two minutes on the baking sheet and then transfer to a cooling rack to cool to room temperature.
An additional note:
These make a fantastic gift during the fall holiday's — just wrap them in a pretty cloth and tie them up!