It's well known that "breakfast is the most important meal of the day". But it's also the craziest, most rushed, most underrated meal of the day too. Are you stuck in a breakfast rut? Serving the same thing day after day? Then these easy breakfast ideas will pries you out of your breakfast rut and onto something nutritious and new.
The best way to break up the monotony of breakfast is to try something different and fun. If your mornings are time poor (yes, I'm looking at me!), then baking something for breakfast the night before could be the perfect way to get your breakfast groove on! These breakfast ideas are sure to help you change up your mornings so give a few of them a try.
Pin for later: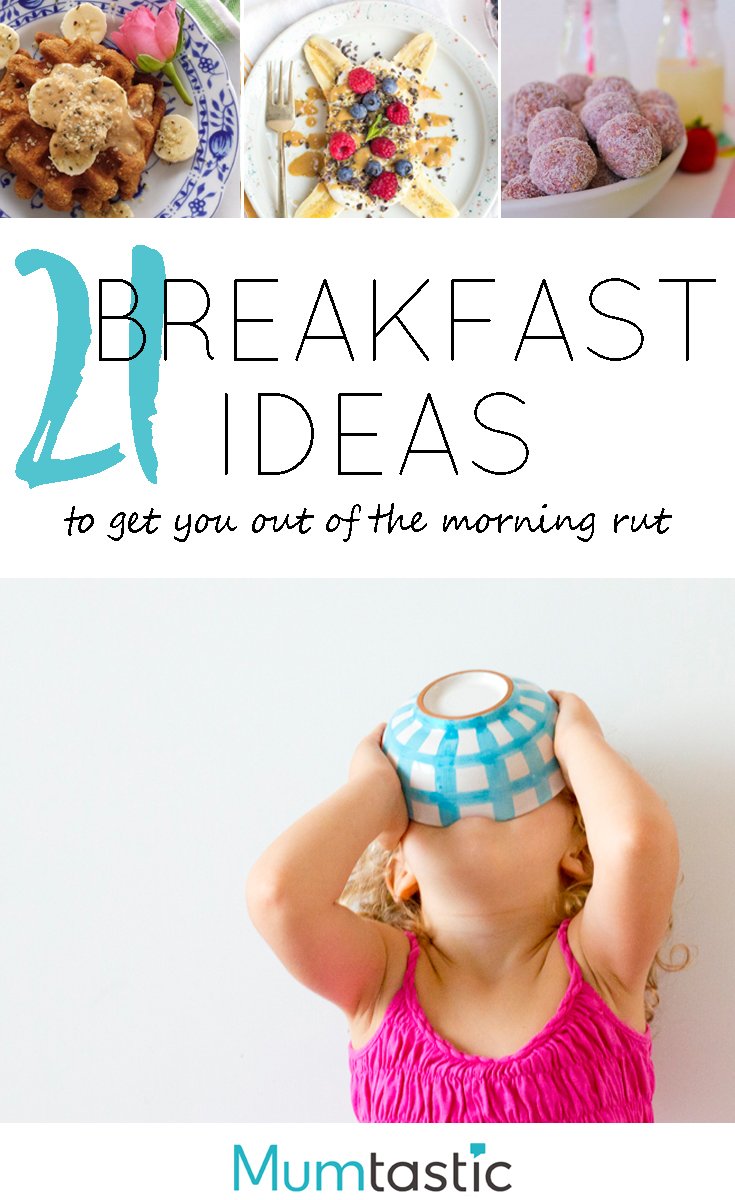 21 easy breakfast ideas to get you out of the breakfast rut
Breakfast Banana Splits

Tell the kids they are having banana splits for breakfast...go on...I dare you! They will be so excited by this gorgeous banana split from Super Healthy Kids they might not even notice it's healthy. Get the recipe here.

Spinach, tomato and corn muffins

Who doesn't love a breakfast option that you can make a batch of and freeze? These gorgeous little muffins from Eats Amazing are filled with corn, tomato and spinach to help the kids to get some of their daily veggie requirements! Get the recipe here.

Paleo Sweet Potato Waffles

These fantastic sweet potato waffles can be batched up and frozen for an easy defrost and eat breakfast! From Kat's Delicious kitchen, they are also grain free, dairy free and gluten free! Get the recipe here.

Strawberry Breakfast Bites

From My Kids Lick the Bowl, it's hard to only eat these delicious little bites at breakfast, but it's good to know they are filled with yummy healthy wholefood ingredients that will help to kickstart the morning for your kids! Get the recipe here.

Bacon, mushroom and spinach egg cups

These breakfast cups have everything you've come to expect at a breakfast omelette bar and they are cooked in a piece of toast! These freezer friendly breakfast morsels from Kidgredients are also perfect n the lunchbox. Get the recipe here.

Banana pancakes

Although these look and taste delicious, they are incredibly not at all naughty, with no refined sugar, and surprisingly, no gluten!  Make up a batch and serve them the next morning for breakfast. These pancakes from Le Coin de Mel are also perfect for cutting up and popping in the lunchbox! Get the recipe here.

Quick grain free breakfast bar

This nutty and seedy breakfast bar recipe from A Fresh Legacy is sure to crunch up your breakfast routine! Crunchy and delicious, it keeps in the fridge for 4-5 days so is super convenient! Get the recipe here.

Baked pancake bites

With a gluten free option and a dairy free option, these pancake bites from Kidgredients are perfect for breakfast.  Not only can you top them with whatever you want they are freezer friendly! Get the recipe here.

Spinach and bacon egg muffins

Nom, nom!  If you're looking for an easy breakfast that freezes well, then try out these spinach and bacon egg muffins from My Fussy Eater. Get the recipe here.

Pink Smoothie bowl

I've always been intrigued by smoothie bowls and this gorgeous one from Healthy Little Foodies looks so delicious! It's jampacked with goodness to help make breakfast the most important meal of the day The colours are absolutely stunning! Get the recipe here.

Slow cooker mango rice pudding

Yep, so this recipe from Mumtastic goes in the slow cooker at night...so come morning it is ready to go, just top it and eat! What a fabulous idea...and it's using my favourite fruit. Get the recipe here.

School morning breakfast burritos

From Super Healthy Kids, this is what you make is you've got a little more time in the morning! They are designed to keep kids going until recess and keep them satisfied. Get the recipe here.

Strawberry Quinoa Breakfast Bars

With strawberries, oats, quinoa and bananas these breakfast bars from My Fussy Eater are a delicious and nutritious start to the day! Perfect for grab and go breakfasts, they can also be frozen...bonus! Get the recipe here.

10 minute sweet breakfast couscous

I'd never thought to put couscous with sweet stuff together for breakfast before, but this recipe from A Mummy Too is nothing short of genius.  Quick to prepare and super yummy, it's an unusual breakfast that will help get you out of your rut. Get the recipe here.

Peanut Butter and Jelly Smoothie

It doesn't really contain any jam- instead it's a berry and peanut smoothie hit that has lots of seeds and lots of yummy stuff.  But this smoothie from Tiny Tummy Tales looks amazing and kids certainly eat with their eyes first!  Get the recipe here.

Cauliflower, cheese and bacon fritters

Why are fritters such a great breakfast option? Well, they are perfect for hiding some of our daily intake of veggies in.  These yummy little fritters from Create Bake Make are also pretty good in the lunch box if there are any left after breakfast! Get the recipe here.

Overnight Berry Parfaits

These overnight Berry Parfaits from Stacey Clare look amazing. Any overnight breakfast is awesome, because it means that breakfast is quick and easy in the morning! The fresh berries on this one help to make it extra yummy! Get the recipe here.

Healthy breakfast loaf

When it comes to healthy breakfasts that are a bit different, this loaf from Energetic Mama hits the spot. Filled with pumpkin and dates it's got all the good stuff to keep kids going at school or play. Get the recipe here.

Blueberry zucchini breakfast cookies

Let's have cookies for breakfast...with these delicious healthy breakfast cokies from Kiddielicious Kitchen you can! Another recipe that's hiding some veggies, these are guaranteed to be a fun breakfast alternative.  Get the recipe here.

Sweet potato hashbrown bake

This is the perfect weekend breakfast for the whole family, from Stacey Clare. It's a one-tray wonder that cooks by itself in the oven and is fabulously delish whilst also packing in some of our daily veg. Get the recipe here.

10 of the best healthy toast toppings

If there's no time for anything else, these toppings for your toast will make sure the kids have something better for breakfast than bread alone! There will be something in this list from My Kids Lick the Bowl that will please even the fussiest breakfaster. Get the recipe here.