With hotter days moving in, don't let your baby's age stop you from offering up refreshing treats made from healthy and nutritious fruits. 
Sometimes we neglect to think about smoothies as being a tasty option for babies.  Using fresh strawberries, kiwi, blueberries (all delicious fruits of the summer) and plain whole milk yogurt, you can blend a cool treat or freeze the smoothies into ice cube portions and drop into a mesh feeder; don't forget to make ice pops too! 
Here are a few cautions:
Strawberries are on the allergenic side and it is suggested to introduce fresh strawberries between 10-12 months old however, many babies certainly enjoy fresh strawberries earlier.  Kiwi tends to be acidic so if you introduce it prior to 8 months old, watch out for possible reactions such as rashes around the mouth and bottom.   Blueberries are not allergenic as other berries are and are not even related to strawberries, raspberries or those berries that do tend to be allergenic; introducing them around 8 months old (or earlier) is common.  Do be sure to consult your baby's pediatrician about introducing foods to your baby.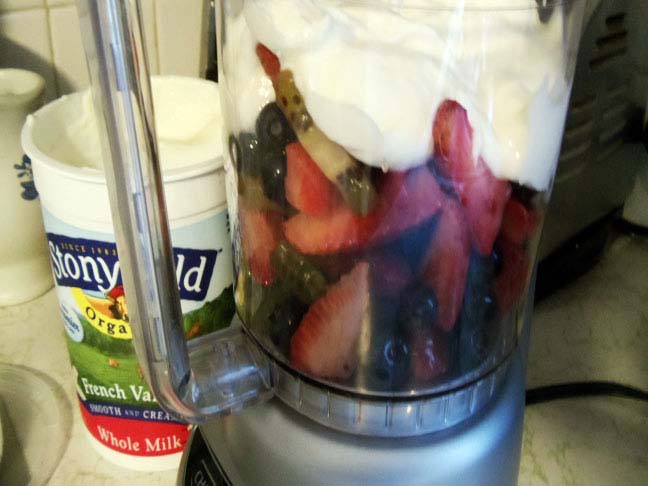 Ingredients:
1 ½ cup strawberries – cleansed, tops removed and cut in half
1 cup blueberries – cleansed and picked through for stems
5 or 6 ripe kiwis – peeled and diced
1 cup plain whole milk yogurt (I sometimes use the French Vanilla for my older kiddos)
Using frozen fruits is an acceptable option
Directions:
1. Add all fruits to your blender or food processor
2. Add yogurt
3. Whizz it all until combined – you choose the texture such as really thin or a bit lumpy
4.  Chill for 10 minutes or serve immediately. 
If making frozen treats, add the mixture to ice cube trays or to popsicle molds and freeze until solid.  You can also make this yogurt free if desired!