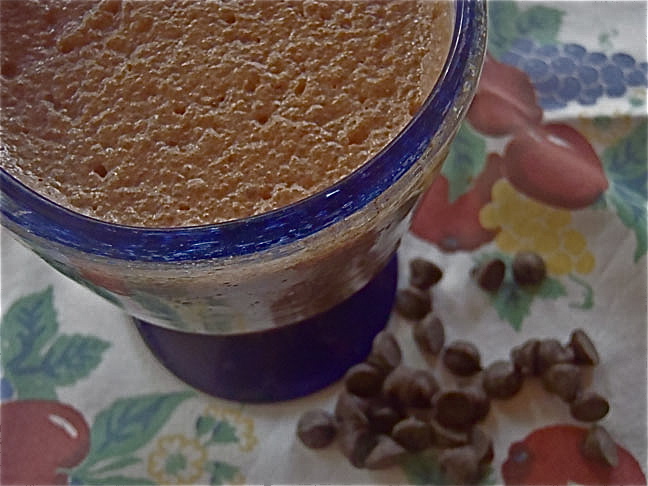 As you know from my Peanut Butter-Strawberry Protein Snack Bars, one of my current culinary crushes is peanut flour!  I love it!  It's composed of "defatted," finely ground roasted peanuts and has even more protein than dry roasted peanuts.  And it's also gluten-free. Yay, yay, and yay!
 
I've been working peanut flour into all sorts of recipes.  This one is just a super quick and easy smoothie.  It's chocolatey with a yummy peanut butter-protein punch! It can serve as a great afternoon pick-me-up, a yummy addition to breakfast, or simply a delicious dessert! Everyone in my house loves it!
Ingredients
2/3 cup melted semi-sweet chocolate chips
2/3 cup low-fat milk
1 cup non-fat plain yogurt
1/4 cup peanut flour
Preparation
Serves approximately 2
In a microwave-safe bowl, melt the chocolate chips in twenty second increments. Set aside to cool to room temperature. Then, combine all of the ingredients in a blender, and blend until smooth!
Some additional notes:
Peanut flour is available at Trader Joe's and all over the web.
I usually use low-fat milk in my recipes, but you could also use non-fat or whole milk. Also, I typically have non-fat plain yogurt on hand, but low-fat or whole is fine, too.