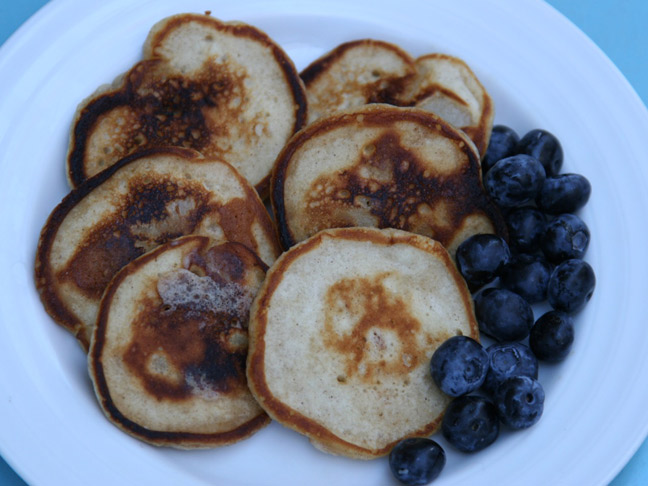 I volunteer as much as I can at both of my kids' schools, and each year I try to do a lot of cooking-related projects.
I love asking kids about their favorite foods and then creating recipes from them.  I recently did just this in my four-year-old's preschool class.  One little boy told me that he only likes pancakes and pears. So I felt that I just had to combine those two for him!
A great thing about pancake batter is that you can make it the night before and then make a quick, delicious breakfast the next morning.  Don't tell my young pre-school friend, but instead of pears, you could use peaches, plums, strawberries or apples.
  
Ingredients
4 tablespoons unsalted butter
2 cups pears* (2 medium pears), cut into a small dice, about 1/2 inch
1 3/4 cups all-purpose flour
1 1/2 teaspoons baking powder
1/4 teaspoon baking soda
1 1/2 tablespoons cinnamon
1/3 cup granulated sugar
1/2 teaspoon salt
1 cup plain yogurt
1 cup milk
2 large eggs
1 teaspoon vanilla extract
Maple syrup
Preparation
Makes approximately 14 small pancakes
In a large saute pan, over medium-high heat, melt 3 tablespoons of the butter and gently cook the pears until they are soft and begin to brown, about 6 minutes.  Remove the pears and all of the butter from the pan and set aside. Do not wash the pan, set it aside for later. In a large mixing bowl, combine all of the dry ingredients and set aside. In another mixing bowl, whisk together the yogurt, milk, eggs, and vanilla.  Fold the liquid ingredients into the dry ingredients until evenly combined.  Gently fold in the pears with all of the butter.  Preheat the reserved saute pan over medium heat with a bit of the remaining butter.  Turn the heat to low and, using a 1/4 cup measure, pour 3 to 4 ladles full into the pan with ample space between them.  Cook the pancakes for approximately 2 minutes per side or until they start to brown along the edges. Use a bit more of the butter each time you add batter to the pan.
*Bosc pears are great for cooking!